'Slava Ukraini!': Russian musicians worldwide show solidarity |

reviews, news & interviews
'Slava Ukraini!': Russian musicians worldwide show solidarity
'Slava Ukraini!': Russian musicians worldwide show solidarity
Ukrainian anthem performed in concerts everywhere is only the start of musical support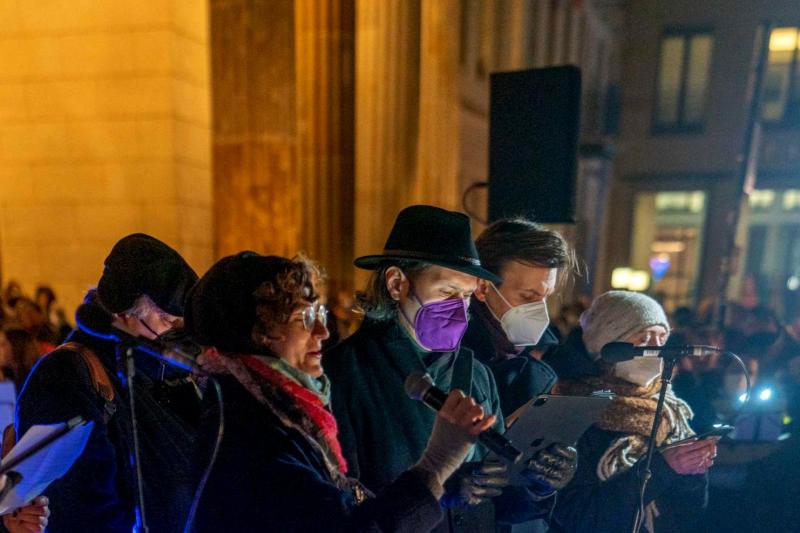 Vladimir Jurowski (in the hat), fellow musicians and Polish musicologist Paulina Miu (holding microphone) sing a folksong from Eastern Ukraine at Berlin's Brandenburg Gate last Friday
"You are told that we hate Russian culture," President Zelenskyy of Ukraine informed Russians, using their language, in a speech for the ages just before the invasion, "But how can a culture be hated? Any culture? Neighbours are always enriching each other culturally. But that does not make them one entity, and does not separate people into 'us' and 'them' ".
Russians have been culturally enriching the world for centuries, and continue to do so now – so long as they haven't embraced the tyrant or refused to speak out against his brutal invasion of a sovereign nation. Let's get the negatives out of the way first. Conductor Valery Gergiev and soprano Anna Netrebko have backed Putin for over two decades, endorsing his re-election campaign and, in Gergiev's case, defending his anti-gay laws (something against which I fought emphatically on theartsdesk and in a Barbican protest organized by Peter Tatchell).
Which is why Netrebko's recent "sorry but not sorry" was all but wiped out by her claim that "I am not a political person. I am not an expert in politics. I am an artist and my purpose is to unite across political divides." In which case, stay clear of politics altogether. She hasn't (remember the photo-opportunity in Donetsk where she posed holding the separatist flag?). As for Gergiev, organisations which should have dropped him for adding to the hateful confusion of homosexuality with paedophilia back in 2013 are at last seeing the light. The Verbier Festival has axed him and is giving back the no doubt enormous number of Russian donations; a counterpart in Jūrmula, Latvia, has cancelled an entire festival built around a Mariinsky weekend. New York, Munich and Milan, among many other cities, have made this fitfully brilliant figure persona non grata, eight years too late.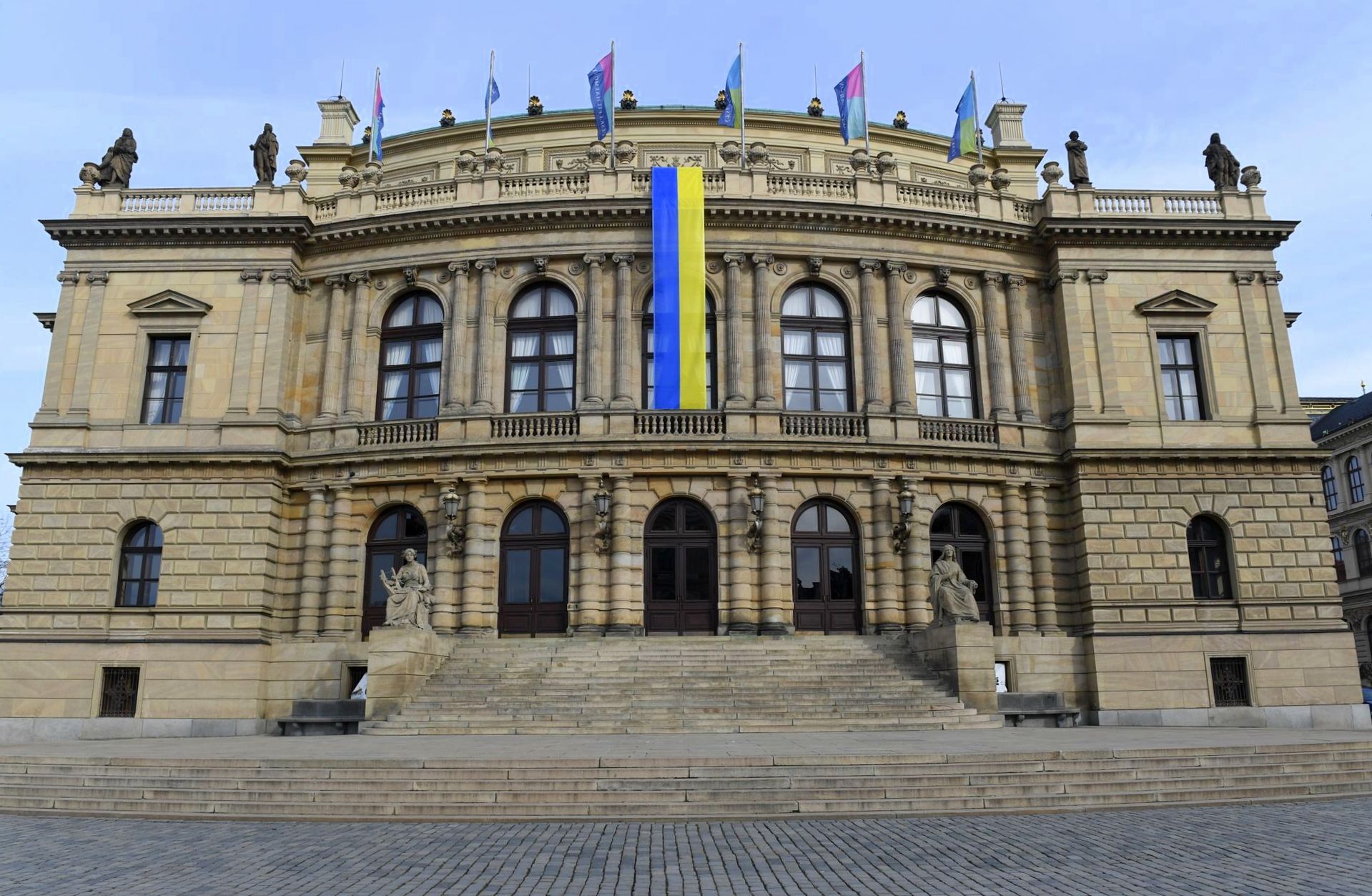 Fortunately there are plenty of far more intelligent and compassionate musicians who are busy showing support right now, and many of them are Russian emigres around the world (very questionable, therefore, is the decision to exclude all Russian-born musicians from certain events, as a pianist friend informed me is the case with the Dublin International Piano Competion). The first big gesture of solidarity many of us saw was the Czech Philharmonic playing and the Czech Philharmonic Chorus under principal conductor Semyon Bychkov, born in what was then Leningrad, singing first the Czech and then the Ukrainian national anthems in the Rudolfinum concert hall, decked outside with the Ukrainian flag (pictured above ©ČTK)
Many other orchestras and conductors around the world have followed suit, including the London Philharmonic Orchestra under Alpesh Chauhan on Saturday at the Royal Festival Hall and the Berlin Philharmonic with its principal conductor Kirll Petrenko. The Bournemouth Symphony Orchestra's Ukrainian principal conductor, Kirill Karabits, has pertinent plans for the immediate future.
Berlin was the centre of extraordinary musical activity last weekend. It began with what was more or less a spontaneous event on Friday night: Moscow-born Vladimir Jurowski (pictured below by Mattias Creutziger), whose conductor father Michail brought the family to Germany in 1990, joining with ethnomusicologist Paulina Miu and musical colleagues in Ukrainian folksongs, John Lennon's "Imagine" and the Ode to Joy in front of the Brandenburg Gate. On the following two evenings Jurowski conducted the Berlin Radio Symphony Orchestra, of which he has been principal conductor since, in a programme quickly assembled on Thursday, replacing Tchaikovsky's Marche slave, a rather effective propaganda piece to celebrate Russia's intervention in the Serbian-Ottoman war with the Symphonic Overture No. 1 by Mykhailo Verbitsky, composer of the Ukrainian national anthem with which the concert began. Jurowski's speeches before the start of the concert and in the middle of the first half, in German made many eloquent points, not least that this is "not a Russian war but Putin's war" - regularly applauded by the audience.
Alban Gerhardt was the soloist in Anton Rubinstein's Cello Concerto, featuring a Ukrainian folksong in its finale, and in the dramatic explosions and excruciating ironies of Dmitri Smirnov's Concerto piccolo for cello and orchestra "A History of Russia in Four Anthems". Dmitri, whom I only met twice but whose irony and charm I immediately warmed to, died in 2020 aged 70 from Covid. What a way to honour his memory. I've now heard the first half of this huge concert courtesy of Deutschlandfunk Kultur's archive - listen here - and will return to what by all accounts was a blistering performance of Tchaikovsky's Sixth Symphony when I feel a bit stronger.
I asked some of the pianists with whom I'm in contact to tell me if they had been performing, or were about to perform, any homages, or else to offer tributes. An eloquent one came from Moscow-born Israeli Boris Giltburg:
Russia's monstrous invasion of Ukraine is a human tragedy of horrific proportions. With every fibre of my being I condemn this abominable, unthinkable war, unleashed by Putin and his regime upon an innocent population. This is a fight of a failing world order that cannot bear to see its neighbour democratic and liberal, and wants to drag it back brutally into its own autocratic darkness, by any means necessary.
All my thoughts are constantly with the unimaginably brave Ukrainian people. As a tiny gesture of support, for as long as the invasion continues (and beyond!), I shall be learning, performing and posting works by Ukrainian composers, Praying with all my heart that peace may return soon to Ukraine.
Giltburg had turned his attention back to Prokofiev's so-called "War" Sonatas (6-8), which he has recorded and performed worldwide to overwhelmingly powerful effect. His latest offering there is here on Instagram. A Ukrainian discovery was Sergei Bortkiewicz, born in Kharkiv in 1877, "someone I shall continue exploring - very interesting and beautiful music, and I'm very sorry I hadn't heard about hum until this week".
Musicologist Anastasia Belina told me her Swedish-Polish partner Peter Jablonski quickly learned Musorgsky's "On the southern shore of Crimea" from Crimean Pictures for his Warsaw programme last Sunday. Meanwhile London-based pianists Pavel Kolesnikov and Samson Tsoy are hoping to perform a fundraising concert for Ukraine on 15 March - details to be provided as soon as it's confirmed. Pictured below: Pavel Kolesnikov and the genius choreographer Anne Teresa De Keersmaeker make a statement with their curtain call at the end of a Lisbon performance of The Goldberg Variations on 4 March.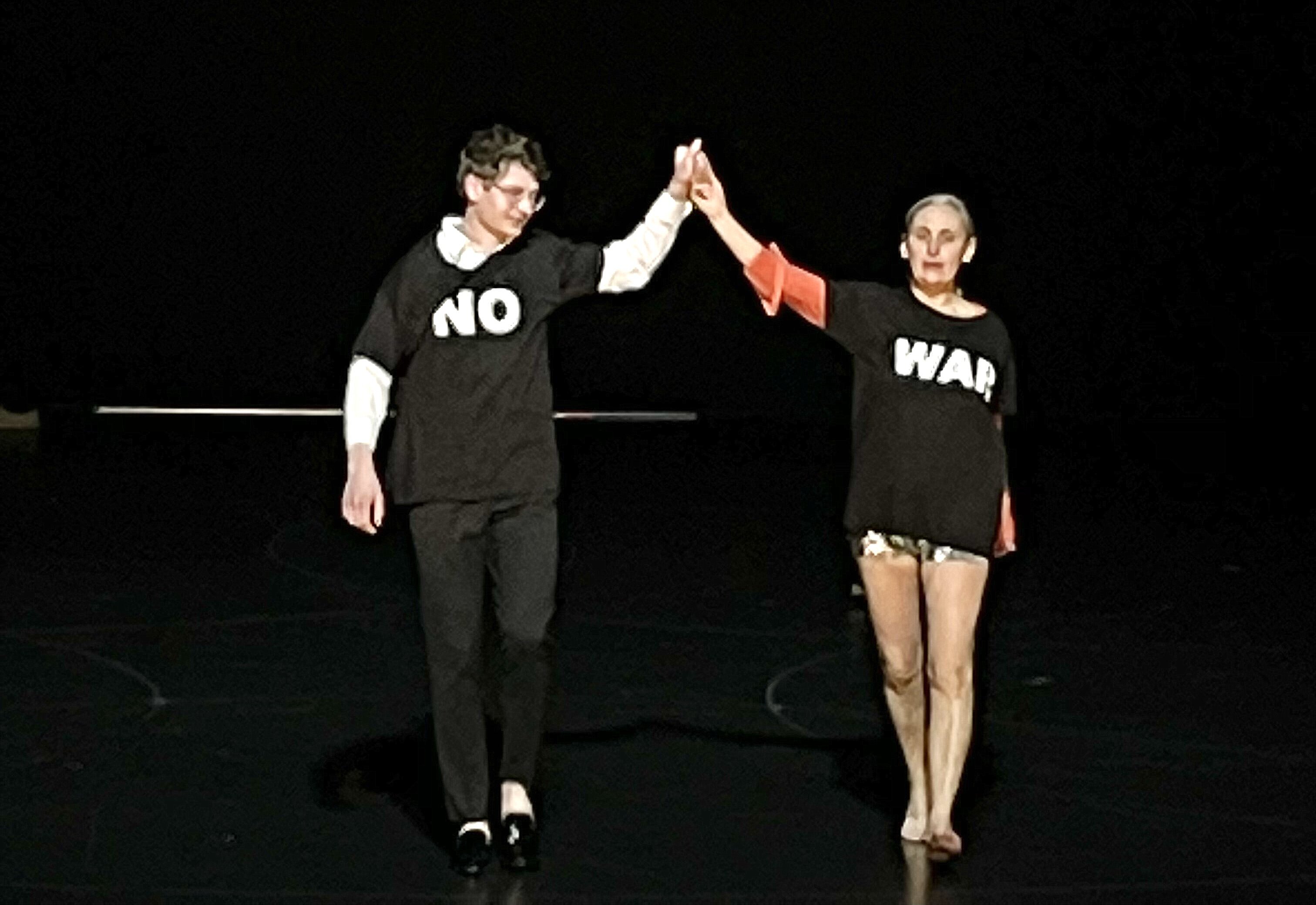 I'll end with a joint statement from Kolesnikov and Tsoy:.
Today we are looking into the abyss that will devour the world as we know and love unless the war is stopped now. We are praying for the peace to be restored, for quiet skies over Ukraine, for elimination of hatred and aggression.

Our friends and families in Ukraine and Russia are pulled apart by this tragic, senseless moment in history, the kind of moment we hoped would be never repeated. We are terrified to witness atrocious aggression prevailing over peace, over richness and beauty of the world.

Every morning we wake up to look for good news. Yet there's none. Please may tomorrow be different.

Our friends and families in Ukraine and Russia are pulled apart by this tragic, senseless moment in history
Explore topics
Share this article