Rigoletto, Opera North review - Covid shocks, debut pleasures
Rigoletto, Opera North review - Covid shocks, debut pleasures
Plague strikes the Duke of Mantua's court, but two young South Africans step up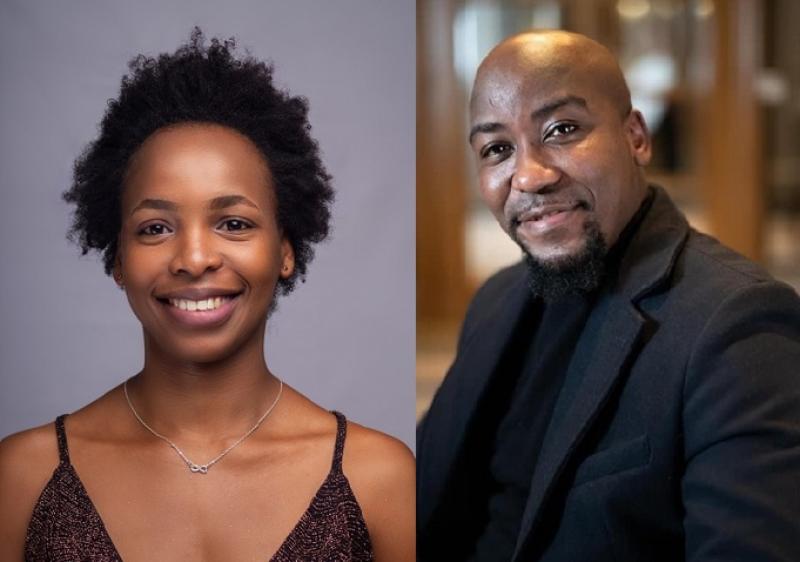 Yolisa Ngwexana and Kamohelo Tsosetsi, thrown into the roles of Gilda and Rigoletto
Beware of joining the Duke of Mantua's sleazy feast in time of Covid too late, as I did on Opera North's Newcastle leg of its Verdi journey. You may find more than a couple of the distinguished guests on stage have fallen sick – three, no less, on Wednesday night, including the Rigoletto and the Gilda, as well as the main conductor. But if you're lucky, as I also was, you may discover unanticipated compensations.
A personal explanation may be necessary here; baritone Eric Greene came to my third Opera in Depth Zoom session, and gave us a two-hour masterclass on Verdi's music for his protagonist in Act Two. How could I and three of the students resist travelling north to see and hear how it played out in practice? Would I have cancelled if I'd known the state of play earlier? I doubt it, as this was part of a friendly visit which took in Durham as well as Newcastle.
Yet such is the Opera North company spirit that one felt the two replacements, young South Africans Kamohelo Tsosetsi and Yolisa Ngwexana, who had been covering Rigoletto and Gilda and had been in on director Femi Elufowoju jr's rehearsal process from the start, were supported with love and care by company and audience. That was a support very much embodied in the opening speech of Opera North's General Director Richard Mantle before the now-obligatory (hurrah) performance of the Ukrainian National Anthem. Tsosetsi and Ngwexana pulled it off with a few glorious surprises along the way.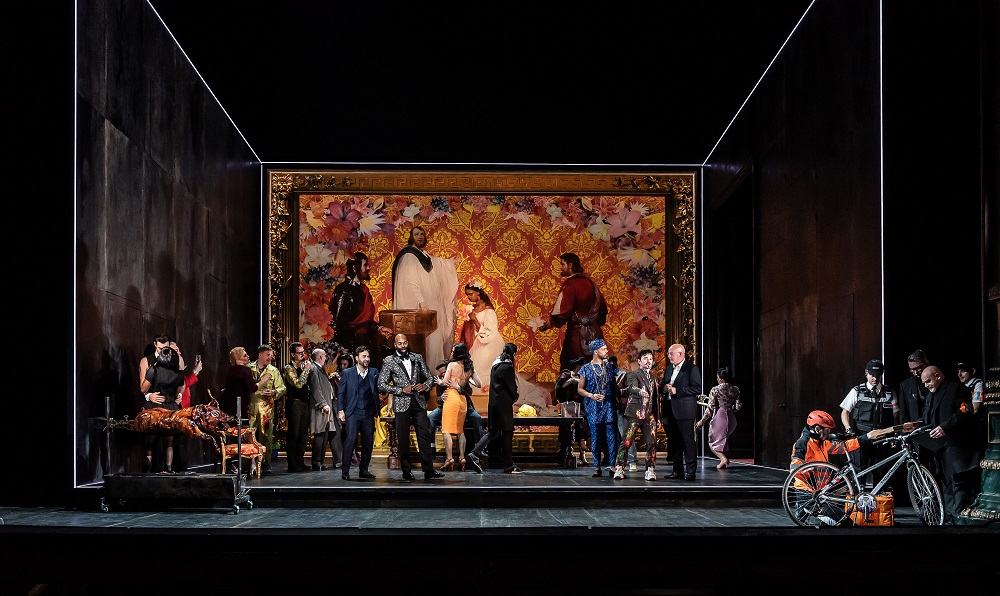 Obviously it's unfair to expect rounded characterisations from the understudies, with little or no stage experience to call upon. Tsotetsi and Ngwexana weren't always helped by what must be oddities in Elufowoju's production even on a good night. Why that model zebra in Rigoletto's house, and why does poor Gilda have to climb on to it and lay back? The student who'd attended the pre-performance talk learned it was a symbol of African freedom, but you shouldn't have to be told something that doesn't read to the audience. The interesting idea of a curse having a much greater impact in a different culture was well enough carried by Byron Jackson, replacing the third singer laid low, Willard White, though due to sing at some performances. But the appearance of his ghost at the end seemed very tacky, even to underline Victor Hugo's and Verdi's moral point that the court entertainer has been hoist by his own petard and the curse has worked.
Designs by Rae Smith have an impact first vibrant (Act One with the original cast pictured above by Clive Barda) and then bleak, but what goes on within them shows problems with topography in Act Two and unsuccessful attempts to make us suspend our disbelief that Rigoletto and in his daughter remain unseen by his master, the assassin he's hired and the assassin's sister in an oddly visualized Act Three (why the tents?). The courtiers lack edge – just a rather boring bunch of would-be Bohemians – and their master is too nice, though Roman Arndt sings stylishly in Act One Scene Two – a consummate "E il sol dell'anima" - and Act Two before going (on Wednesday night) very off pitch in the denouement. The world-class components of the cast, singers we'd be happy to see in any production of Rigoletto anywhere in the world, are Russian mezzo Alyona Abramova as a charismatic if fairly stock murderer's decoy and Callum Thorpe as Sparafucile – strong of voice, stage presence, demeanour, everything, the true total performance of the evening (the two pictured below with Arndt's Duke).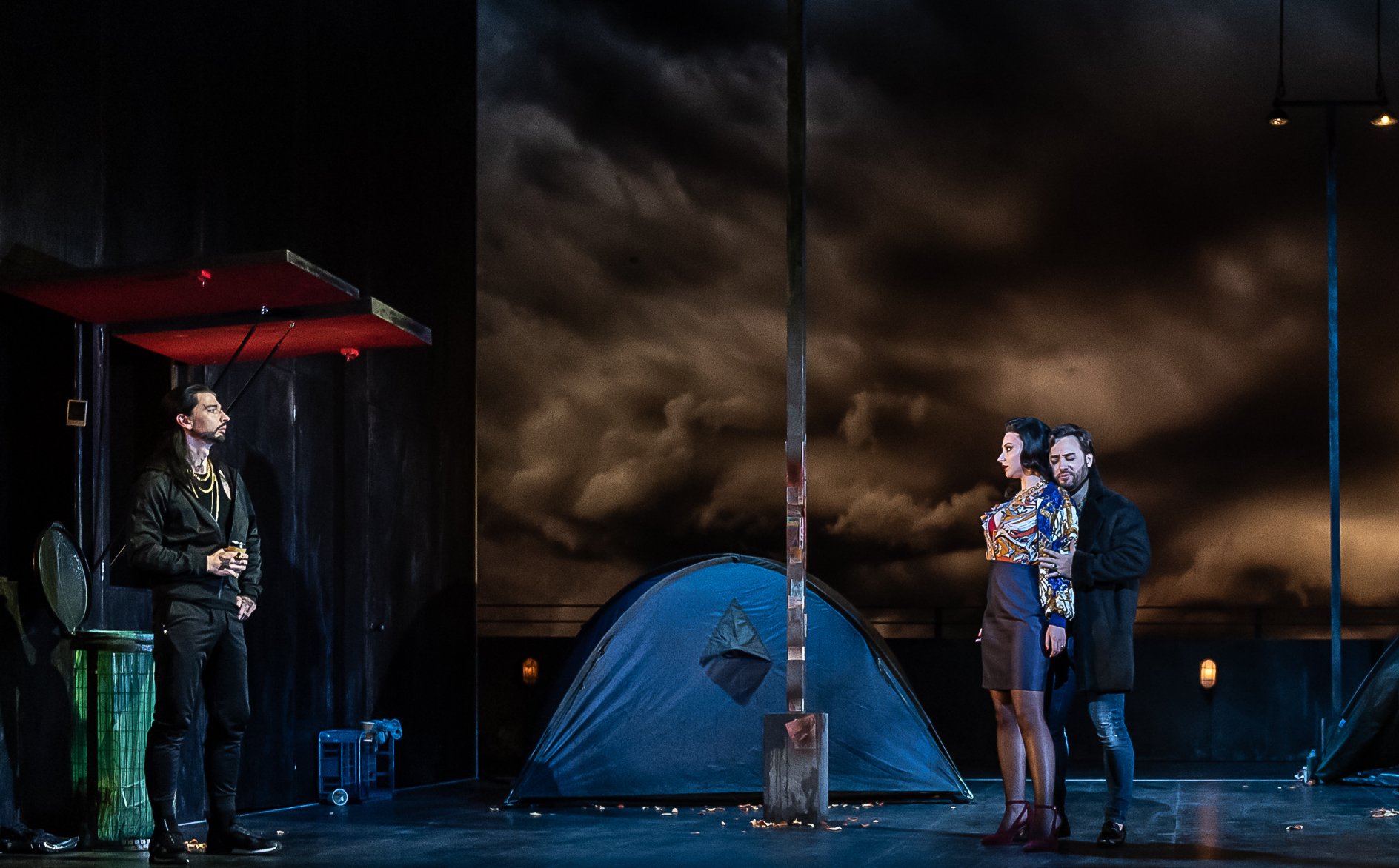 And what of our brave ingenus? Tsotetsi won't, I think, be an ideal Verdi baritone – the voice needs more darkness and heft – but his upper register is ringing if not as yet entirely technically secure, and the lighter roles will suit him well. He's too nice to be a nasty piece of work – which Rigoletto is, in every sphere but his love for his daughter – and not yet able to rise to the pity and terror of a great Shakespearean role.
Ngwexana's Gilda got off to a fluttery start, but then, at the heart of the father-daughter duet, "Veglia, o donna", started producing wondrous tone and phrasing. Her "Caro nome" was for me the emotional highlight of the evening, totally credible in the virginal ardour of the teenager awkening to love – and destined to be horribly betrayed in her trust. Elofowoju seems to be telling us that the Duke likes dressing everyone up, and some members of the audience might have ended up thinking that was all that happened in his boudoir; the horror of the rape doesn't begin to impinge. Ngwexana is a bit underpowered in Act Three, too. But this is the ideal light lyric soprano, and she could well be a star following in the footsteps of Pretty Yende.
Hard to judge what the orchestra might do when unleashed; you have to take into account that caution was necessary from Patrick Milne, replacing Garry Walker,to help the novices. But this was still a far from tepid evening in Newcastle's lovely Theatre Royal, with the acoustics wonderfully kind to all the voices. We wish the a-cast swift recovery, but I feel lucky all the same to have watched nurturing of young singers at work.