Clybourne Park, Park Theatre review - excellent revival of Bruce Norris's award-winner |

reviews, news & interviews
Clybourne Park, Park Theatre review - excellent revival of Bruce Norris's award-winner
Clybourne Park, Park Theatre review - excellent revival of Bruce Norris's award-winner
The 2010 satire about race and the realities of real estate remains blistering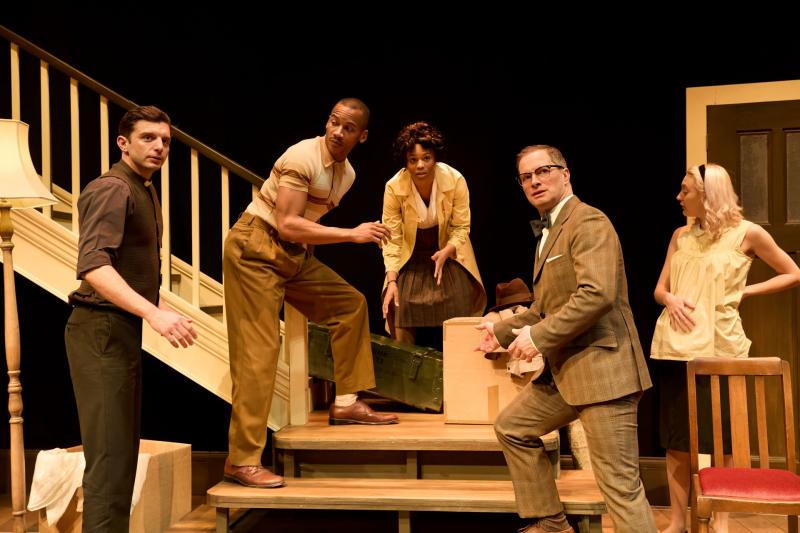 Park activity: from left, Michael Fox (Jim, Tom), Andrew Langtree (Karl, Steve), Eric Underwood (Albert, Kevin), Katie Matsell (Betsy, Lindsey), Aliyah Odoffin (Francine, Lena)
Bruce Norris's Clybourne Park arrived at London's Royal Court like a blazing comet in 2010, a bold kind of satire about race relations that was both sassy and savvy.
Now it's back for a run at the Park Theatre, N1. Twelve years on, we have learnt to don a tin hat and duck whenever somebody enters the minefield of other people's sensitivities. But Norris's play is a reminder that it's possible to barrel straight into no-man's land and lob grenades from there at targets on all sides, to hilarious and provocative effect.
The piece is structured like a Rohrschach blot: two acts set a half-century apart that both mirror and reverse each other. What joins them is a one-storey house in a central district of Chicago. Pictures of US Presidents are projected onto the set's back wall, the first sequence ending with Eisenhower. We are in 1959, in a district about to experience "white flight".
A middle-aged white couple, Russ and Bev (Richard Lintern and Imogen Stubbs), with a secret sorrow involving their son, are preparing to move out, assisted by a black maid, Francine (Aliyah Odoffin). Russ is being eaten alive by sadness, while Bev is an emollient in human form; Stubbs gives her voice a southern belle singsong quality that suggests a surface gentility. What it masks, we soon discover, is an almost comic ignorance of the world.
Bev is a woman who can spend valuable time wondering where the word "neopolitan" comes from as she watches her depressed husband eating ice cream. She hopes it has something to do with "new" and "city" (her education wasn't entirely wasted) but is disappointed to find it simply means "from Naples". This is good comic grit in itself, but Norris has a sneakier plan, which is to rerun the background scenario of Act 1 – a community in flux – in Act 2 and seed it with pointed echoes and connections.
As the second act opens, in 2009, with Obama's first presidency under way, a group has gathered at Russ and Bev's old house, played by the actors from Act 1, and is discussing what the term "frontage" means. The world has shrunk, we see, from evoking the romantic destinations of Europe to inspecting the small print on a modern real estate contract. Stubbs is playing a pushy, gravel-voiced lawyer now, Kathy. Her horizons are broader than Bev's, though their breadth is not matched by any depth: this is a woman who has visited the capital of Morocco without actually being able to name it.
The Act 2 group hope to make a young couple scale down the height of the home they plan to build on the site of the bungalow in Act 1. These newcomers are white yuppies, and many of the area's 21st century residents are black; two of them also young professionals, Lena (Odoffin) and Kevin (Eric Underwood), who have come to the meeting to protect their neighbourhood. The working class is represented by a white hard-hatted builder (Lintern), who goes roaring through the polite middle-class meeting, literally digging up secrets buried in Act 1. (Pictured above, Eric Underwood, Aliyah Odoffin)

Common to both acts is a prime irritant: Karl in Act 1, Steve in Act 2, both played by the excellent Andrew Langtree. Karl is your standard issue blowhard, a bow-tied Rotarian, pillar of the community association. He visits Russ and Bev to persuade them not to sell their house to a "coloured" person. This is a man who thinks the local community is "progressive" because the store has hired a man with learning difficulties to bag groceries. Act 2's Steve is a slightly less conservative but equally tetchy alpha male, part of the couple wanting to build the over-tall new house.
These men are from the I-say-aloud-the-words-others-don't-dare-to faction. And a key word they have in mind is "race". Their womenfolk are appalled by their bullishness – both are played by Katie Matsell, in a glorious double comic turn – yet actually have nothing worthwhile to add to the debate.
Norris exploits Karl and Steve ruthlessly, both to represent the reactionary tendency of the (white) status quo and also to probe the weak spots in more liberal arguments. Difficult questions erupt. What is a community? Somewhere the same people happen to have lived for a couple of decades and thus have vested interests? What about the people they dislodged, who thought they were a community too?
The play proposes no pat answers, no agenda, preferring to take us on a giddying tour of the flaws in our moral armour. You sense that at heart Norris doesn't believe human beings really can do that much better. As his play establishes, the world has a tendency to repeat itself, and especially its mistakes. We might dream, as Bev does, of a "big table" where everybody could sit down together, but our attempts at unity are likely to devolve into bickering and rage, as both acts here do. Bev may not mean to be disrespectful to Francine in trying to push an old chafing dish on her – such a superb symbol of polite society, polished but archaic and unwanted – but we cheer inwardly when Francine's husband Albert (Underwood) firmly says, "We got our own things." Bev is brought to tears, her time-honoured seigneurial role at an end.
This an excellent revival of a terrific, clever play, stylishly directed by Oliver Khaderbai.
Karl thinks the local community is progressive because the store has hired a man with learning difficulties to bag groceries
rating
Explore topics
Share this article