To Kill a Mockingbird, Gielgud Theatre review - Harper Lee's classic tale is satisfyingly retooled for today |

reviews, news & interviews
To Kill a Mockingbird, Gielgud Theatre review - Harper Lee's classic tale is satisfyingly retooled for today
To Kill a Mockingbird, Gielgud Theatre review - Harper Lee's classic tale is satisfyingly retooled for today
Bartlett Sher has created a fine, fast-paced production for Aaron Sorkin's adaptation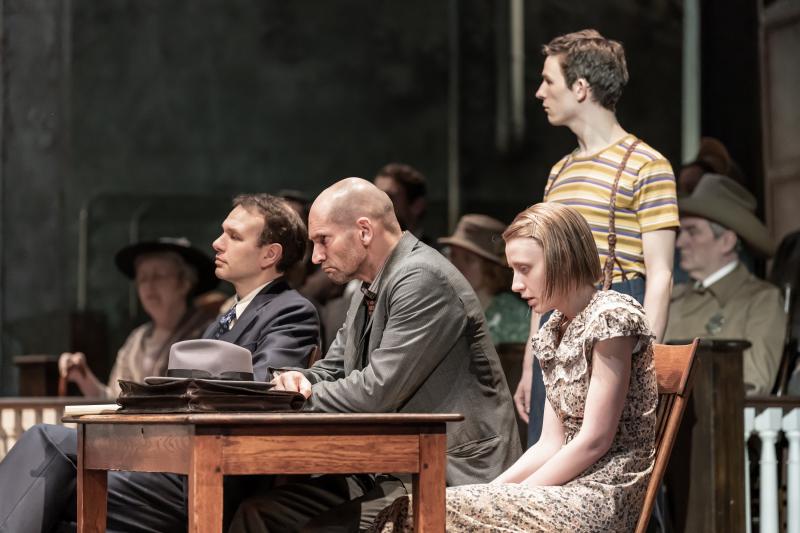 Killing it: the company of 'To Kill A Mockingbird'
The writing of Aaron Sorkin has developed a signature razor-sharp cut and thrust for poking about in the dark corners of American civic life, notably its politics and jurisprudence.
And Bartlett Sher has become the go-to director for immensely satisfying storytelling, whether in classic musicals or straight plays
–
this is the man who made the Oslo peace process as gripping as a potboiler, in a play seen in London in 2017. Together, the two men have fashioned a
stage version
of Harper Lee's 1960 novel
To Kill a Mockingbird
, finally here at the Gielgud from Broadway, that is as entertaining as it is ambitiously lofty.
Sorkin has been candid in admitting he has not swaddled Lee's novel in bubble wrap, repurposing it for the age of Trumpian politics and Black Lives Matter. (His characters deploy the n-word throughout, an authentic touch many producers might have decided to swerve.) Sorkin's lawyer Atticus Finch is not the noble-browed Gregory Peck of the 1962 film, though the linen suit and glasses remain. Rafe Spall manages to make him both comically ruffled and owlishly learned, endearingly indulgent with his two motherless children and their new pal Dill, while over-fond of doling out his wisdom, especially to his client, Tom Robinson, an innocent black man accused of raping a young white woman in small-town Alabama in 1934. He's heroic, but his flaws matter.
We might have expected Sorkin, the Oscar-winning writer of The Social Network and A Few Good Men, to make his drama one big court scene, but he resists the temptation. Instead, the action becomes a recreation of the whole train of events that summer by Atticus's children, teenaged Jem (Harry Redding) and six-year-old Scout (Gwyneth Keyworth), who, with Dill (a nicely odd David Moorst), wander through the action as a kind of chorus, narrating and commentating at the same time. Their naivety and inherent innocence allow them to challenge the racism on their doorstep and point up its grotesqueries.
This puts us largely in the hands of Keyworth, the 31-year-old actress who gamely tackles the role of Scout, a preternaturally bright child with a highly developed nose for BS. Did Bob Ewell, father of the alleged rape victim, really fall on his own knife, she ponders. We have to wait until the play's end to find out whether he did or not. Keyworth becomes an estimable Chorus, a little fighter in dungarees who lights up the stage (even if her accent tends to slide here and there: it's one of the hardest American accents to conquer, and most of the cast understandably trip up on it at some point).
Miriam Buether's set design is a key player in stitching the action together. Using a big warehouse as her own theatre within a theatre, she has scenery slide in from all directions, via marvellously unobtrusive choreography that seamlessly moves us from the Finches' front porch to the courtroom and the tree-lined streets of Maycomb and back again. A lady harmonium player and a guitarist out of the painting American Gothic are positioned each side of the stage, providing incidental music with a touch of the hymnal about it. Which is appropriate as Scout notes that the courtroom is her father's "church".
It's impossible not to be swept along by this nimble-footed play, which offers a lot of laughs to lighten the gloom of its post-Depression realities. The casting works very well, the mechanics of the piece are faultless. So why did I feel a flicker of unease?
Where Sorkin has gone off-piste is interesting. A lawsuit from the Harper Lee estate prevented him from depicting Atticus as a drinker, yet he has another way to humanise him, which is to put his cherished belief in even-handedness, in climbing inside the skin of other men to understand them, on trial alongside Tom Robinson. To aid him in this, Sorkin recruits Calpurnia, the Finches' black maid, who now gets to lob some of Sorkin's best barbs at her employer. "I believe in being respectful," he tells Calpurnia. "No matter who you're disrespecting by doin' it," she fires back. Pamela Nomvete steers the character away from stereotype, but Calpurnia's enhanced role makes you especially aware that hers is still the only black voice telling it like it is in the piece.
Which leads to the gnawing problem at the heart of this enterprise for me. Sorkin has retooled actual statements from Trump supporters as dialogue for his obvious baddie, Bob Ewell, and their unbridled racism makes for predictably chilling listening. Ewell, as the audience knows from the first minutes of the play, does not live happily ever after. But his demise is stage-managed outside the law by Atticus, Judge Taylor (Jim Norton) and the Sheriff (Tom Mannion), as a form of natural justice. All these key men are white, so inevitably their actions could be seen as another form of "white justice".
Does their status make their decisions superior to those of the bigoted all-white jury at Robinson's trial? Do we applaud Atticus and co for doing what was "right" here? Yes, obviously, but it still has a whiff of white privilege about it that Sorkin doesn't address. He knows his audience, presumably, and assumes they will want good to prevail, by whatever means necessary. But I expected a better day in court from him on this key issue.
At the finale, the whole cast assemble for a rendition of the hymn "Joy Cometh in the Morning", and Atticus intones the line "Darkness will give up the fight". The play has become a clarion call, and as Scout ends her summation by urging, "All arise", the theatre has become both a court and our church.
Rafe Spall manages to make Atticus both comically ruffled and owlishly learned
rating
Share this article