The Misfortune of the English, Orange Tree Theatre review - don't fret, boys, it's only death |

reviews, news & interviews
The Misfortune of the English, Orange Tree Theatre review - don't fret, boys, it's only death
The Misfortune of the English, Orange Tree Theatre review - don't fret, boys, it's only death
Pamela Carter's slippery tale of a school trip to Nazi Germany explores the price of a stiff upper lip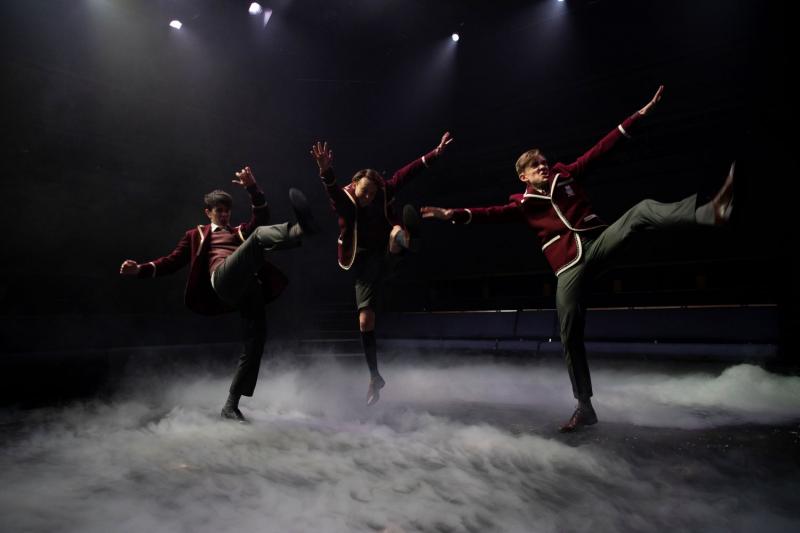 No room for individual thought: (L-R) Vinnie Heaven, Matthew Tennyson and Hubert Burton in 'The Misfortune of the English'
"We all make history, one way or another." But some of us make more history than others, and a group of 27 English schoolboys who got lost in Southern Germany in 1936 haven't made much, unfortunately.
Scottish
playwright Pamela Carter has brushed the cobwebs from this strange corner of Anglo-German relations and spun an irreverent
new play
about what it means to be English.
Our narrators are three pupils of the Strand School in South London: rambunctious Eaton (Vinnie Heaven), clean-cut Harrison (Hubert Burton), and earnest Lyons (Matthew Tennyson), the youngest. They're on a walking holiday in the Black Forest, which is thrilling, because they are 1) abroad and 2) allowed to call their teacher, Mr Keast, 'Keaty'. "When I think back on the boy I was two days ago…" 13-year-old Lyons says wistfully. He's a traveller, now – an English boy representing his country in Nazi Germany, three years before the Second World War breaks out.
Heaven, Burton, and Tennyson's (all pictured below) energy is infectious. "Adsum!" they announce cheerfully, ribbing and fake-punching each other. It's all "we" this and "we" that – there's no room for individual thought in the Strandians' world. In little interludes, they do calisthenics in unison while a female voice (Eva Magyar) provides fun facts about the Black Forest. Though there's only three of them, Oscar Toeman's direction makes us feel the presence of the other 24, along with hero-worshipped Keaty. Like any good school trip, it's rife with food: the boys munch Babybels and satsumas, and Lyons is very particular about his cake arrangements.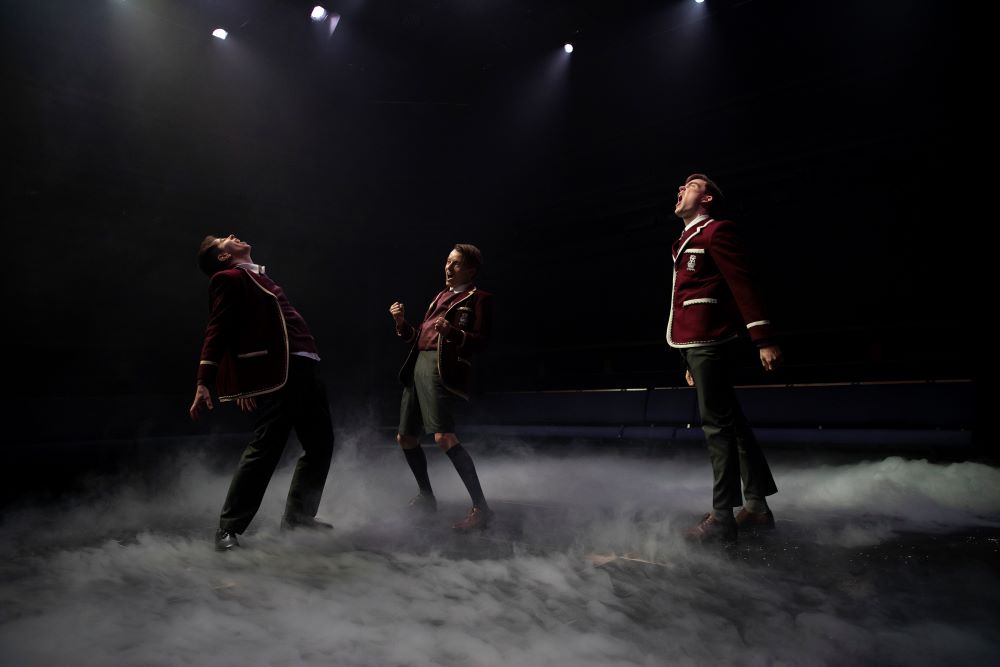 The language is surprisingly modern: somebody gets called a "libtard", and Eaton invites the citizens of Freiburg to "check us out!". It's about a third of the way through the 90-minute play that things begin to go wrong. The house lights dim as a storm rolls in, Dan Balfour's jaunty soundtrack warping and twisting, the boys falling out of step with each other. It's as if the approaching tragedy is too devastating for the play's form to contain.
Harrison wonders if the fatal ordeal could have been avoided, but it's clear from Burton's tone that he's just entertaining a flight of fancy. The idea that almost 30 English schoolboys, repressed to within an inch of their lives and desperate to prove their peculiarly English masculinity in Nazi Germany, would do something so embarrassing as give up in the face of a deadly storm is laughable. When the boys hold a plebiscite as to whether to attempt to climb the Schauinsland mountain, they throw their hands up for it with such enthusiasm that for a moment, it looks like they're doing Hitler salutes.
Tennyson is an expert at seeming totally vulnerable while always holding something of his characters back from the audience. In fact, it's like all of the actors are doing that: Heaven through cheeky charm and Burton through sheer bloody decency. Keaty's guilt is never stated explicitly; it doesn't need to be. The misfortune of the title comes to mean not just the tragic events the boys experience, but the jingoistic self-belief that won't let their teacher (and therefore them as well) admit mistake or defeat. In her programme notes, Carter refers to the boys' Englishness as "a story deposited in them, nurtured and harnessed to the political imperatives of the 19th and 20th centuries." It's this story that dooms them, like a magnet propelling them towards the unclimbable mountain.
Harrison is the only one of our trio to survive; it says so in the programme. But it seems a shame to highlight the other two's deaths so early on. Surely you can bank on the fact that most of your audience won't know the story you're telling. The play veers off into strange territory in the last stretch, and doesn't quite manage to bring itself back on track. But it's still devastating. How lucky we are, to have a playwright like Carter.
The misfortune of the title comes to mean not just the tragic events the boys experience, but jingoistic self-belief
rating
Explore topics
Share this article