Charli XCX, O2 Academy, Glasgow review - sweat-drenched pop amid feverish atmosphere |

reviews, news & interviews
Charli XCX, O2 Academy, Glasgow review - sweat-drenched pop amid feverish atmosphere
Charli XCX, O2 Academy, Glasgow review - sweat-drenched pop amid feverish atmosphere
The singer's commanding presence overcame a slick production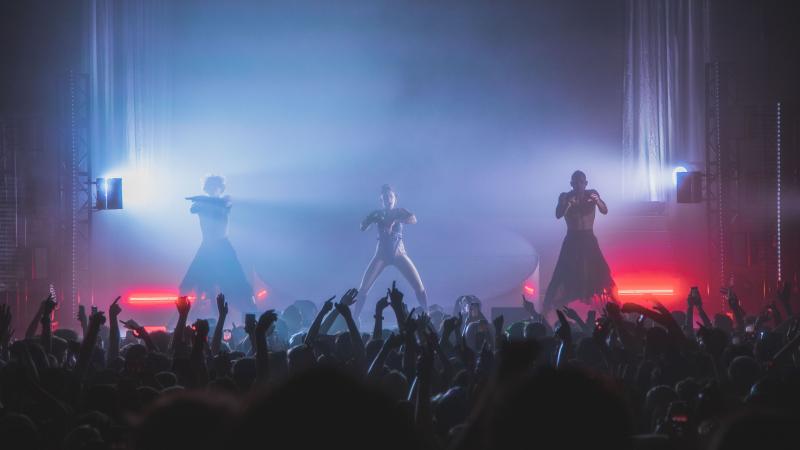 Charli XCX has commanding presence
"This town makes me sweat", declared Charlotte Aitchison at one point in this set, as she took a brief breather between songs. The 29-year-old should have tried being in the audience, for this was a sweat-drenched evening right from the opening seconds, with a wildly devoted crowd which congregated into a heaving mass rapidly and consistently.
Aitchison might have too many quirks to ascend beyond a venue like the O2 Academy, but something about both her personality and performance suggested she is better suited to such a setting anyway.
Which isn't to say that the Essex native is struggling for fans, given this was a sold-out show and that she topped the charts with this year's Crash, which comprised over half the setlist here. As arguably her most straightforward collection of dance-pop yet it was well suited to a gig, being battered out with an intense, fluid energy from Aitchison, who was accompanied onstage only by two stripped-to-the-waist backing dancers.
The singer herself was not exactly shy about showing flesh either, first appearing in a corset that was part dominatrix, part Mad Max survivalist. Yet although there were a few costume changes, backscreen videos and a stage set-up that utilised a ramp for Aitchison to wander up and down, there was very little to truly distract from the woman herself. Everything focused around her, whether dancing gleefully on "Gone", with a stage bathed in blood red shades, sitting down for the lighters and phones aloft torch ballad "Every Rule" or thrashing on the floor during the rising noise of "Twice".
It was commanding and confident stuff, summed up by Aitchison bellowing that she knows she's a "f****** good performer" to roars of approval. She does carry herself like a conquering queen of a pop star, and the material from "Crash" matches those ambitions. In fact, it almost matches them too well, for such was the slickness of some of the tracks that it was hard to tell just how much was coming from Aitchison's voice, and how much had become a show. Not even her older material was immune, particularly the Matrix- and Britney Spears-referencing "1999", here coming across as more pastiche than anything else.
It is a fine line to tread with such accomplished pop production, because there is an individuality that marks Aitchison's best moments, such as the thumping groove of "Boom Clap", here a few minutes of sugar-rush euphoria, the primal simplicity of newbie "Yuck" and the confident sexual swagger of "Constant Repeat" with its bad girl refrain, the songstress strutting to the front of the stage. That character became obscured occasionally on newer material as the dance-pop of "Beg For You" felt so robotic you could practically see lines of code underneath it, and "Used to Know Me" seemed a photocopy of other, better songs.
Her fans remain devoted though, with every word hollered back with delirium, and even a costume change break with her hardworking backing act dancing saw their rhythm matched by a loud "here we, here we, here we f****** go" chant from the Glasgow crowd. When she dropped her heaviest bangers, notably the punchy "Vroom Vroom", the floor's vibrations could be felt, and she has enough bops to overcome any lulls.
It created a feverish atmosphere, part pop gig, part emotional benediction for the masses, and Aitchison herself, draped in a Saltire by the encore, seemed genuinely affected, expressing sentiment that cut through the ever-present sheen. Then it was back to the bangers, with a fast and furious finale capped off by one of her finest, the dancefloor sass of "Good Ones", before the lights were raised, the doors opened and the cool drizzle outside finally calmed temperatures.