Cornelia Parker, Tate Britain review – divine intelligence |

reviews, news & interviews
Cornelia Parker, Tate Britain review – divine intelligence
Cornelia Parker, Tate Britain review – divine intelligence
The most interesting artist of our time
Cold Dark Matter: An Exploded View, 1991 by Cornelia Parker
Cornelia Parker's early installations are as fresh and as thought provoking as when they were made. Her Tate Britain retrospective opens with Thirty Pieces of Silver (pictured below left: Detail).
It's more than 30 years since she ran over a collection of silver plate with a steamroller, then suspended the flattened objects on strings so they hang in silver pools a few inches above the floor. The familiar shapes are like place settings or wedding gifts whose tawdry glamour has been crushed along with the dreams of grandeur which they embody.
Since Parker is a conceptual artist as much as a sculptor, there's a back story to the work and knowing it enriches one's experience of the piece, since it lets you in on her thought processes. As a child, she received annual gifts of silverware from her German grandparents; odd presents for a girl, suggesting a desire to secure her future by contributing to her bottom drawer.
At the time of making the work, the squat where she lived in Leytonstone was about to be demolished to make way for a slip road to the M11. She began augmenting her own collection with candlesticks, cutlery, teapots, jugs and sugar bowls bought in car boot sales and at auction. Squashing these emblems of security and wellbeing was partly a reflection of the imminent dislocation and partly an act of defiance, proof that destruction could be harnessed to become a creative force.
The title refers to the reward that, according to the Bible, Judas received for betraying Christ. For the artist, corruption, wickedness and violence are a foil, sparking ideas and fostering creativity. And her funny, ironic and generous responses come as a positive alternative to the negative impulses which provoke them. Stolen Thunder, Tarnish 1997/8, for example, consists of pristine white cloths stained with smudgy grey marks produced by polishing silverware that belonged to famous villains or heroes. The idea of creating drawings by cleaning Guy Fawkes's lantern, Davey Crockett's fork or Henry VIII's armour is obviously absurd. There's a mixture of deference and irony in the act which, along with the frisson of borrowed fame or ignominy, invites us with wry humour to question our values.
Avoided Object, 1999 similarly relies on appropriation. Pictures of clouds scudding across the sky above the Imperial War Museum (pictured below right) were taken with a camera once used by the commandant of Auschwitz to photograph his family. Parker used infrared film to turn the sky black and suggest that the lens through which a mass murderer saw the world must inevitably produce a darker view.
In 2004 she revisited the idea of crushing silverware. Perpetual Canon 2004 (pictured below) is a ghostly circle of flattened instruments hanging at eye level. Trumpets, trombones, saxophones, bassoons and tubas gleam in the twilight of a single bulb – beautiful but useless. The air irrevocably squashed out of them, they pay silent homage to the raucous clamour of brass bands.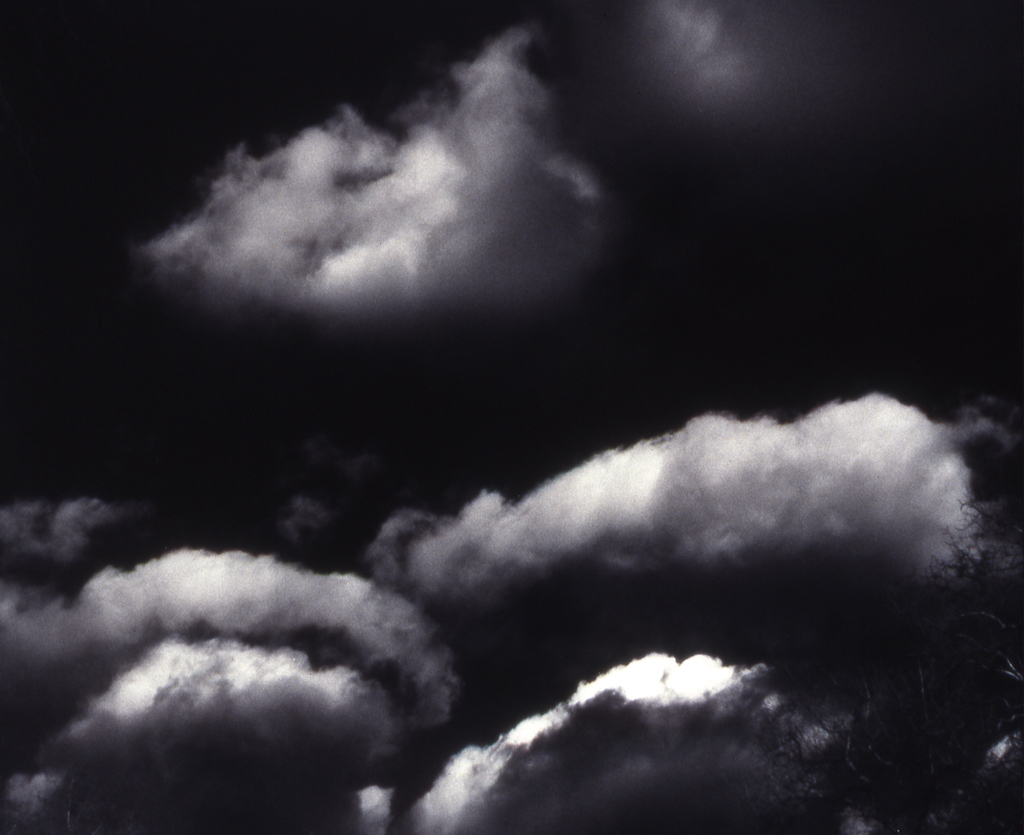 Her most famous act of creative vandalism, Cold Dark Matter: An Exploded View 1991 (main picture) is as dramatic as ever. With the help of the Army and some Semtex, she famously blew up a shed and its contents, then collected the debris and hung each item from a thread. Framed by the splintered remains of the wooden shell, the accumulated clobber of daily life – bicycle wheels, tools, tins of paint, wellington boots, watering cans and the like – hang in the air as if caught mid-explosion. Lit by a single bulb suspended in the middle, they throw ghostly shadows over the surrounding walls and ceiling.
The initial thrill of the piece came from the dizzying spectacle of this frozen-in-time act of demolition. Since then, though, the work has accrued further meaning. Now it feels like an ironic comment on a way of life which encourages endless accumulation and the waste of precious resources. Seeing all this stuff blown sky high feels incredibly liberating; it makes you want to dance on the cracks between the paving stones.
That small act of rebellion inspired Black Path 2013. The route to her daughter's school went through Bunhill Fields, the non-conformist burial ground in Islington where mother and daughter would play "don't step on the lines". Pouring liquid rubber into the joints and letting it harden enabled the artist to make a record of the cracks which she then cast in bronze. Standing on pegs so it hovers just above the floor, the resulting grid is a tantalising reminder of games that can be played and rules broken.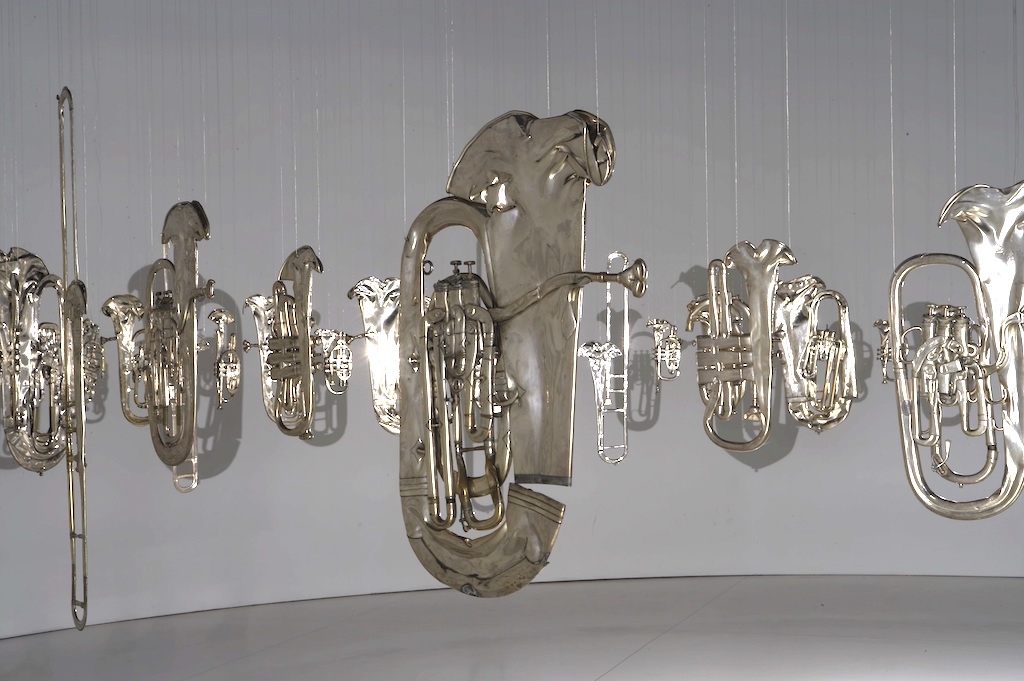 Parker's work is inspired by the zeitgeist, but it is never overtly political. Made especially for the exhibition, FLAG was filmed in a Swansea factory. The video records the creation of a Union Jack from disparate strips of cloth to the finished product proudly flying at top mast. But the film is reversed, so we see the flag being lowered before gradually unravelling into its constituent parts. World Coming Apart 2017 is similarly telling. The photograph shows a worn map of the world mended along the folds with bits of sellotape that have turned yellow and begun to fray. Both works are brilliantly understated reflections on the possible disintegration of the United Kingdom and the waning health of our planet.
Island 2022 (pictured below), the last work in the show, consists of a greenhouse covered in dabs of chalk collected from the white cliffs of Dover. "The glass house," Parker explains, "becomes enclosed, inward looking, a vulnerable domain, a little England with a cliff-face veil." Lining the floor are old tiles rescued from the Houses of Parliament, their pattern rubbed away by the comings and goings of generations of MPs – democracy worn thin?
The work is a response to Brexit and the insularity it has spawned; but it also addresses climate change and the need to protect ourselves from global warming. "The spectre of the climate crisis is looming large", says Parker. "With crumbling coastlines and rising sea levels, things seem very precarious… What was stable is now uneasily shifting." Such serious issues are too gargantuan to deal with in tandem, though, and the installation feels as heavy handed as a mixed metaphor.
What makes Cornelia Parker's work such a joy is her disinterested yet lighthearted approach; but this seems ever harder to maintain. How to respond to problems such as the failure of governments to take meaningful action on climate change, the Republicans' daily assault on democracy or the Tories' "let them eat cake" response to soaring inflation may well prove to be a challenge too far. And that would be very sad indeed.
What makes Cornelia Parker's work such a joy is her disinterested yet lighthearted approach
rating
Explore topics
Share this article