Carmen, Queen Elizabeth Hall review - a flawed but fascinating retread |

reviews, news & interviews
Carmen, Queen Elizabeth Hall review - a flawed but fascinating retread
Carmen, Queen Elizabeth Hall review - a flawed but fascinating retread
Osipova mesmerises in a new contemporary dance chamber-version that doesn't quite hit its mark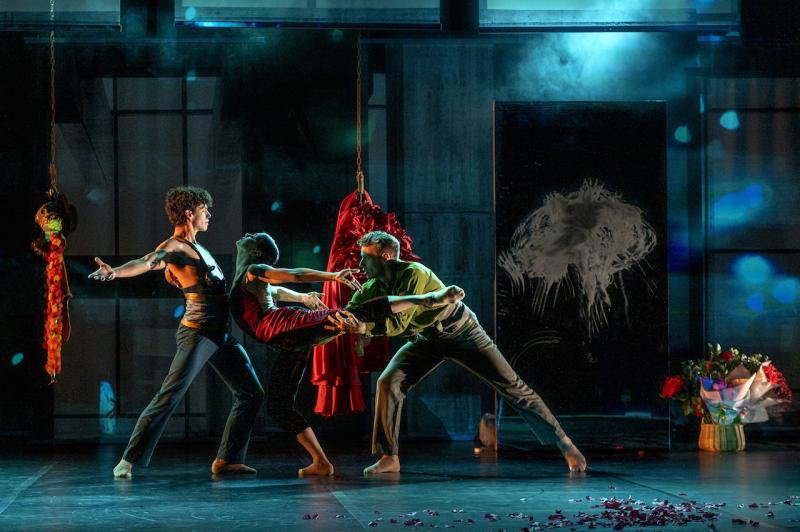 Femme fatale: Natalia Osipova as Carmen, with Isaac Hernández as Escamillo and Jason Kittelberger as Jose
When Natalia Osipova comes a-calling, a choreographer doesn't say no. The Bolshoi-trained ballerina, having commandeered all the prime roles in her nine years at the Royal Ballet, is always looking to conquer new territory. In a string of self-curated solo shows she has made forays into contemporary dance as well as staking out her supremacy as a dance-actress, often commissioning new work.
Most memorably, in 2019, she starred in The Mother, a contemporary telling of the pitch-dark story by Hans Christian Andersen, about a young woman prepared to fight Death itself to save her baby. Osipova has now procured what might seem to be the ultimate vehicle for her outsize talents – a reinterpretation of devil-may-care seductress Carmen, a Carmen more complex than any standard interpretation has allowed her to be.
And not before time. Georges Bizet's operatic creation, inspired by a steamy best-selling novella of 1845, was a lubricious 19th century male fantasy of liberated female sexuality, of a free spirit defiantly giving rein to her appetites. But that power over men and the havoc she wrought had to be punished, hence her deadly comeuppance at the hands of a jealous lover. There's no question that a Carmen for our times is overdue.
Director-choreographer Didy Veldman's contemporary-dance version premiered to a packed Queen Elizabeth Hall last weekend and must surely return for a longer run, if only to consolidate its best elements and deal with some questionable ones. Paring the story down to five characters, Veldman conceives it as a show-within-a-show, the preparation for a production of a filmed "Carmen" gradually infecting the relationships of cast and crew. This isn't a new idea, viz the Bafta-winning 1983 flamenco movie Carmen that eventually migrated to the stage and toured internationally for years.
For choreographic material Veldman draws inspiration from her dancers, all of them top-tier but from different disciplines. Her Jose is the fine contemporary dancer Jason Kittelberger, who has partnered Osipova on stage many times and also happens to be her actual boyfriend. Escamillo is English National Ballet star Isaac Hernández, whose prowess in virtuoso leaps and fancy footwork make him a natural for the arrogant toreador. He is dual-cast as director of the video, a glossy Carmen-themed fashion shoot, its sexed-up poses and extravagant threads conceived by Nina Kobiashvili with an unmistakeable eye to Instagram.
At times the film-Carmen seems to be working knowing clichés of desirability and glamour. That might explain why, off-set, Osipova (pictured above) is so unhappy and conflicted, roving the stage with bunched-up anger, hurling her body into anguished shapes. Either she's uncomfortable with the dodgy messages her role as an insatiable siren is sending to her fans, or sick of the endless public appetite for Carmen's story. It's possibly both but this could be made easier to read. A segment in which Osipova duets to tango music with cameraman Eryck Brahmania in mesmerising slow motion is transfixing, but I am at a loss to know how it relates to the whole.
The show's second half comes into tighter narrative focus even as the line between the players and their film roles starts to blur. Osipova the working dancer loses the friendship of Hannah Ekholm's Micaela after stealing her boyfriend Jose, and sets Jose and Escamillo at each others' throats after sleeping with both. Kobiashvili's set incorporates multiple gauze screens on which we see blurry projections of angry exits and street chases on foot, leaving plenty to the imagination.
Composer Dave Price (who supplied the terrifying soundworld for The Mother) offers an appealing reboot of Bizet's music, scored for very different instruments and occasionally veering off into other styles such as jazz or klezmer. Practicalities presumably ruled out this being played live, but I was sorry not to find out what the instrument listed in the credits as a cavaquinho is. And much as I would not want to lose a moment of Price's music, or a moment of Osipova's extraordinariness, or any of the show's three alternative endings, I suspect there is a shorter, less elliptical reading of Carmen waiting to emerge in a future edit that would say more of what its creator meant it to say about desire and disinhibition.
The choreography draws inspiration from the dancers, all of them top-tier but from different disciplines
rating
Share this article