Lightyear review - can infinity be a yawn? |

reviews, news & interviews
Lightyear review - can infinity be a yawn?
Lightyear review - can infinity be a yawn?
Pixar's space adventure spin-off from 'Toy Story' series fails to launch
Buzz and his commander Alisha Hawthorne take the controls
The animation may be stunning, but in every other department, Lightyear is a disappointment. It's a crying shame for anyone who loved the original Toy Story and its (mainly) excellent sequels. If you were expecting a buzz from Pixar's origin story, brace yourself instead for a damp squib.
We're told in a caption that what we're about to see is the sci-fi movie that Andy watched back in 1995, the thrilling adventure that inspired him to jettison his beloved cowboy figure Woody in favour of macho astronaut Buzz Lightyear. But something went wrong in Angus MacLane's scriptwriting.
The usual wholesome messaging – homilies about team work, family, and acceptance – is present, but very little of the sly humour or dazzling narrative inventiveness that characterised the great Pixar movies (Up!, The Incredibles, Finding Nemo). Sci-fi movie buffs will spot the homages to 2001, Tremors, Alien, Interstellar and The Martian, but ticking off film references isn't enough to make Lightyear enjoyable for adults.
There's a lacklustre fatigue in the movie's carousel of chases, fights and puzzle challenges that is all too structurally reminiscent of a video game. Buzz Lightyear the action figure was gently mocked for his pomposity and clumsiness through Tim Allen's voice work in the Toy Story films. But MacLane's ambition to make Lightyear a straighter film, the equivalent of Andy's Star Wars, led to Chris Evans replacing Allen as Buzz's voice artist. The Captain America star doesn't have the range to deliver anything other than a straight action hero reading, which is dull.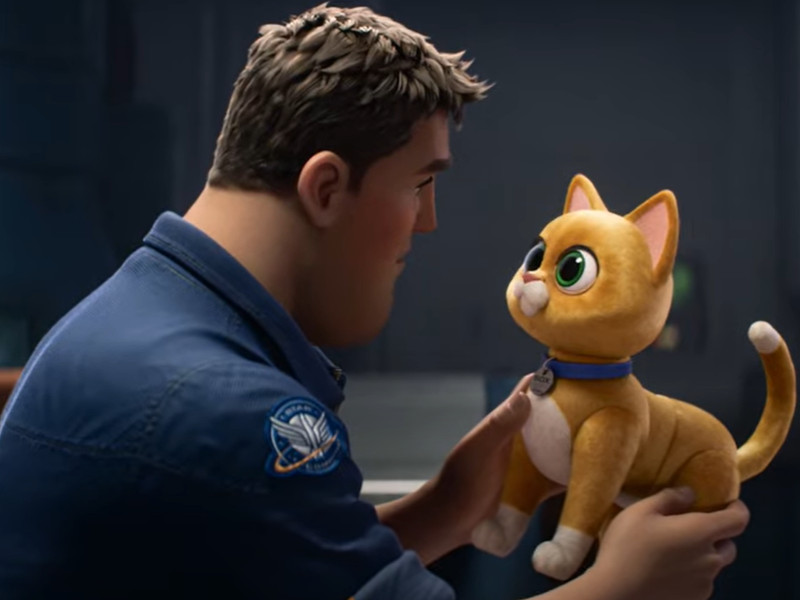 Making Lightyear's space ranger commander and best friend a black lesbian is a brave choice. It was guaranteed to lose Disney dollars in homophobic countries that'll refuse to show the film because of its same-sex kiss. Sadly, the Alisha Hawthorne character is a bit too worthy. Her grand-daughter Izzy has more verve as a rookie space ranger, but I longed for the outrageous heroines of The Incredibles to give Lightyear some girl power. Two further sidekicks are underused – Darby Steel resembles Joe Pesci in vocal mannerisms and demeanour, so it was baffling to discover that the character's voice belonged to actress Dale Soules. Meanwhile, the normally wonderful actor-filmmaker Taika Waititi doesn't have much to work on with his character, Mo.
The most entertainment comes from Sox (pictured above), a robot cat given to Lightyear to "ease his emotional reintegration". Voiced by Peter Sohn, Sox gets all the best lines and visual gags and is reminiscent of the charming golden retriever Dug in Up! Maybe next time, Pixar could give Sox a spin-off movie, perhaps enjoying an interspecies romantic threesome with Dug and Nemo – imagine the babies! In the meantime, Sox toys will feature heavily on kids' wish lists, more than Lightyear himself.