The Rite of Spring, Pina Bausch/École des Sables, Sadler's Wells review - explosive and disturbing |

reviews, news & interviews
The Rite of Spring, Pina Bausch/École des Sables, Sadler's Wells review - explosive and disturbing
The Rite of Spring, Pina Bausch/École des Sables, Sadler's Wells review - explosive and disturbing
At last, the pan-African production of Bausch's landmark choreography arrives on the London stage
Peat feat: dancers from 14 African countries, from Côte d'Ivoire to Madagascar, perform on a layer of earth
Superstition, herd instinct, brutality, base terror. Whatever the precise narrative themes of Pina Bausch's response to The Rite of Spring – the most admired of dozens of dance settings of Igor Stravinsky's score – it's clear that it concerns aspects of behaviour deep-rooted in the human animal.
"How would you dance if you knew you were about to die?" was the question posed by the choreographer to her dancers back in 1975. And that visceral immediacy is brought to the fore by a 36-strong company of dancers assembled from across 14 African countries expressly for the performance of this landmark piece.
The project – directed by senior members of Bausch's own company – should have landed at Sadler's Wells more than two years ago, following a planned premiere in Dakar in March 2020. The timing could not have been worse. As borders were closed and public gatherings banned, the pan-African company decamped to the beach near their rehearsal base in Senegal for a final run-through that must, at the time, have felt like a desperate farewell to any hope for the world tour. But a documentary-maker was on hand to record it, and that film (pictured below) made on a West African beach and streamed by Sadler's Wells became the biggest dance hit of lockdown.
So when a live performance finally made it to London last week as part of a double bill, and Covid among the cast killed off the other half of that bill, ticket holders were undeterred. Pina Bausch's Rite may take only 37 minutes to perform – with 10 of those minutes taken up by stagehands raking a thick layer of peat across the stage before the barefoot dancers appear – but this was still the hottest ticket in town.
Perhaps the most fascinating element of the work is the way the choreography counterpoints individuals and the mass, or rather masses: male and female. Bausch herds them as if they were sheep or wildebeest, and they respond in kind, complying then scattering in panic, or clustering in tight self-protecting groups. The sight is affecting at some very deep level, as can be seen in Wim Wenders' 2011 film Pina, and indeed in the Senegal beach recording, made available for streaming once again by Sadler's Wells.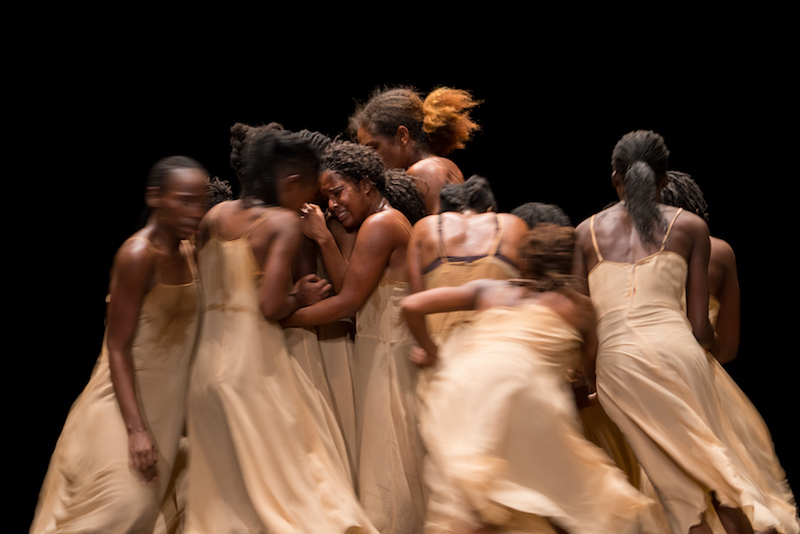 Exactly what the pan-African dancers bring to the piece as distinct from Bausch's is hard to define. There is a strength and ferocity of execution that owes something to the performers' mixed dance backgrounds – most of them originally trained in forms of African dance, not contemporary or ballet, and all were entirely new to Pina Bausch's limb-wrenching yet very precise dance vocabulary. But there is also a beauty in their movement – whether running, falling, or airborne in statuesque poses – that derives from sheer bodily magnificence. Whatever long and painful effort it took to train such a disparate group into a fine-tuned ensemble, the result is superb.
This hot-blooded production also releases Rite from the frozen Russian north of its origins to render it universal. More subtly, for a European audience – predominantly white – there is a disturbing low rumble of colonial guilt as the scenario plays out. While Stravinsky's score may outline a story about the selection of a living human sacrifice and the dynamic between the victim and the mob, all we see on stage at Sadler's Wells is victims. My guess is that the directors of this production intended this shift in perception, as too did Salomon Bausch, the son and heir of Pina, who sanctioned the African project. The one disappointment of the evening is the piped music, albeit in a fine vintage performance but poorly relayed to the auditorium. Unaccountably, neither orchestra nor conductor is credited in the programme.
This production releases 'Rite' from the frozen Russian north to render it universal
rating
Explore topics
Share this article