All of Us, National Theatre review - revelatory, but problematic |

reviews, news & interviews
All of Us, National Theatre review - revelatory, but problematic
All of Us, National Theatre review - revelatory, but problematic
Francesca Martinez's debut play about disability politics entertains - and frustrates
Wednesday, 10 August 2022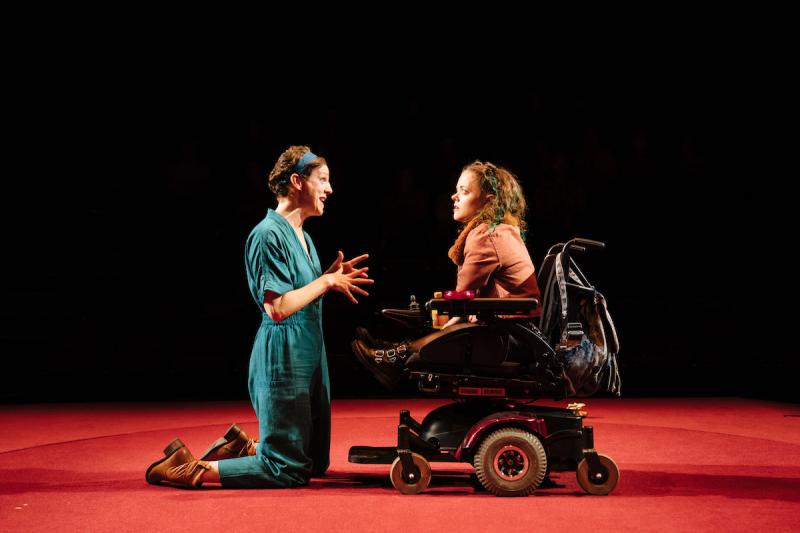 Diversity: Francesca Martinez and Francesca Mills in 'All of Us'
Has the pandemic made us more angry? Although Francesca Martinez's debut play, which is at the National Theatre, was programmed before COVID, its belated opening has not dampened the playwright's fiery criticism of the effects of Tory government austerity on the lives of people with disabilities.
As you'd expect from the writer – who is an award-winning comedian, actor, author of What the **** Is Normal? and has cerebral palsy (though she prefers the word "wobbly") – All of Us is written in a deeply committed and compassionate way, but although I agree with its political points, and am moved by some of its scenes, I also think that it's not entirely problem-free.
The play begins with a beautiful reversal of expectations. Two women arrive at a therapy room: Jess (Martinez) is a thirtysomething with cerebral palsy and Rita is in her fifties. You might assume that Jess is the patient and Rita the therapist, but actually it's the other way around. The story then shows how government changes to the benefits system, basically cuts, make it increasingly difficult for Jess to do her job. But first, the people in Jess's world are introduced: her pregnant lesbian flatmate Lottie, her harassed Polish carer Nadia, and another of her patients, Aidan, a young man with a drink problem. And a dad problem.
But the real injection of energy comes with the arrival of Poppy, a northern 20-year-old who dresses like a punk and uses an electric wheelchair. Despite having restricted growth and being in constant pain, her motto is "live fast, die young", and boy does this charismatic scene-stealing character light up the stage with her humour, her anger and her fearlessness. She also challenges the idea that people with disabilities are victims. Okay, she needs help with changing, washing and dressing, but she also wants to get stoned, listen to rock music and have sex. One gloriously tender and funny scene shows her with a Tinder hookup, another sees her being undressed for bed by her friends.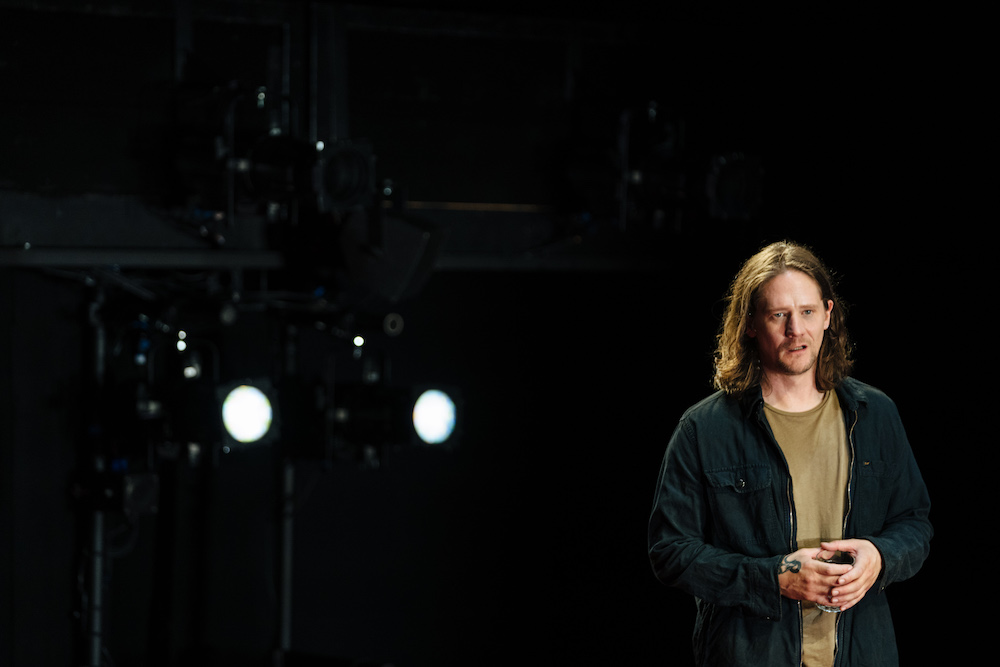 All of Us has a clear agenda. It is a protest against Tory cuts to disability payments, but also a statement about people with special needs. They are not, argues Martinez, abnormal "others", but – as her title suggests – just like the rest of us. Although many people see them as society's "most vulnerable", they are the same – they simply need financial and material help to do some of the things the rest of us take for granted. And, as I know from my mother's experiences in recent years, anyone can end up being in need of social care, and we are all potentially dependent on state support – at any age. Shrinking the state simply means making more and more people miserable.
But Jess and Poppy are not the same: while Poppy has no problem articulating her anger, and is a Tory voter resentful of being perceived as stupid by people with a university education (aka the metro elite), Jess is very buttoned up. Although it's her job to advise her patients to talk about their feelings, it is precisely that which she finds so hard to do herself. Since she cannot completely control her erratic physical movements, she wants to control her emotions. At one point, her friendship with Lottie comes under stress because she is unable to openly confide in the other woman. At another, by contrast, Jess, Poppy and Lottie bond hilariously over the different words they use for their vaginas. The keynote of the play is emotional complexity and conflicted humanity. And humour.
However, in the second half, the focus begins to blur. Already, Martinez has included unnecessary portraits of disability assessors and doctors, who treat Jess in a patronising and ignorant way, and now she opens out the play into the overtly political sphere by introducing Hargreaves, a local Tory MP. While the public meeting that he holds allows this panoramic drama to include more than 15 cast members, it also slows down the story. The personal becomes overtly political, and while I agree that the Tories are deliberately immiserating people with disabilities, there is no need to say so, over and over again.
By the end, elements of melodrama and sentimentality begin to clog up the storytelling. But the worst aspect of a three-hour evening is Martinez's desire to be fair to everyone, which is quite humane, but also problematic. I completely understand that Tory politicians are bad people because they were fucked up by their parents, but blaming their mums and dads for their cruel policies simply lets them off the hook. Although Martinez is passionately opposed to disabled people being patronised, she herself patronises Tories by absolving them of responsibility for their actions. Evil policies? Bad ideology? Not their fault!
Still, director Ian Rickson's enthralling production (designed by Georgia Lowe) is a gift to Martinez's vision, creating several scenes which are both funny and immensely moving, and showing an ample view of British society, on a stage where few actors with disabilities ever get the chance to perform. The large cast is excellent, led by Martinez's glowingly sympathetic Jess and Francesca Mills's feisty taboo-busting Poppy, and well supported by Bryan Dick's Aiden (pictured above) and Crystal Condie's Lottie. If the plotting is predictable, and the story arc unremarkable, the image of life represented is both strongly compassionate and often very pleasurable. In true welfare state style, All of Us not only informs and educates, but also entertains.
Martinez's desire is to be fair to everyone, which is quite humane, but also problematic
rating
Explore topics
Share this article