Hilma review - biopic of the Swedish abstract artist Hilma af Klint |

reviews, news & interviews
Hilma review - biopic of the Swedish abstract artist Hilma af Klint
Hilma review - biopic of the Swedish abstract artist Hilma af Klint
Lasse Hallström's portrayal of an extraordinary woman lacks bite and gravitas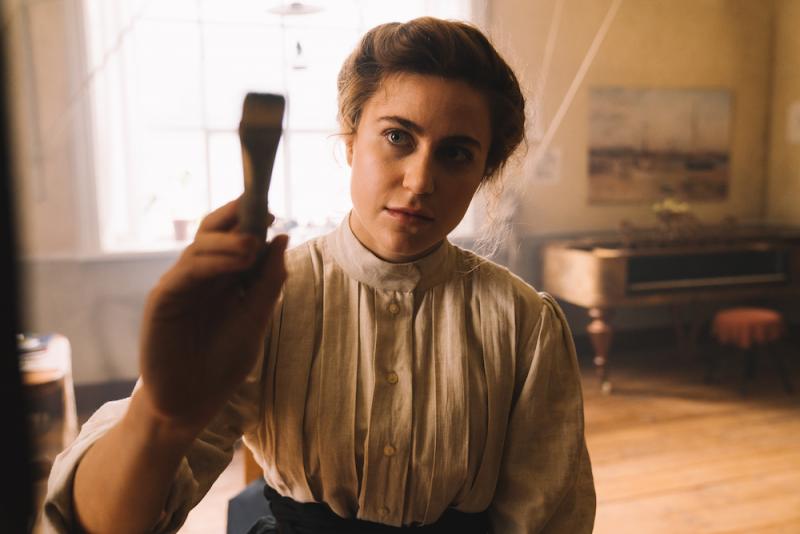 Guided by the spirits: Tora Hallström as Hilma af Klint
The artist Hilma af Klint, born in 1862, was way ahead of her time. A Swedish mystic who believed that spirits were guiding her hand, she was a contemporary of Kandinsky and Mondrian but her abstract art remained unrecognised. She didn't fit in to the male-dominated art world.
Not that she sought fame: she stipulated that her abstract work (she also painted portraits and landscapes to make money) should not be shown for 20 years after her death. She was more or less ignored until she was celebrated in a ground-breaking show at the Guggenheim in New York in 2018 (and there'll be an exhibition at the Tate next year). Art history must be re-written, came the cry, to accommodate this extraordinary woman artist who, as early as 1906, was painting huge canvases in pink, blue and yellow that have a modern, geometric, Pop Art-y feel.
In his English-language biopic - you wonder why he didn't make it in Swedish - Lasse Hallström (former hits iinclude My Life as a Dog, What's Eating Gilbert Grape, Chocolat, The Shipping News) directs his daughter, Tora Hallström, as the free-spirited young Hilma (she's full of energy but seems a little too soft for the role). Lena Olin, Hallström's wife, has a smaller part as old Hilma (pictured below), known by some family members as a witch. But her story is so remarkable that it deserves something more robust and coherent than this rather cloying, prettified treatment. A 2019 documentary, Beyond the Visible, is worth watching first, though Hilma does raise interesting questions about the nature of creativity.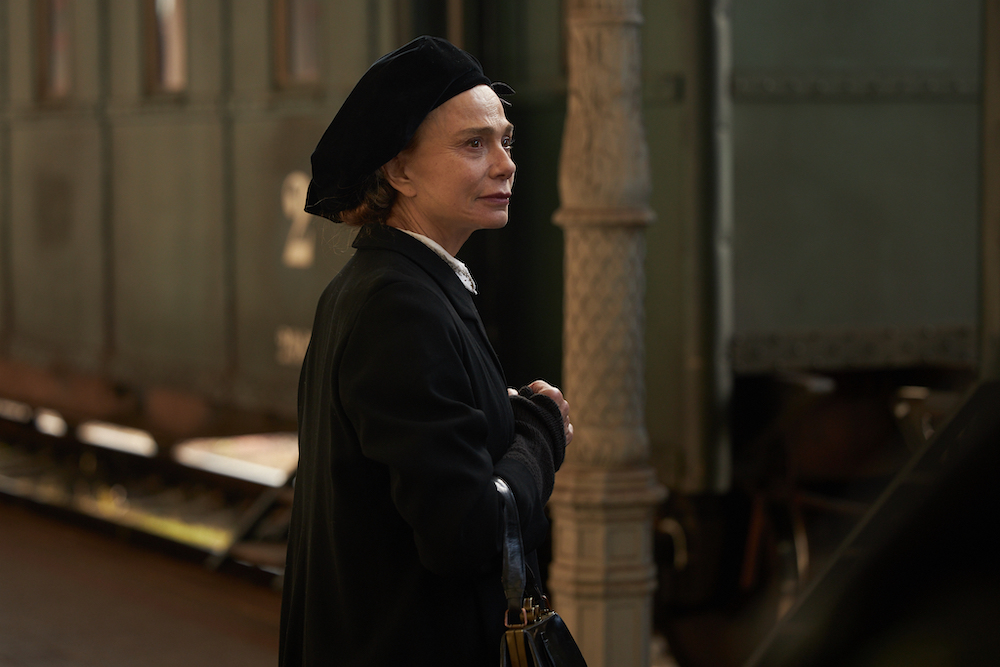 Hilma's father is an expert on naval charting. We see many shots of plumbing the ocean depths, reflecting her need to portray the invisible world and to understand "how things are connected". She sees herself as a scientist as much as an artist.
The historical context is interesting. Of course, she starts off drawing flowers, as a well-born young lady should, and trains at the Royal Academy in Stockholm, where women are relegated to the side entrance and where the highest praise from the teacher is that "you can't even tell it's painted by a woman." Hilma makes fun of all this nonsense, perhaps rather too glibly, and bonds with giggly, down-to-earth Anna Cassel (Catherine Chalk).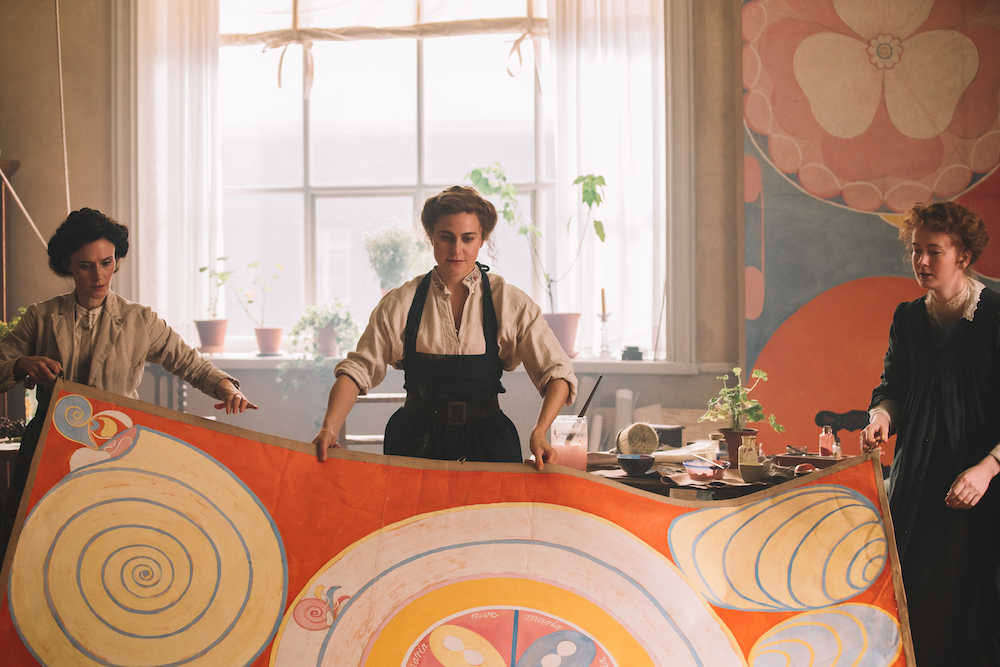 They form a "spiritist" group, the Five, with three other independent-minded women, all wearing high-necked lacy blouses: Mathilda (Lily Cole), Sigrid (Maeve Dermody) and Cornelia (Rebecca Calder, pictured above with Tora Hallström as Hilma, centre and Catherine Chalk as Anna, right). They take part in séances – par for the course at the turn of the century – that feature psychographs and automatic drawing. Mme Blavastsky is a guiding light. Oh dear.
"All of us are one," says Hilma after one visionary session in which her mission is revealed. But some are more one than others. In a rather muddled scene, she tells her slightly baffled friends that the spirits have assigned them the divine task of painting the invisible world.
The spirits also have dietary stipulations: no meat, no heavy and unhealthy foods. Hilma takes this to obsessive lengths and is so hungry that she swallows a raw egg yolk that was destined for a tempera pigment mix. There are many intense conversations in which Hilma explains the creative force of dualism to Anna – "I have the man's force, you have the woman's." "I do?" – that don't come across very effectively, and the jokey bits are often cringey. "You be the hook, I'll be the eye. It doesn't matter who is who, as long as I get to be the man."
Hallström is better at showing how Hilma, aided sometimes by the rest of the Five, creates her visionary works, full of spirals and circles, with titles like "Primordial Chaos." "I didn't paint it myself," she tells the Five. "I was holding the brush but…" She calls the shots, which the Five often look miffed about as they're doing some of the drawing themselves, but that uneasy, interesting dynamic isn't explored much.
Hilma's posh, but Anna has money, and supports Hilma for much of her life, though their lesbian relationship has its ups and downs. Anna isn't sure what Hilma's paintings mean. She's not wholly convinced about the spirits. And she's jealous of Hilma's other love interests, which include, though platonically, the famous theosophist star Rudolf Steiner (Tom Wlaschiha), who, she believes, is her soulmate. An arrogant, meat-eating chap, he rebuffs her, seeing her work as inauthentic. As she says the spirits are responsible for it, it can't be called art. And "if I don't understand your work, no one will." This puts the kibosh on her confidence. She stops painting for four years.
It's taken 75 years after her death for her work to enter the mainstream. "Ready or not, here I come," she says in a misguided final scene, as she peers from beyond the grave at the Guggenheim, its spiral shape echoing her own vision.
Hilma tells her slightly baffled friends that the spirits have assigned them the divine task of painting the invisible world
rating
Explore topics
Share this article