Music Reissues Weekly: Rustic Hinge and the Provincial Swimmers |

reviews, news & interviews
Music Reissues Weekly: Rustic Hinge and the Provincial Swimmers
Music Reissues Weekly: Rustic Hinge and the Provincial Swimmers
Seventies Britain's freakiest freak-rockers finally get their day in the sun
Three-fifths of Rustic Hinge and the Provincial Swimmers play on the lawn. From left: Adrian Shaw, Andy Rickell aka Android Funnel and Drachen Theaker
A first encounter with Rustic Hinge and the Provincial Swimmers is unforgettable. Their summer 1970 recordings are so far out they at first seem unlistenable. Persistence pays though and the ear tunes in. It becomes clear this band swallowed the Captain Beefheart playbook and regurgitated it after applying a severe dose of the cut-up technique.
Despite sending a letter which generated the interest of Beefheart fan John Peel, who wanted to add them to the roster of his Dandelion Records label, Rustic Hinge and Co were close-to unnoticed. There was a January 1971 mention in the underground newspaper Friends and a brief, uncredited, appearance in the documentary series Look, Stranger and that was it.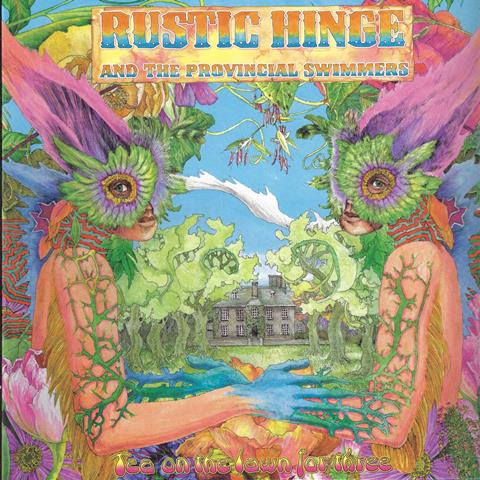 Cassettes of this musical havoc began circulating during the mid 1980s in lowish-fi but the combo largely remained a mystery. Now, two records are out: the double LP Tea On The Lawn For Three collects most everything which survives and Tea On The Lawn 4 4 is what would have been their Dandelion album. The band were so obtuse they wanted Dandelion to make a record playing from the inside out, from the label to the edge. Tea On The Lawn 4 4 does exactly this. Both records sound great, and both are needed for the full story. None of this music appears to have been issued before.
On this evidence, Rustic Hinge and the Provincial Swimmers were many, many miles farther out than The Pink Fairies, The Edgar Broughton Band or any of the period's other flappy trousered British freaks. And they were way more intense than the already deeply strange Jan Dukes de Grey. As well as Beefheart, a fascination with Béla Bartók fed into this music.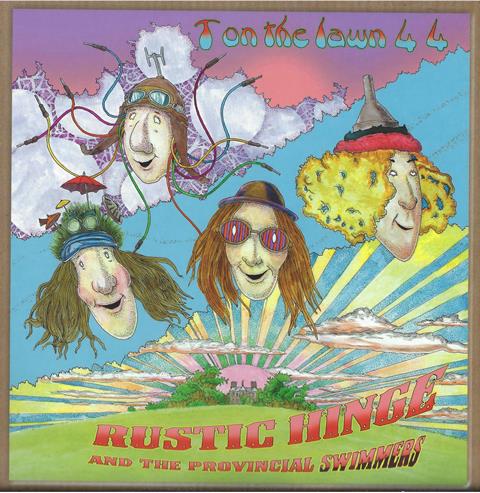 Tea On The Lawn For Three includes 14 tracks on Sides Three and Four which, had they been a stand-alone album, might have become favoured listening for a few chin-stroking young men in greatcoats – "Music For Drums and Ring Modulator" is a dive into the depths of an aural volcano; the 11-minutes-plus "Lawnmower in D" is a complex and twisted high-point in abstraction yet is clearly structured and played with discipline. Overall, these tracks make the case. But none were meant to be heard on record.
Instead, the proposed Dandelion album was to be an intimidating recasting of these tracks – they were raw material. Side One of Tea On The Lawn For Three collects an instrumental version of this, while Tea On The Lawn 4 4 has it over two sides with the vocals. What the band did was similar to what Frank Zappa had done in 1967 with Lumpy Gravy – the constituent parts were cut up, messed around with and stitched together with interlinking sounds, either speech or noise. If this had come out…well? It is crackers. A cover was prepared and the project got as far as a meeting with Dandelion's overseers WEA but when they learned the band had fallen apart so weren't able to promote any release, the plug was pulled.
The seedbed of the band was Arthur Brown's move to Dorset in autumn 1969 - he renamed The Crazy World of Arthur Brown as The Puddletown Express after a nearby town. Former Crazy World drummer Drachen Theaker returned from a spell in America to join him in Ilsington Farmhouse, close to the village of Tincleton. After a recording studio named Jabberwocky was set up there (Led Zeppelin recorded demos there in 1970, America wrote "A Horse With no Name" there in 1971), Brown moved out and, from the remains of The Puddletown Express, a prototype Rustic Hinge and the Provincial Swimmers came together in 1970. Around July 1970, the line-up settled down to Theaker (while in the States he was in Love and The Mothers of Invention), sonic boffin Ian Bowden aka Boob (who managed a post office telephone exchange and was fascinated with electronics: he engineered their recordings, added spoken word contributions and electronic sounds), vocalist Rod Goodway (pictured right: he named the band Rustic Hinge etc), guitarist Andy Rickell aka Android Funnel and bassist Adrian Shaw (a former Crazy World of Arthur Brown roadie) – in summer 1970, they recorded the material on the two new albums. At various times Goodway, Rickell and Shaw had previously been in bands together. Goodway and Shaw joined Magic Muscle at the end of 1970, and Shaw later went on to Hawkwind.
What's on the head-spinning Tea On The Lawn For Three and Tea On The Lawn 4 4 should not be confused with the 1988 LP Replicas, credited to Rustic Hinge. This seemed to be Rickell and Theaker without the rest of the band and, for at least one track, was a version of their earlier band High Tide (they were not on the two High Tide albums).
Tea On The Lawn For Three and Tea On The Lawn 4 4 are utterly compelling. Once heard, this music leaves an indelible impression. And as it fascinates so much, it begs to be repeatedly revisited. Herewith, Seventies Britain's freakiest freak-rockers.
Next week: Bob Stanley / Pete Wiggs Present Winter Of Discontent – the UK's post-punk DIY scene gets the once over