Music Reissues Weekly: Incident at a Free Festival |

reviews, news & interviews
Music Reissues Weekly: Incident at a Free Festival
Music Reissues Weekly: Incident at a Free Festival
Saint Etienne-compiled salute to early Seventies rock festivals
Let's go, the meat pies are here. On the cover of "Incident At A Free Festival," some festival-friendly folks get ready to board their bikes
"We got to play Stonehenge Festival when it was like just a field, a generator and stage. No rip-off burger joints. No packaged new age culture. Just good British hippiedom. A bunch of scruffy, dirty, bean-burger-eating, spliff-making hippies, and in the middle, a bunch of Hell's Angels."
Instead of a member of an early Seventies freak-rock band, the speaker is Mark Perry, the man behind Britain's first punk rock fanzine, Sniffin' Glue. He was talking about the summer 1978 tour his band Alternative TV undertook with Here and Now, an avowedly hippie-oriented combo with roots in the band Gong and the free festival ethos. All the shows they played together had free entry.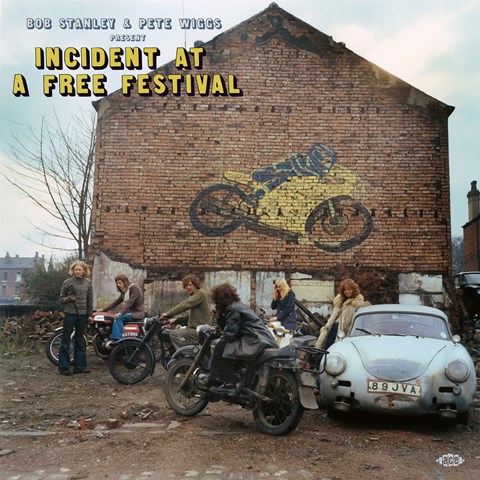 Perry went on to say "the fact that these hippies were playing free gigs, that was totally punk, isn't it? Playing for the people, you know? That's what it was about. A punk was someone who said 'I don't want to be the same as everyone else. I want to make my own statement. I want to ask questions.'"
That a recognised figure integral to the formative days of Brit-punk had in 1978 thrown in his lot with the "bean-burger-eating, spliff-making hippies" was notable. But perhaps, as his rationalisation of the punk-hippie connection made clear, it shouldn't have surprised.
Mark Perry embraced this in 1978, but other year-zero punks got there earlier. Before he was in The Clash, Joe Strummer played 1975's Stonehenge Festival with The 101'ers. Bastard, Brian James' pre-Damned band, were seen at 1973's Trentishoe Whole Earth Fayre. It cut both ways. Free festival stalwarts Pink Fairies were a favourite of The Damned's Rat Scabies and Captain Sensible. The Clash's Mick Jones too. Two former Fairies, Twink and Larry Wallis, each surfaced on record in 1977 with releases chiming with punk. And then there was John Lydon/Rotten, a fan of free-festival perennials Hawkwind. It wasn't explicit, but the free-festival attitude rubbed off onto British punk rock.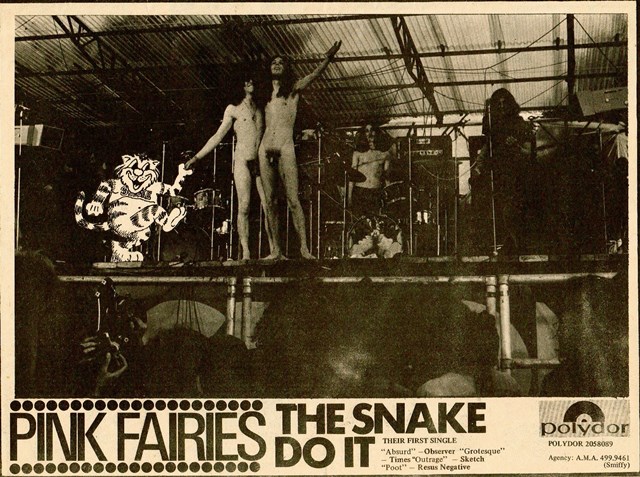 Setting aside events like the free shows in London's Hyde Park, the first free festival conforming with an egalitarian hippie outlook was probably June 1969's Cambridge Free Festival. Amongst those billed was The Deviants, who spawned Pink Fairies. July 1970's Phun City, held near Worthing, was next and became better known. It had the tents, Hell's Angels and the Pink Fairies. Future Clash-man Mick Jones saw The MC5 there.
Incident at a Free Festival is a 20-track collection compiled by Bob Stanley and Pete Wiggs of Saint Etienne. Pink Fairies are present, along with other early Seventies free-festival types Atomic Rooster, Edgar Broughton Band and Hawkwind. However, this is not a straightforward salute to the festivals even though, as Bob Stanley writes in the booklet, it is "a tribute to the mid-afternoon slots at Deeply Vale, Bickershaw, Krumlin, Weeley, and Plumpton – early 70s festivals that don't get the column inches afforded the Isle of Wight or Glastonbury Fayre, but which would have been rites of passage for thousands of kids." The chosen tracks are from 1969 to 1973, with one outlier from 1975.
Some of the bands heard don't seem free-festival friendly. Take the musically disciplined Manfred Mann Chapter Three with their veteran membership. It's hard to imagine them playing a doubtless disorganised event set in a field of mud. Deep Purple were surely too big and too famous to be gracing any no-ticket booking. Curved Air who, as Stanley says were subject to a record label bidding war before they signed to Warner Bros, may have been too music biz to be at one with any free festivals. For aesthetic reasons, the same applies to Barclay James Harvest.
What really nails where Incident at a Free Festival is coming from is a handful of studio-only library music tracks recorded for the KPM imprint. This collection is not about historic verisimilitude, but is instead is a form of soundtrack – what might have been heard during an exploitation-style film about the seamy, titillating side of the free festivals. An analogue of a grubby film like Groupie Girl. Fittingly, Slowload's until-now forgotten 1971 instrumental "Big Boobs Boogie" is included. It's great.
There are also hits: Atomic Rooster's "Tomorrow Night," Curved Air's "Backstreet Luv." Plus less-celebrated cuts by the well-known: Deep Purple's "Chasing Shadows," Barclay James Harvest's "Taking Some Time on." Culty and collectable bands: Andwella, May Blitz, musical primitives Stackwaddy, with their emphatically rough sub-Beefheart work-out "Meat Pies ave Come But Band's Not ere Yet." Festival favourites: Edgar Broughton Band ("Out Demons Out"), Hawkwind ("Ejection"), Pink Fairies ("Do It" – later covered by The Damned). Stylistically, the choices lean towards the foot-stomping, funkier end of things. Crowd movers.
With respect to the imagery conjured, it's seen through a streaked and brown filter: mud-brown. An unruly situation, with a dark side suggesting barely checked violence. Peace between the bikers and the hippies was always shaky. Above all, the music reflects what the crowd written-into this narrative wanted – direct music to shake hair to; for flapping limbs along with. Not so different to punk – as, for a different reason, Mark Perry realised in 1978. It's also a valuable reminder that some of those who seemed on board with the new-broom agenda of 1976 were groomed for punk by their experiences of the free festivals of the early Seventies.
Next week: High Tide – The Complete Liberty Recordings

The free festival attitude fed into British punk rock
Explore topics
Share this article