Lucinda Chua, ICA review - sublimity on a rainy evening in London |

reviews, news & interviews
Lucinda Chua, ICA review - sublimity on a rainy evening in London
Lucinda Chua, ICA review - sublimity on a rainy evening in London
A meditative performance of ambient serenity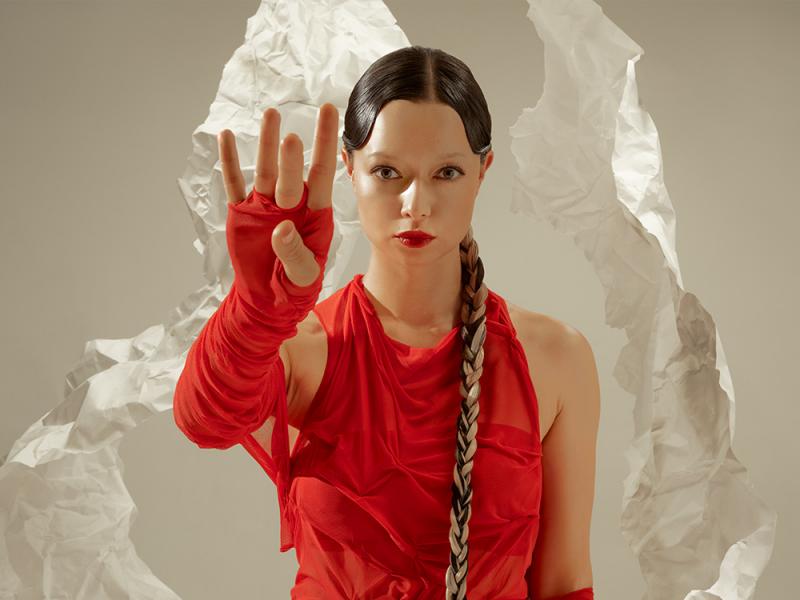 As my editor noted, this was the first gig in his 30 years of music journalism that had guided meditation as its support act. This set the tone for a beautiful, peaceful evening at the ICA for Lucinda Chua, a homecoming gig and a welcome listen to pieces from her new and older albums.
Sitting cross legged on the floor, reading my book, drying out from the spring rain, and waiting for the support, I heard someone comment that this was the most chilled gig that they had ever been to. Ten minutes later, lying down and staring at the ceiling, I would have had to agree. The meditation was led by a peaceful voice, lit by a low spotlight, and accompanied by gentle, repeated sounds.
The crowd was also one of the most respectful I had seen in years, only one or two occasional amateur videographers, and a few photographs here and there. The lights were gentle, Lucinda Chua's outfit (a red dress with huge sleeves and panniers, red ribbons in her hair) casting her like the subject of a Caravaggio (reimagined, of course, by Derek Jarman).
She appeared onstage with her cello, her keyboardist to her right, accompanying her as she played. The organ-like drone and strings overlaid by her cello complimented its depth, a lushness that was mesmerising and occasionally broken by quick, almost improvisational-like counterpoints. Whether it was intentional or not, the speakers in the ICA's theatre had a burring hum that made the amplified music sound like it was being played on an old tape recorder or film, adding to the atmosphere.
Before her first song, "Golden", quiet sounds of a storm played, rain coming in over shimmering keys. The song, like many of hers, was a gentle ache, foregrounding a beautiful voice, almost a whisper. There was an echo in the mic, which played with its swelling build. Next, "Meditations on a Place" and "I Promise" allowed Chua to play pieces from her new album, YIAN, the first an instrumental cello and strings piece, the second another breathy, delicate song, with repetitions feeling both meditative and compellingly emotional.
As more rain sounds played, Chua relinquished her cello and held her arms open, raising her face to receive the drops. She sung "Until I Fall" out into the audience, with a soft resonance and shimmering hum. At the keys herself during this song, she stayed for "Torch Song", perhaps her best known (and justifiably so), with its description of love and loss.
Chua brought a harpist onstage for "An Ocean", thanking her audience for coming to see her in her hometown. "An Ocean" began with a glissando of harp, before returning to Lucinda on the piano, the harp coming back in in soft ripples as the piece expanded and rose. Three other friends joined her for "Echo", providing just that, Chua at the front of the stage giving roses to the crowd.
The next, "Autumn Leaves Don't Come" had a sensuality that was undercut well by bell-like keys, her voice a whisper into the mic. For the next song, "Somebody Who", her first release under her name, she asked us to sing along, also perhaps the most tuneful audience I've heard. Her last, "Something Other Than Years" sounded us out with waves of harp and the swell of a cello. But as is often the way, as we were walking towards the door, Chua came back on again for an instrumental, a simple and sonorous cello piece. She overlaid the sounds, each section moving over one another, a wonderful, ethereal lead out to a truly sublime gig. We can all admit that at every concert there's a moment when your back hurts and you think about going home. I could've stayed for hours more.
The song, like many of hers, was a gentle ache, foregrounding a beautiful voice, almost a whisper
rating
Explore topics
Share this article