Ainadamar, Scottish Opera/Opera Ventures review - worlds collide in fiery fusion |

reviews, news & interviews
Ainadamar, Scottish Opera/Opera Ventures review - worlds collide in fiery fusion
Ainadamar, Scottish Opera/Opera Ventures review - worlds collide in fiery fusion
Flamenco meets opera in this stirring and sensuous production of Golijov's Lorca fantasia
Lauren Fagan as Margarita Xirgu and Julieth Lozano as Nuria with ensemble
Ainadamar - meaning "fountain of tears" in Arabic – is the name given to a natural spring high in the hills above the Andalucian city of Granada, the site where the poet and playwright Federico Garica Lorca was executed in 1936 during the Spanish Civil War.
It's also the name
–
and an apt one in many ways
–
of Argentinian composer Osvaldo Golijov's extraordinary 2003 one act opera which tells the tale of Lorca's life and death through a series of flashbacks.
It is a ferocious mix of opera and flamenco in a production – a collaboration between Scottish Opera and Opera Ventures, and co-produced with Detroit Opera, the Metropolitan Opera and Welsh National Opera – which is both aurally and visually stunning throughout. The story is told through the eyes of Margarita Xirgu, an actor who had dedicated her career to portraying Mariana Pineda, the titular character of one of Lorca's greatest plays, about a liberal heroine who is herself executed for her political beliefs.
The role is sung by Lauren Fagan in her Scottish Opera debut. Her honest and evocative vocals beautifully summon the heat of a sultry Granada evening, while her passionate performance gives nuance and credibility not only to the actor Xirgu but to Pineda, the woman Xirgu spent her life acting. American mezzo Samantha Hankey brings an ethereal, almost nostalgic quality to the role of Lorca – as imagined by Xirgu – and both she and Fagan poignantly portray the deep friendship and artistic understanding between the two (Hankey and Fagan pictured below).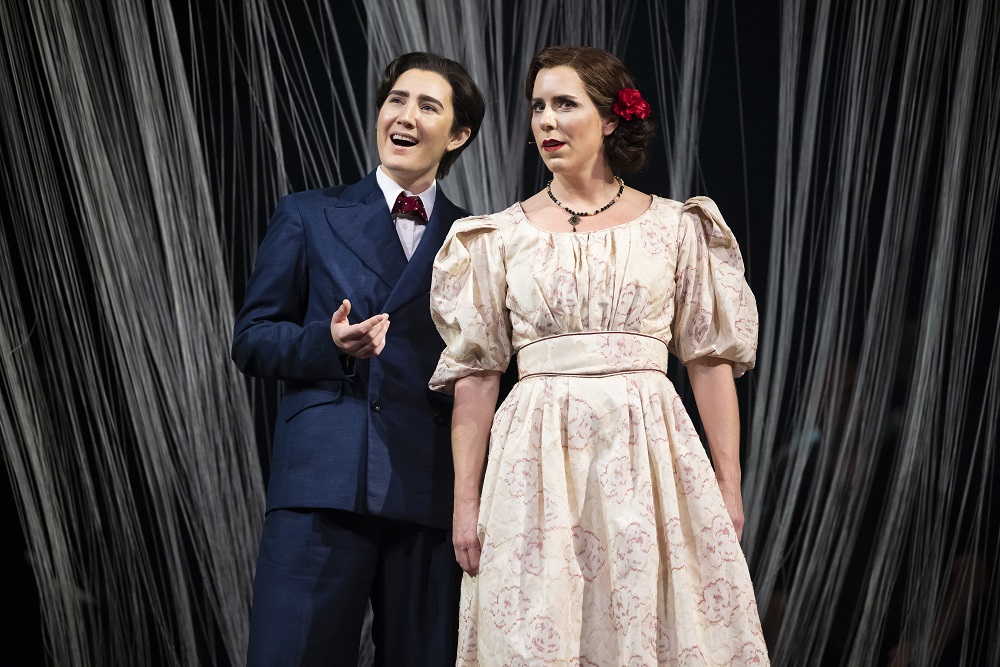 Another stellar performance comes from Columbian soprano Julieth Lozano in the role of Nuria, a student of Xirgu. Singing with a graceful fervour, and brimming with energy, this young artiar has real star quality. Flamenco singer Alfredo Tejada's guttural, smouldering sound is rousing as he sings the words of Ramon Ruis Alonso's radio broadcasts, vowing to snuff the flame of revolution (pictured below) while accompanied by a glittering cacophony of brass from within the pit.
The quartet of flamenco dancers whom we see on stage is commanding and captivating, but there's great movement work displayed in the chorus too, as they swirl and stamp in synchronicity to Golijov's ingenious score. The orchestra is on glittering form under the ever-adept baton of Stuart Stratford, capturing the music's multifaceted ebbs and flows.
Designer Jon Bausor's set is particularly effective, with a circular curtain made of the frond-like strings of the fringe of a flamenco scarf dominating the stage, on to which text, light and video are superimposed. The lighting and visual elements are cleverly and tastefully executed, often in a way that further extenuates the blurring of boundaries between past and present, fact and fiction, memory and reality.

This is a powerful production of a powerful work: one which conveys the terrors of war with a potent majesty though by no means glorifies them. Instead it demonstrates by both telling and showing why art is of the utmost necessity to enable humans to learn from our past and seek to understand our future.
The orchestra is on glittering form, capturing the music's multifaceted ebbs and flows
rating
Explore topics
Share this article