The Bartered Bride, Garsington Opera review - brilliant revival of a comedy of cruelty |

reviews, news & interviews
The Bartered Bride, Garsington Opera review - brilliant revival of a comedy of cruelty
The Bartered Bride, Garsington Opera review - brilliant revival of a comedy of cruelty
Idiomatic singing and playing in an opera of deceptive profundity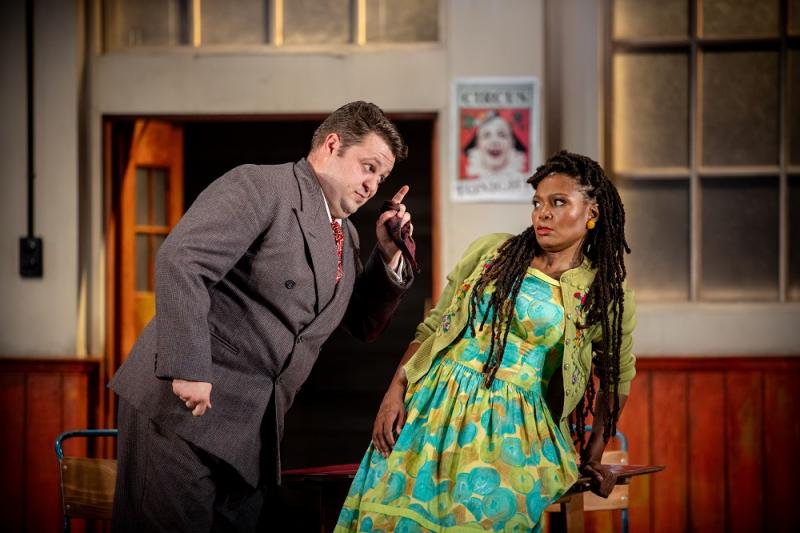 David Ireland's marriage broker Kecal lectures Pumeza Matshikiza's Mařenka
Smetana's enchanting bitter-sweet comedy is probably on the danger-list for cancellation by the modern guardians of our moral sanctity. The plot hinges, like Hardy's The Mayor of Casterbridge, on the cash-sale of the hero's bride (in Hardy, the wife and daughter): not nice, and surely a risky hint to any young men in the audience teetering on the brink.
And it has an anti-hero in the person of a youth with a stammer, who gets laughed at and ends up as a circus bear. The fact that the proposed sale is a trick to enable a genuine love match is the sort of detail that passes unnoticed in the straight-faced world of woke. I can't quite defend the treatment of poor, stammering Vašek; but I remember a performance at the Smetana Theatre in Prague where Vašek's entry in Act 2 was cheered to the rafters by a packed matinée audience of lolly-sucking children and their parents. He was a popular figure, regarded with profound affection: loved and understood. The Bartered Bride is unquestionably a somewhat cruel comedy. But in its resolution it is also very moving, almost, as Aristotle would say, cathartic. Perhaps Jeník plays a shade too long on Mařenka's ignorance of his true motive in taking the marriage broker's money; but after all, he does try to explain, and she refuses to listen.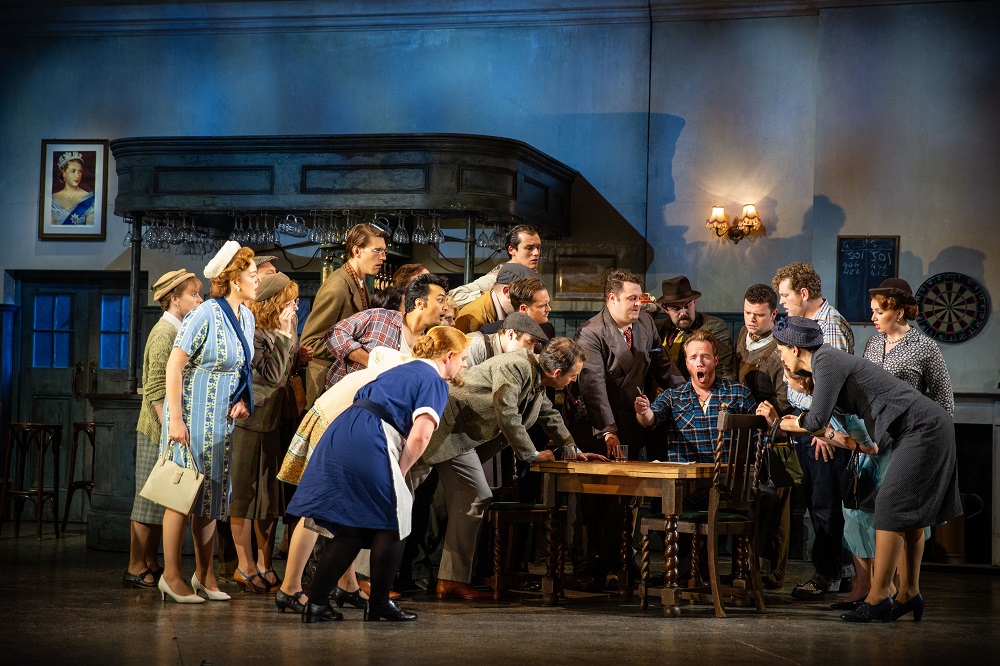 These closing scenes are particularly well handled in Rosie Purdie's revival of Paul Curran's 2019 production, partly because the two leading characters are so convincingly cast: the South African soprano Pumeza Matshikiza as a beautifully poised, touching but determined Mařenka, Oliver Johnston as a Jeník who from the start gives the feeling of an outsider who can confront Village Opinion with a certain emotional and moral clarity (pictured above). After all, Mařenka's parents, so shocked at Jeník's supposed mercenariness, were themselves trading their daughter half an hour before.
This is a brilliant revival, tainted only by some minor ensemble problems between stage and pit in the first and last scenes. Curran had transplanted and updated the action to 1950s England (as confirmed by a portrait of the newly-crowned Queen Elizabeth on designer Kevin Knight's pub wall). But somehow a sense of 19th-century Bohemia survives, partly I suppose because of the Czech language, partly because of the somewhat unBritish antics of the chorus, sparklingly directed as a fine set of individuals by Purdie and choreographer Darren Royston, dancing in very mixed couples round the (indoor) maypole in the village hall, then cavorting uninhibitedly with the circus acrobats in Act 3. And what a stunning team of circus performers, almost worth the ticket price on their own!
The Bartered Bride isn't really a singer's opera, in the sense that exquisite tone lies less well on these often very simple, direct expressions of raw emotion than a certain immediacy, a kind of vocal thrust. Johnston, who has sung the Italian tenor in Der Rosenkavalier, a role of straightforward vocalism if ever there was one, gets something more open and unaffected into Jeník's music and in doing so captures its essential emotional honesty. Matshikiza is perhaps more singerly, a shade under the note once or twice in the upper regions of her third act aria, but intensely listenable-to as well as watchable: her dull expression as she joins in the presumably jolly maypole dance speaks volumes about her misery.
David Ireland is excellent as the marriage-broker Kecal, self-important, venal, everything nasty within a somehow likeable frame; his wonderful entry song, done here with superb panache, always reminds me of Eisenstein's entry in Die Fledermaus, a gust of materialism blowing away the sentimental smoke. John Findon is a big, shambling Vašek, but a touchingly delicate singer, very moving in his Act 2 number with Mařenka, a love duet of thoroughgoing sadism. And the parents (William Dazely, Yvonne Howard, John Savournin and Louise Winter) do as well as Smetana lets them while casting them as money-grubbing hypocrites.
Jac van Steen, in the pit, seems to have this music in his veins. The orchestral sound has a sort of rustic vigour, but infected with the precision one expects of the Philharmonia orchestra. The ensemble slips were due, I think, to the complexity of the chorus movement. But the choral singing itself is crisp and invigorating. One longs to join in. But I don't think Smetana would be pleased.