The Beggar's Opera, University of Birmingham |

reviews, news & interviews
The Beggar's Opera, University of Birmingham
The Beggar's Opera, University of Birmingham
Benjamin Britten meets Austerity Britain in a resourceful student production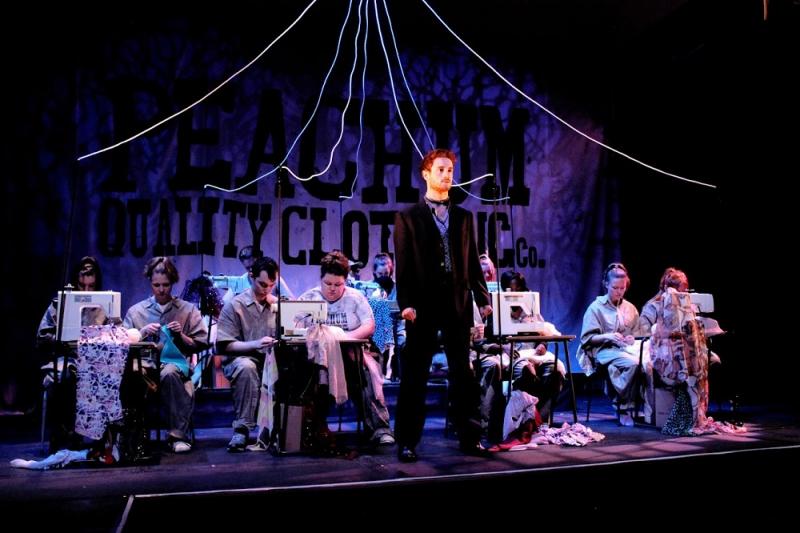 Little Britten: Mr Peachum (Matt Hayden) sweats the small stuff
Memo to self: never read the director's programme essay.
Jacob Dorrell, director of the University of Birmingham's summer production of Britten's
The Beggar's Opera
at the Barber Institute, explains: "I wanted to bring to the Barber stage a community of people one would never expect to appear in an opera: today's working-class community." Dorrell is a young director, early in his career, so let's leave aside the fact that his vision of "today's working-class community" – a world of jeggings, leopard print, trackie bottoms and midriff-baring maternity wear – seems to come out of
Coronation Street
by way of
Little Britain
.
And let's ignore, too, that "today's working-class community", far from being a rarity in opera, featured in recent productions of Sweeney Todd, Moses und Aron and Greek. And that Birmingham's own internationally-renowned opera company has involved community members of all classes in productions ranging from Otello to Stockhausen's Mittwoch aus Licht. As I say, Dorrell is young. And he's far from alone in writing this sort of guff. Ignore it.
Because this is actually a smart, resourceful and entertaining student production of what is by any standards a difficult piece to bring off. Its once popular tunes and 18th century in-jokes don't land on their own any more. A director needs to recreate a world in which the adventures of Polly, Macheath, Lockit and the rest can plausibly occur, and then charge these characters with sufficient raw life to make us care – all this with very little sustained singing. Britten's 1948 reinvention of John Gay's 1728 original gets you halfway there; its angular harmonies and grainy, silver and grey orchestrations already suggest an atmosphere of urban seediness.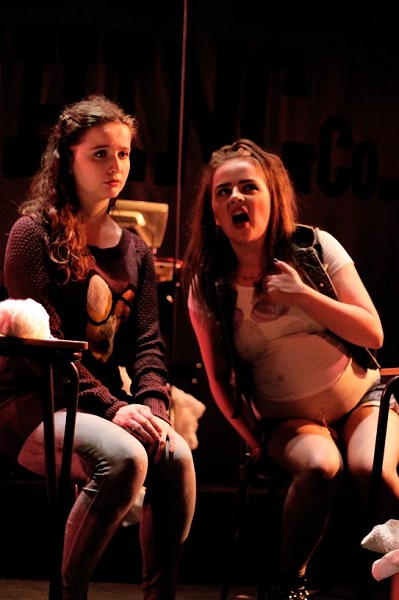 Dorrell runs with it. Ambient industrial noises fill the auditorium pre-show, and the Beggar (Tom McCann) shuffles on through the audience in baseball cap and hoodie, dragging his sleeping bag behind him. Peachum is a small-time entrepreneur and the action takes place entirely amidst the hunched wage slaves of his backstreet sweatshop. There, we meet him (Matt Hayden), together with his wife – played as prime Northern battleaxe by Lydia Jane Haynes – their daughter Polly (the sweet-toned and wide-eyed Lizzie Lister, pictured right with Holly Singlehurst as Lucy), and in time, Gay's whole Hogarthian carnival of Georgian low-life. Dorrell apparently wanted to "grunge up" the singing; this initially seemed to take the form of Haynes snarling the ends of phrases and Lister swooping up from under the note in TV talent-show style.

But that mattered (and actually happened) less and less as the performance progressed, with the cast slipping back into their perfectly attractive natural singing voices – bright (and when required, powerful) in the case of Lucy (Holly Singlehurst, pealing out her high notes in a prosthetic baby bump while pouring bleach into a cocktail blender); eloquent and occasionally raw with indignation for Matthew McConnell as Macheath (easily the most sympathetic character alongside Sam Wilson's Cockney thug of a Lockit and Daniel Scott's wheedling Filch). Amongst the minor roles, Daisy Tudor's Mrs Trapes whirled by in a flurry of pink feathers and chatter. Whoever was responsible for casting has a perceptive eye – and ear.

And it all bounded along vigorously, song flowing easily into speech, insults zinging through the air ("You pouting slut!") and early problems of audibility and balance resolving themselves as the evening progressed, even if some cast members seemed more comfortable with spoken dialogue than others. The brief choral ensembles were alert and clear, and the small orchestra under Johannes David Wolff clearly enjoyed every wry bassoon solo and ominous percussion rumble of Britten's remarkable score (the harp writing alone is a marvel of shadowy restraint). Dorrell's final coup de théâtre (spoiler alert: Macheath's reprieve backfires in macabre style) may have subverted Gay, but it seemed to fit remarkably well with Britten – and the evening as a whole. Given the context and the resources available, this Beggar's Opera was a substantial achievement. Dorrell has something to say: just ignore his words, and let his theatre do the talking.
Song flowed easily into speech, insults zinging through the air
rating
Explore topics
Share this article