Mrs Peachum's Guide to Love and Marriage, Mid Wales Opera review - scaled down seediness, with a swing |

reviews, news & interviews
Mrs Peachum's Guide to Love and Marriage, Mid Wales Opera review - scaled down seediness, with a swing
Mrs Peachum's Guide to Love and Marriage, Mid Wales Opera review - scaled down seediness, with a swing
Toxic femininity takes centre stage in the outrageous essence of The Beggar's Opera
No footnotes required: Carolyn Dobbin (left), Johnny Herford and Alys Mererid Roberts
The Beggar's Opera: does any piece of music theatre promise more fun and deliver more tedium? Yes, it was the satirical smash of 1728; yes, it inspired Brecht and Weill; yes, with its combination of popular melodies and a topical script it was effectively the world's first jukebox musical. I get all that.
I'm fortunate enough to live with an historian of
18th century
theatre. Seriously: we talk about John Rich and Colley Cibber over breakfast. Yet time and again, as another thicket of Georgian slang gives way to another blink-and-you-miss-it musical number, I've found myself thinking of David Mitchell's line in
Upstart Crow
.
The Beggar's Opera
"just requires lengthy explanations and copious footnotes. If you do your research it's actually really funny."
Mid Wales Opera clearly feels the same way, and if there's one thing that this company does supremely well, it's putting on an entertaining show. This isn't English National Opera. If you're in the business of taking opera to Abermule and Llandinam, you either give your public a great night out or you fold. Now, following successful small-stage tours of one-acters by Walton (The Bear) and Ravel (L'heure espagnole), artistic directors Richard Studer and Jonathan Lyness have taken The Beggar's Opera, ditched the boring bits and stripped it down to a lean, lively 50 minutes as Mrs Peachum's Guide to Love and Marriage.

So out go Macheath, Lucy Lockit, Nimming Ned and all but three of John Gay's 30-odd named characters. Instead, front and centre, we have criminal matriarch Mrs Peachum (Carolyn Dobbin, pictured below), her daughter Polly (Alys Mererid Roberts) and – combined factotum, prologue and chorus – their servant Filch (Johnny Herford). Studer's rewrite has kept just enough of the original book to give the authentic, gin-soaked flavour to what's effectively an extended and frequently outrageous mother-daughter catfight. MWO's production values are, as usual, high, and the action plays out on a massive Hogarth-like engraving, with a gallows occasionally throwing its shadow across the bustling scene. Deftly lit, and with the two ladies strutting like birds of paradise in suitably gaudy baroque bling, it looks a treat.

Meanwhile Lyness, directing from the piano, has arranged the score for a band of violin, bassoon and a single multitasking percussionist, though "arranged" doesn't begin to do it justice. The original ditties (many of which survive in the score as no more than a scrap of melody and bass) have been combined and extended, cheerfully ransacking the last three centuries of musical theatre to create duets and ensembles. The glockenspiel picks out a melody like a fluorescent highlighter; the bassoon snakes priapically beneath a suggestive lyric. Lyness's piano sketches in smoochy Cole Porter harmonies; Brittenish dissonances spice up the overture and "I'm Bubbled, I'm Troubled" could almost be one of Stephen Sondheim's deadpan comic ensembles.

It bustled along, energetically directed by Studer and playing to the strengths of three extremely spirited performers. Dobbin kept the monstrous Mrs Peachum just the right side of a pantomime dame – no small feat in full 18th century facepaint and wig - letting her warm mezzo curdle deliciously as faux-gentility gave way to thoughts of murder. Roberts's ringleted minx of a Polly (Pictured below) was her light-footed opposite number; but her bright, sparky singing had enough of a bite to suggest that mother and daughter were cut from the same cloth. It was hard to say which was the more watchable: though the final image of Mrs Peachum, stretched out and juddering like a beached porpoise, shook laughs even from a fairly reticent audience at Ystrad Aeron. Herford, as Filch, let a more kindly humour in on this parade of grotesques, although The Beggar's Opera, in any form, is no-one's idea of a vocal showcase.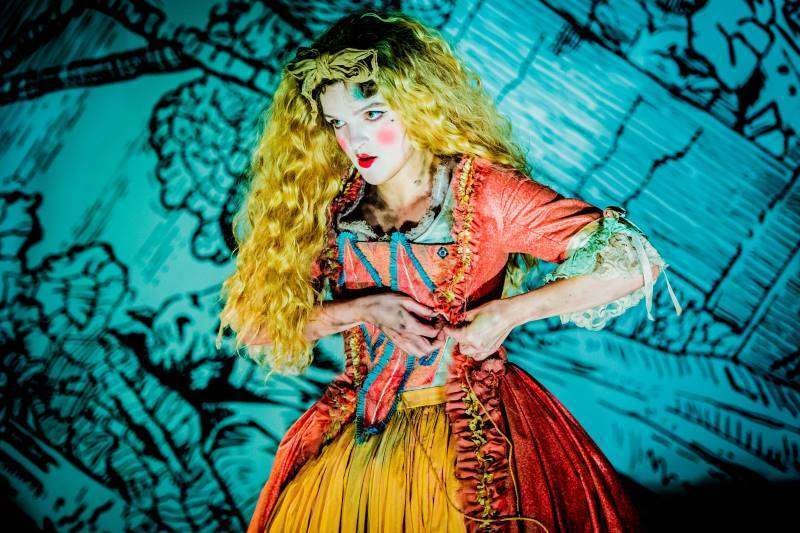 No matter, because after the interval – as is the custom on these small-scale MWO tours – the cast presented a short revue: part plug for the company's spring production of The Marriage of Figaro, part added value for an audience that had braved unseasonal snowfall to make it to Theatr Felinfach for this Saturday night performance. Roberts performed "Deh Vieni" and some genuine Cole Porter. Dobbin, breathlessly unaccompanied, sang "She Moved Through the Fair". And Herford finally got to soar in a velvet-throated, sunset-hued Pierrots Tanzlied from Korngold's Die tote Stadt. I'd have faced the snow for that alone, though it's fair to say that among all the touring companies that work miracles on microscopic budgets, MWO has a special flair for making audiences feel like a million dollars. Even when they're doing The Beggar's Opera.
There's just enough of the original book to give the authentic, gin-soaked flavour
rating
Explore topics
Share this article