Best of 2016: Opera |

reviews, news & interviews
Best of 2016: Opera
Best of 2016: Opera
A complex, giddying 'Lulu' is queen of a year rich in new operas
Thursday, 29 December 2016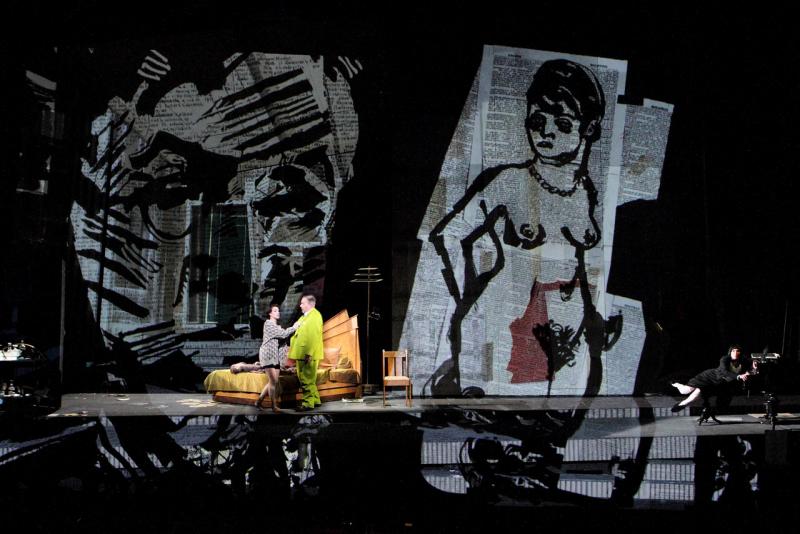 Brenda Rae and James Morris in William Kentridge's ENO production of Berg's 'Lulu'
It was the best and worst of years for English National Opera. Best, because principals, chorus and orchestra seem united in acclaiming their Music Director of 14 months, Mark Wigglesworth, for his work at a level most had only dreamed of ("from the bottom up," said a cellist, contrasting it with the top-down approach of predecessor Edward Gardner).
Worst, because he stayed true to his principle of only working with a full-time company, and when the chorus unexpectedly accepted a nine-month contract, announced his departure.
No-one wants a great company's demise, but despite the announcement of Martyn Brabbins as a safe conducting pair of hands, and some good intentions, alongside the odd foot-in-mouth, from Artistic Director Daniel Kramer, it has to be downhill from now on. In the meantime, Wigglesworth never put a foot wrong in the six productions he conducted: from last year, Shostakovich's Lady Macbeth of Mtsensk and Calixto Bieito's more questionable Verdi Force of Destiny; from this, a revival of the Complicite Magic Flute which shone like the sun when the first showing had been ill met by moonlight, a searing Janáček Jenůfa (also a revival), Richard Jones's Mozart Don Giovanni and William Kentridge's Berg Lulu.
Wigglesworth himself sees the greater achievement as the relatively long rehearsal period he spent with Jones on what might have been the start of a Mozart-Da Ponte trilogy, while Lulu was thrown up in an heroically short period of time. Nevertheless, while Don Giovanni (pictured below by Robert Workman, Christopher Purves as Giovanni with Christine Rice, a superlative Donna Elvira) is one of Helen Wallace's choices, a rather too familiar view of Donna Anna's supposed infatuation with her seducer undercut for me the genius of Jones's vision for the change of identities in Act Two.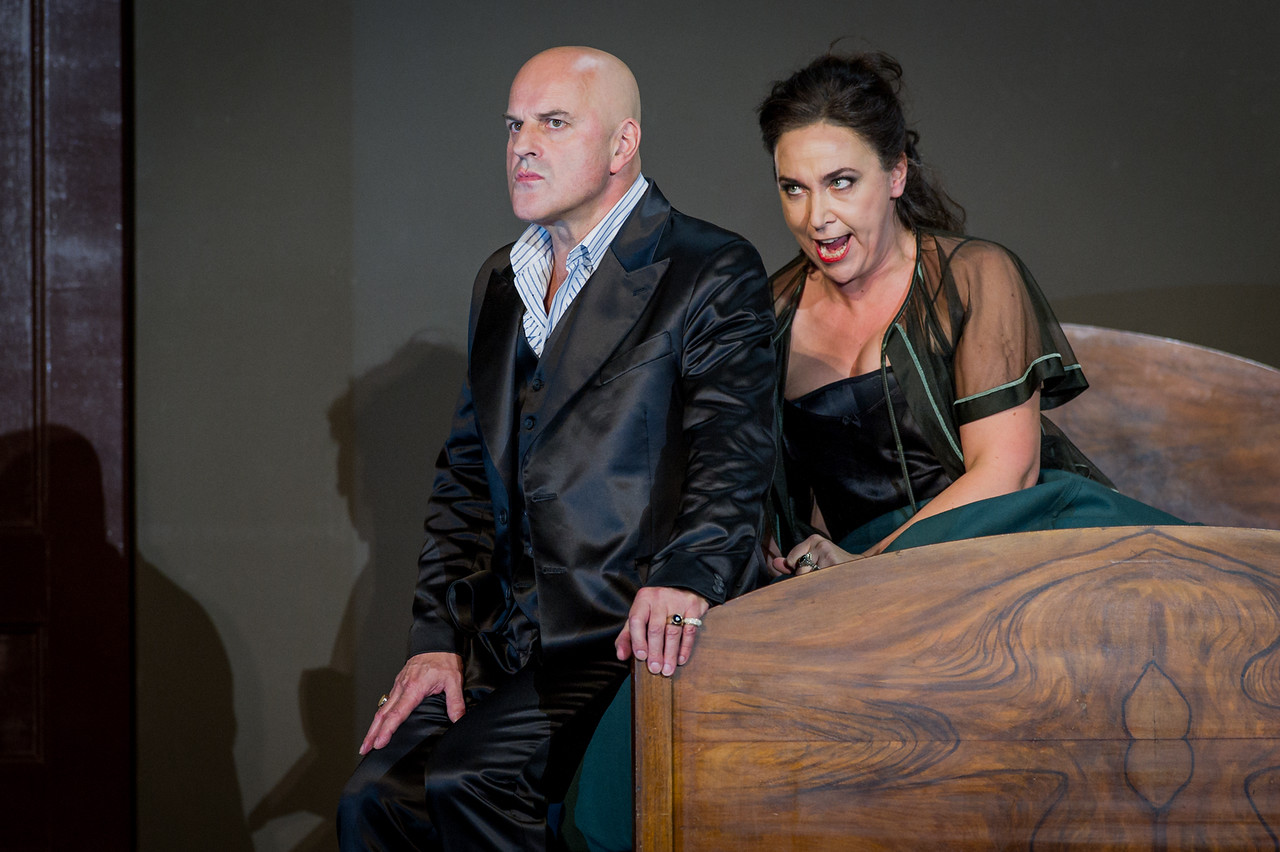 Lulu was too rich both visually and musically to digest in a single sitting; I went three times, and saw more or different things on each visit. Kentridge's artistic vision might seem overloaded, but all of it went to complementing the queasy spider-web of sound and even the sheer beauty of the Adagio representing the strange love between the protagonist and older Doctor Schön, stunning in each of Wigglesworth's handlings of it. A superb cast was led, but not dominated, by Brenda Rae's Lulu: if you can perform the role at the highest level, as she did, you set it alongside Brünnhilde or Isolde as a pinnacle of operatic achievement.
Alexandra Coghlan shares this number one choice with me, and our runner-up is the same: Mozart's Idomeneo at Garsington Opera. Here was exactly the kind of (nearly) all-British cast ENO should be nurturing but currently isn't – we've had some fine American singers, but the company should be making more of home-grown talent like Elizabeth Llewellyn, Giselle Allen, Susan Bullock and Toby Spence, Garsington's Idomeneo. (Pictured below by Clive Barda: Caitlin Hulcup as Idamante and Louise Alder as Ilia.)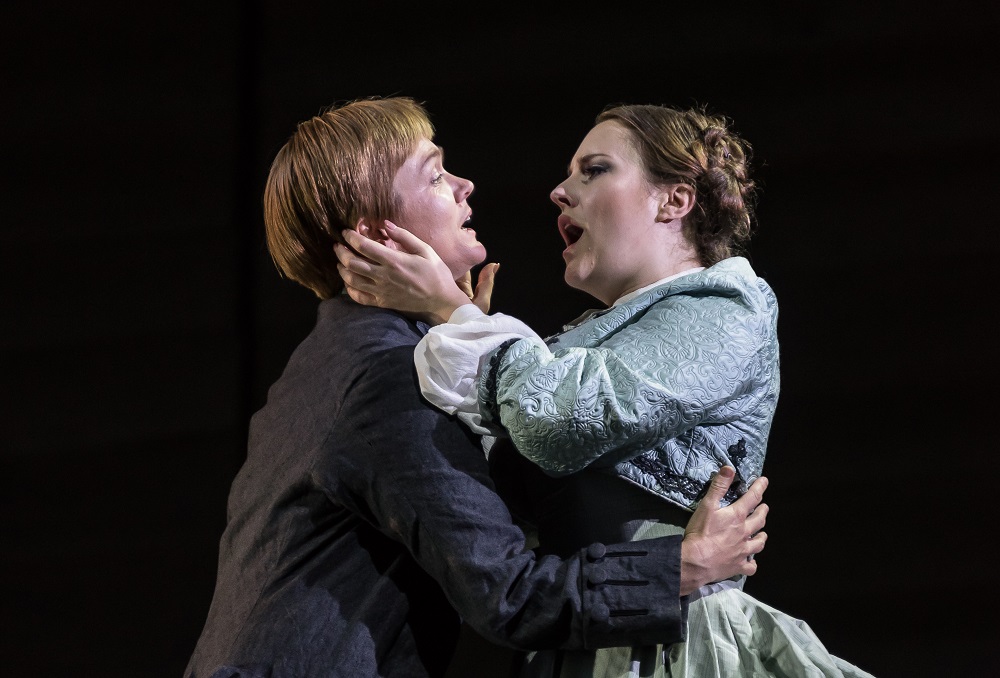 For the first time, Garsington's new productions outshone Glyndebourne's (though see below for an extra-seasonal Sussex spectacular). Alexandra also applauded Wexford Opera's championship of Barber's Vanessa, commenting of her choice that "Barber's unaccountably neglected score was treated with such care and understanding by conductor Timothy Myers and director Rodula Gaitanou, and yielded up its many secrets – both musical and emotional – in this deft and beautiful production", though her Wexford review for theartsdesk was of another production.
Richard Bratby hailed Longborough's Jenůfa as "practically a chamber piece in that small Cotswold theatre, and overwhelmingly raw and lacerating as a result". We did well by Janáček in London, too: while the concert Jenůfa, unlike the ENO one, was a bit of a misalliance, Karita Mattila was 337-year-old, eternally youthful diva Emilia Marty in The Makropulos Case (or Affair, as they preferred to call it) at the Proms (Mattila pictured below by Chris Christodoulou), with Jiří Bělohlávek excelling even his own extraordinary standards conducting the BBC Symphony Orchestra. Richard also loved the "really life-affirming Mozart" of Welsh National Opera's Marriage of Figaro, while WNO regular Stephen Walsh warmed to the newcomer in the company's Beaumarchais-based trilogy, Elena Langer's Figaro Gets a Divorce.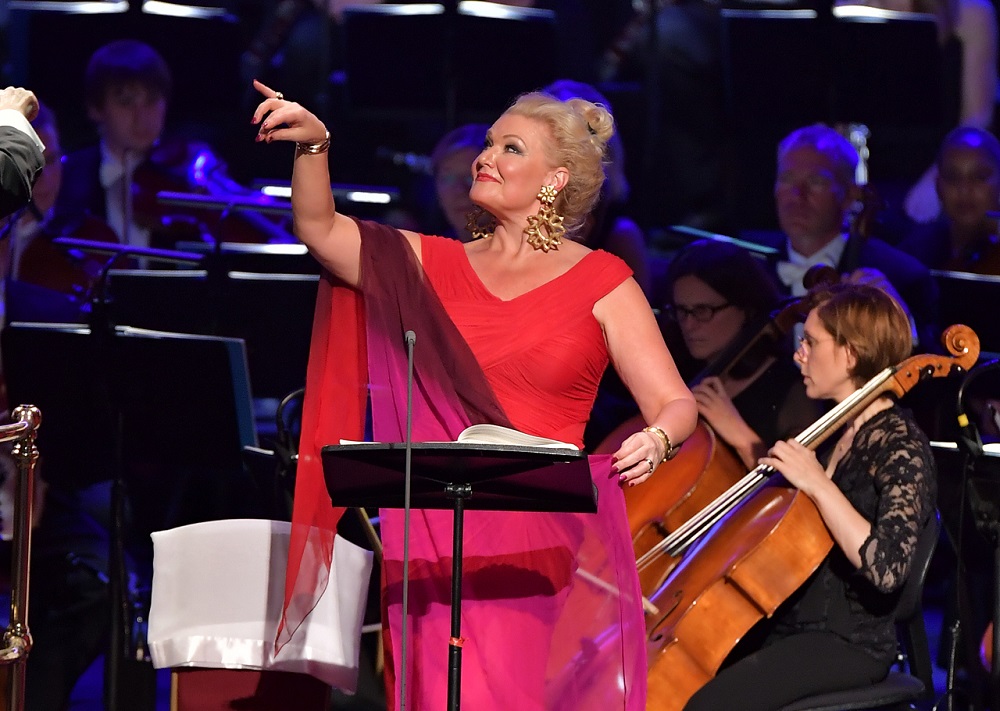 Opera North came to London to tell us why its Wagner Ring, regardless of "concert staging", is the best around, with superlative performances in each opera – from Wolfgang Ablinger-Sperrhacke as Loge in Das Rheingold, Robert Hayward hitting peak Wotan form in Die Walküre and Kelly Cae Hogan making a thrilling impact as a much-needed top Brünnhilde on the block developing from Valkyrie to woman in Siegfried and Götterdämmerung. The company's Britten Billy Budd, so far limited to the North, also showed great ensemble work and casting from strength, the second of four operas this season working the chorus hard (as ENO's plans so far have palpably not).
Scotland-based David Kettle's choice was another new opera shared between Scottish Opera and Music Theatre Wales that fortunately came to London and allows me to echo his accolade: Stuart MacRae's The Devil Inside, an engrossing thriller-narrative with resonances for today from Robert Louis Stevenson's The Bottle Imp (pictured below by Bill Cooper: Ben McAteer and Nicholas Sharratt). Helen Wallace loved Barry's high-velocity Alice's Adventures Under Ground, and so did I, having found the revival of his The Importance of Being Earnest a case of a great ensemble getting a high-intensity second shot at a fiendish take on Wilde. How refreshing to have encountered so many fresh inspirations that stand every chance of lasting in the repertoire.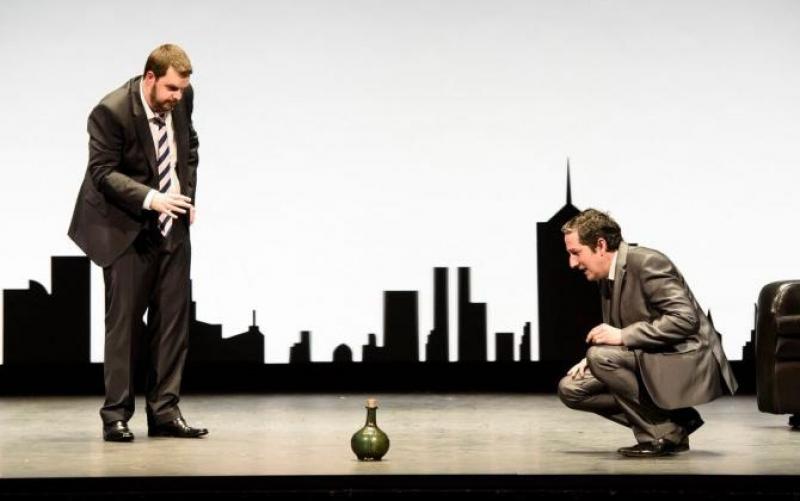 We're also lucky to be hearing the shock of the new in ancient rarities like Jommelli's Il Vologeso. This may only have been a concert performance, but Classical Opera's Ian Page has a fine instinct for casting distinctive voices and live-wire performers either fresh from college or still there: Gemma Summerfield, Rachel Kelly, Angela Simkin, Jennifer France and Stuart Jackson are all stars already. Jackson played the schoolboy who goes and sits in a tree deriding the valuelessness of human life in this year's Glyndebourne Youth Opera, David Bruce's setting of Janne Teller's terrifying but ultimately moral novella Nothing. No need to make any allowances for the schools chorus or the young in the orchestra; with Glyndebourne's expert guidance, this was a show that worked at every level (pictured below by Robert Workman), begging a London airing (the opera premieres in Teller's Denmark next year).
Kasper Holten's intelligent programming at the Royal Opera has also paid off, and not just in the portmanteau Earnest. Richard Jones had a good season – he needs to be there much more in the years to come if rumours over an end to his ENO association are true – with the revival of his gamut-running Puccini Trittico, Ermonela Jaho returning much enriched as a devastating Suor Angelica, and the mileage to be got out of a single line about a spinning top in a wonderful-to-watch Boris Godunov with a typically thoughtful central performance by Bryn Terfel (though it's time everyone stopped favouring Musorgsky's over-dry 1869 original version).
Gavin Dixon welcomed Enescu's stupendous Oedipe, and so did I, much moved by the redemptive last act, though I'm less sure that La Fura dels Baus's colossal take always chimed with the composer's vision. (But how's the image below, taken by Clive Barda, for the perfect picture on a plate? And it really was even more extraordinary to see live). Quibbles from some of us over Robert Carsen's second shot at Strauss's Der Rosenkavalier, a latecoming contender, have not prevented Peter Quantrill, who's seen both casts, from making it his top choice.
Staying with the Royal Opera, it's good to be able to end on a surefire prediction for a 2017 hit, since I count myself lucky to have seen the Salzburg premiere of Thomas Adès's The Exterminating Angel – albeit hand-in-glove with turkey of the year, an outspokenly anti-Islam director's mishandling of Strauss's Die Liebe der Danae, which deseved better. Despite enduring issues with Adès's vocal writing, I can't recommend the grip of the Buñuel-based subject or the teamwork of a superlative cast too highly. You're in for a treat. My biggest wish, if not for next year then in good time? A Wigglesworth-conducted Wagner Ring directed by Richard Jones, who is hungry to have another shot at it. Watch this space.
How refreshing to have encountered so many fresh inspirations that stand every chance of lasting in the repertoire
Explore topics
Share this article