Die Zauberflöte, Royal Opera review - classic show but disappointing conductor |

reviews, news & interviews
Die Zauberflöte, Royal Opera review - classic show but disappointing conductor
Die Zauberflöte, Royal Opera review - classic show but disappointing conductor
Anna Prohaska and Gyula Orendt give performances of great subtlety and depth
Saturday, 17 December 2022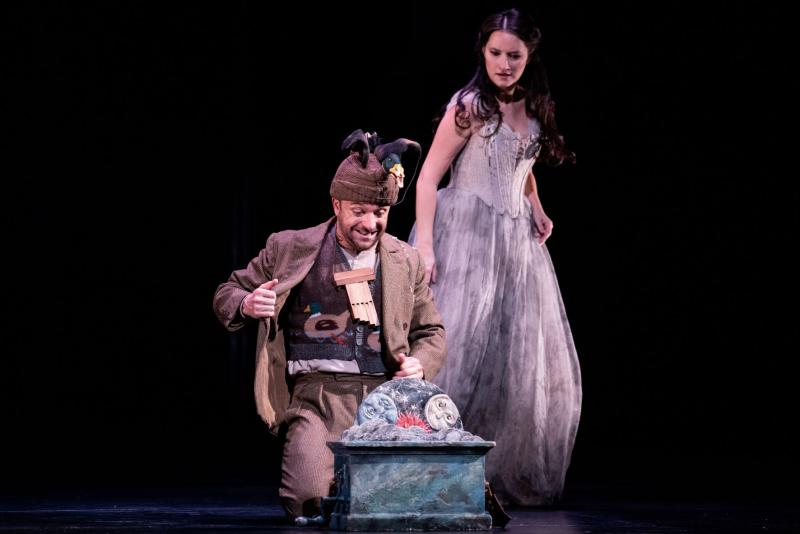 Gyula Orendt as Papageno and Anna Prohaska as Pamina in the latest revival of David McVicar's Royal Opera production
"The great thing about this production," Colin Davis observed in 2003, during rehearsals for its very first run, "is that the director [David McVicar] hasn't attempted to shock anybody. He has tried to tell the story of The Magic Flute. And thank God for that."
Two decades later, with its world of magical creatures, flying machines and everything from farce to the deep seriousness of being initiated into Sarastro's brotherhood, it does remain a very strong show.
John Macfarlane's sets, with their palaces, walls and skies, stunningly lit by Paule Constable, are a constant delight. The comic business was eliciting healthy amusement and laughter all around me last night. The movement in this new revival is now in the very capable hands of Naples-born revival director Angelo Smimmo. His background for taking on this role is unusual but not unique: Smimmo is a former dancer and a choreographer and movement director (Smimmo's mentor, Leah Hausmann, has also directed a revival of this production). He explained some of his modus operandi in interviews: "The music always informs what you have to sing... you should always be in touch with music before the words."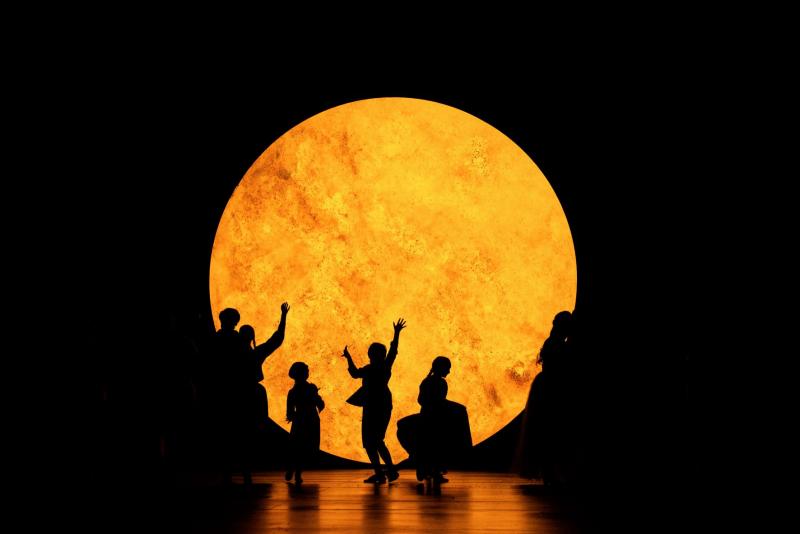 In the final applause on opening night, the loudest cheers went to the Russian Aigul Khismatullina as Queen of the Night. Her show-stopping second aria was indeed a marvel of precision and high polish. Whereas the Queen of the Night is there and gone relatively quickly with her show-stoppers, the plot and the whole evening are borne by the travails of Papageno (Gyula Orendt) and Pamina (Anna Prohaska). Both singers are real specialists in these roles, bringing a wonderfully deep knowledge and understanding of them. Indeed they were singing Papagano and Pamina together, just a few months ago, at the Staatsoper Unter den Linden in Berlin.
Prohaska has real authority as she takes us through Pamina's despairs and joys, and her voice is always affecting and clear. Orendt quite simply does everything, yes everything, very well. It looks as if Smimmo has enjoyed working on his gait and physical attitude as an actor. Orendt also has the right kind of strong baritone to excel musically. These are both performances of subtlety, panache amd depth that deserve and need to be seen more than once to appreciate their alchemy and their range.
Brindley Sherratt is back in the role of Sarastro, giving a strong performance (London will have a treat later in the run with the arrival of René Pape, the Rolls-Royce of current Sarastros). This role and that of Tamino (New Zealand-Tongan tenor Filipe Manu, a glorious voice but with less clear diction in German than the high standard of many of the rest of the cast, pictured below on the left with the Three Boys) have never been simple in this production, perhaps because the whole concept of Tamino being initiated into Sarastro's brotherhood, his "purification" (sic), has always seemed like a rather artificial and unnecessary plot-delaying chore which takes us away from the emotional authenticity of Pamina and Papageno, and also away from all the fun.
Maxim Emelyanychev also received a substantial cheer at the end, but I found his conducting on this first night a huge disappointment. Perhaps when one knows the admiration, knowledge, belief and love that have been lavished on this work in Bow Street over the years by previous generations of conductors – Colin Davis instantly comes to mind, but so do many others – Emelyanychev's approach seemed often at odds with it. He is clearly emulating the kind of sound world we know from René Jacobs, but his whole range of gestures seems to imply clipping things short, disrupting and slowing down or speeding up a tempo, and he seems to have virtually none which give the opposite effect: settling down, broadening, shaping, simply loving Mozart. It may be inevitable at this stage of the run, but there were simply far too many imprecise and unconfident orchestral entries (surprising in a work that is meat and drink to the normally stellar ROH orchestra). The "Speaker" scene in particular, rather than conveying any measured explanation or clarification of the plot, seemed to consist of a series of unpredictable forward lurches, and clearly needs more attention.
The Magic Flute is such a deep and rich work. Last night I saw a great production. And heard one that will hopefully improve with greater familiarity as the run progresses.
Emelyanychev's whole range of gestures implies clipping things short and disrupting
rating
Explore topics
Share this article