Don Giovanni, Glyndebourne review - stunning, exuberant production reveals human nature in all its complexity |

reviews, news & interviews
Don Giovanni, Glyndebourne review - stunning, exuberant production reveals human nature in all its complexity
Don Giovanni, Glyndebourne review - stunning, exuberant production reveals human nature in all its complexity
Julia Hansen's multi-tiered set looks like something out of a Wes Anderson movie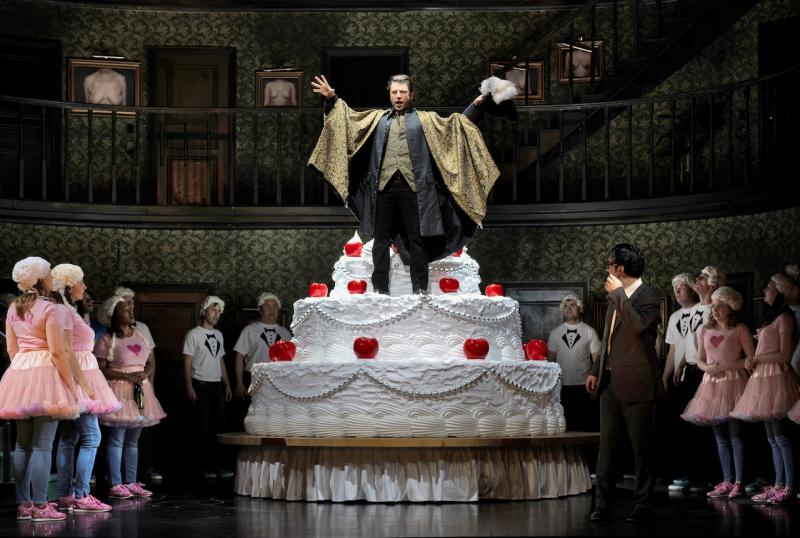 Having his cake: Andrey Zhilikhovsky as Don Giovanni
Why stage Don Giovanni in a post #MeToo world? That's the question most frequently being asked about Mariame Clément's new production for Glyndebourne and on its opening night she delivered a response that was as conceptually subtle as it was visually flamboyant.
Together with the Orchestra of the Age of Enlightenment – conducted with flair and vigour by Evan Rogister – she teased out the contradictions and paradoxes that define not just Mozart's flawed Bacchanalian anti-hero but those who surround him. Today we have cancel culture – back then they had hell – and it's a tribute to Clément that Don Giovanni's progress devilwards is both psychologically gripping and stylishly exuberant.
The production's wit and complexity is indicated straight away by Julia Hansen's multi-tiered set, which looks like something out of a Wes Anderson movie. Where we normally encounter Leporello waiting for his master outside Donna Anna's house, here the action's set inside a hotel in which – through an Escher-like swirl of wooden bannisters – we see three floors neatly punctuated by bedroom doors and oil paintings.
Prior to the revelation of the set, the overture – famously composed the night before Don Giovanni's 1787 premier in Prague – establishes both the conceptual depth and the playfulness. Rogister – in his first appearance at Glyndebourne – brilliantly swoops the orchestra from the apocalyptic opening chords through an adrenalised tour of the alternately comic and dramatic musical themes as Étienne Guiol's powerful animation evokes a world on fire.
As the screen goes up we see Mikhail Timoshenko's dweebish Leporello (pictured below), who's collapsed with exhaustion in the hotel lobby and is twitching comedically to the music as he waits for Don Giovanni to emerge from his latest conquest. When Moldovan baritone, Andrey Zhilikhovsky finally appears, the sinister thug-like aspect of what Don Giovanni's doing is emphasised by the fact he's in a balaclava.
In some previous productions it's been implied that Donna Anna does not find the lothario's attentions altogether unwelcome – here there's no sense from Venera Gimadieva's dignified, affecting Donna Anna that he's anything but a priapic pest. The switch between comedy, outrage and gut-wrenching tragedy is perfectly calibrated as Zhilikhovsky tussles fatally with Jerzy Butryn's Commendatore. Both in the musical accompaniment and the anguish that suddenly seeps into Zhilikhovsky's voice we watch anew in horror as the action slips from spikily orchestrated confrontation to the dark velvet of lament.
With the entrance of Ruzan Mantashyan's Donna Elvira, a more comedic tone is established as she briskly ascends the set's different levels in her search for Don Giovanni, wearing a lime green coast and shocking pink trousers with boots to match. The jagged fluctuations in her character's emotions are echoed by the spikes in the melody as she sings about how he has betrayed her. Here she is no victim, but just as assertive and complex as he is. Even as Don Giovanni tries to write her off as deluded we are getting the sense that he has badly miscalculated this misadventure.
The ascent from tragedy to comedy is completed as the action arrives at Don Giovanni's disruption of the wedding party between Victoria Randem's confident, flirtatious Zerlina and Michael Mofidian's wonderfully down-to-earth Masetto (both pictured below). Here Clément has opted for the full carnivalesque treatment, giving the set up a full hen-party makeover as Zerlina and all her friends appear in pink tutus and fake plastic boobs and the men appear in jaunty stags' horns, offset by their turquoise jackets.
The boob theme figures large from this point on in the first act – at one point there's a clatter and we realise that all the tasteful oil paintings have suddenly been replaced by pictures of breasts. It's difficult to imagine a male director getting away with this these days, but in Clément's intelligent, emotionally forthright production we see how for Zerlina and her friends the boob-jokes are all part of the self-empowered fun. What we can see, as the action continues, is that while for them the sex is something joyous and liberating, for Don Giovanni it's becoming increasingly oppressive and nihilistic.
The sheer wattage power of the first act ensures the drive is maintained through the more meditative, symbolic second act in which the hotel backdrop disappears and we are left with a skeletal staircase and balcony framed by palm trees. As in the first half, the brilliant sculpting of emotions by the Orchestra of the Age of Enlightenment allows us to appreciate the gap between what each character is saying and what the music is revealing about them. The contradictions are particularly strong as Zhilikovksy's Giovanni, now disguised as Leporello, seems – ever chameleon-like – to be about to seduce Masetto before he beats him up. We also see it in Mantashyan's Elvira as she is increasingly torn between fury and empathy.
The first slight visual wobble occurs as the moment looms when the Commendatore comes to exact revenge – we see lit silhouettes of a man appearing in the darkness almost as if they were hallucinations. This works as an idea but is a little underwhelming in reality; though this is more than made up for by the convincingly powerful final inferno as Giovanni is surrounded by his avengers.
The stunning direction is underpinned by performances that are as exquisite in ensemble as they are as solos. It feels almost unfair to pick individuals out but Randem distinguishes herself as a thoroughly modern Zerlina while Timoshenko is comedically perverse as Giovanni's downtrodden sidekick. Oleksiy Palchykov – as the production intends – manifests himself as brave and attractive as Don Ottavio, rather than stolid and boring, transcending his vanilla musical themes to produce a rich lyricism.
Zhilikhovsky is a suitably thrusting Giovanni, though paradoxically his performance works because it demonstrates his character's mercurial unpredictable aspects with both menace and subtlety. As with the rest of the production there is no virtue – or vice – signalling; it succeeds so brilliantly because, as Mozart and Da Ponte intended, it reveals human nature in all its flawed complexity.
Andrey Zhilikhovsky displays Don Giovanni's mercurial nature with menace and subtlety
rating
Explore topics
Share this article