Kommilitonen, Welsh National Youth Opera, Barry |

reviews, news & interviews
Kommilitonen, Welsh National Youth Opera, Barry
Kommilitonen, Welsh National Youth Opera, Barry
Student opera triumphs over the confusions of audience promenading
The Cultural Revolution: student activity at its worst
What happened was this. I found my way, not without difficulty, to the Barry Memo Arts Centre, got my ticket, had a chat with the librettist, stopped to order an interval drink, then turned round to discover that the entire audience had disappeared, as if eliminated by a Star Wars de-atomiser, or whatever those things are called.
Two or three of us ran outside, looked this way and that, and after a few panic-stricken minutes tracked down the audience, who had gone right round the building in a crocodile and re-entered it by a door on the far side.
Yes, you've guessed it. It was a "promenade" performance, one of those shows where the audience stands around, moves this way and that, does what it's told, and tries in vain to understand what the hell is actually going on. The irony is that Peter Maxwell Davies's student opera Kommilitonen, which was being performed by the wonderful WNO Youth Opera, is all about freedom: about people who don't do what they're told by corrupt regimes (which, it's true, WNO is possibly not).
Originally a commission from the Royal Academy of Music, Kommilitonen is, as its librettist David Pountney puts it, "not only for students but about students". Its subject is student activism, for better or worse. It combines three very different episodes from 20th-century history: the anti-Hitler leaflet campaign of the White Rose student group in Munich in 1942, the story of James Meredith (Oscar Castellino, pictured below), the first black graduate in the US Civil Rights movement of the early Sixties, and – on the dark side – the activities of students in the Chinese Cultural Revolution under Mao. And into this medley it slots a brief cameo from Dostoyevsky's Karamazov, the Grand Inquisitor on the doubtful virtues of freedom.
As an idea, it was curiously old-fashioned at the time it was conceived, 2010, and it still reeks to some extent of the Sixties and Seventies, when progressive opera, like student protest itself, meant more or less mindless demonstrating about this or that, articulated through a lot of noise, rushing around and waving of banners. Its dramaturgical essence is confusion. What with the montage of events, the switching of attention from place to place, and the overload of documentary materials – the posters, the graffiti, the pronunciamentos, not to mention the surtitles – the experience is, and is presumably meant to be, fundamentally incoherent. At its worst it treats its audience like cattle, shunting them hither and yon, engaging them physically as much as mentally. If this is freedom, one might think, give me solitude.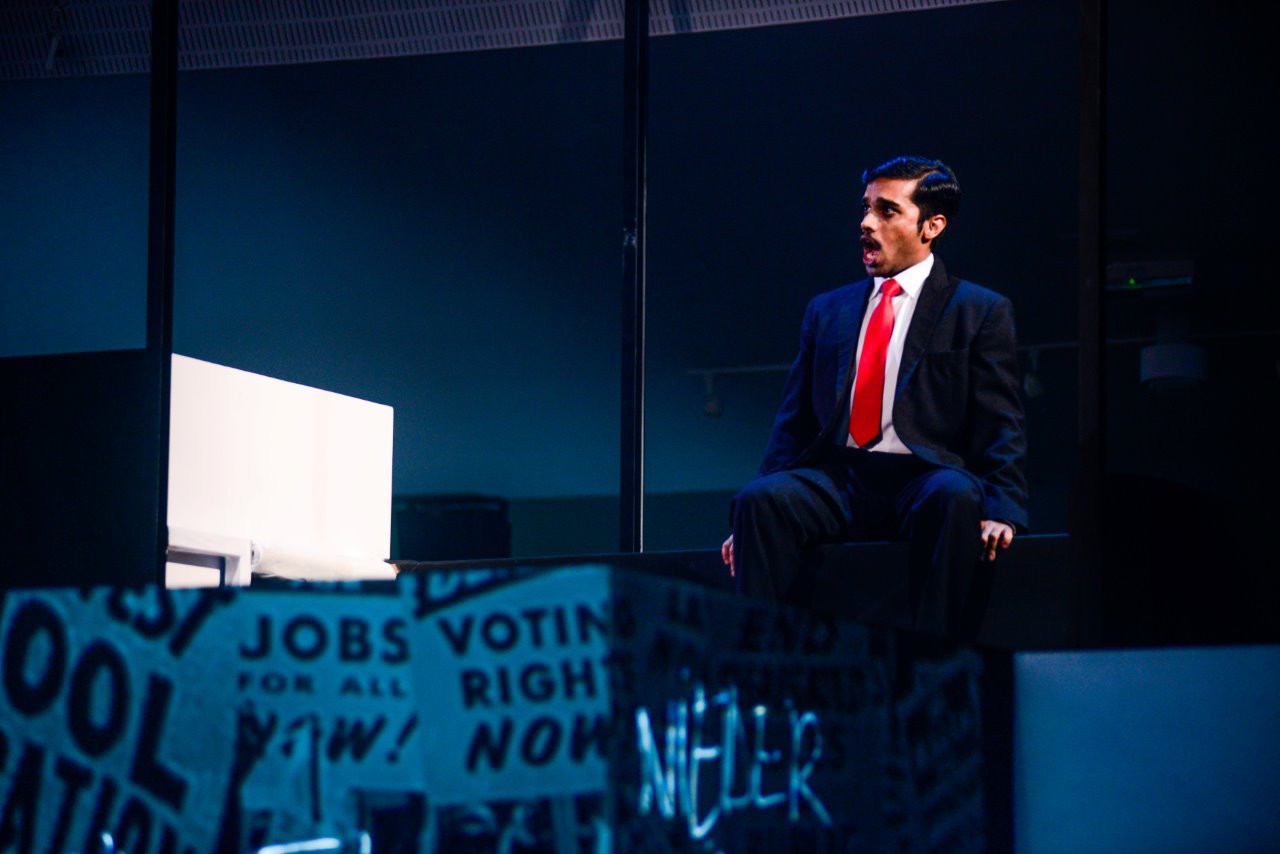 Having got all that off my chest, I have to admit that this production, by Polly Graham, is a dazzlingly impressive affair in its own right, not least because Maxwell Davies's score is one of his most beautiful and skilfully designed. In some respects it harks back to his own Sixties manner: it has a honky-tonk piano, vulgar marches, popular tunes of one kind or another, integrated into a dark atonal idiom which seems to plumb those depths of individual feeling that are the hidden meaning of all public events. But all this goes with a mature mastery of the good old-fashioned techniques of harmony and counterpoint, and an aural certainty that sometimes went by the board amid the violent contrasts and conflicts of his early music theatre.
The production itself (designer, Gabriella Slade) is a bravura affair in every way. WNO Youth Opera draw their performers from students at the Royal Welsh College, at the Birmingham Conservatoire, and from participants in their own youth schemes; but you would think that they were entirely young professionals, so polished and assured is their vocal delivery, so completely disciplined and punctilious their acting and movement in what is by any standards an exceptionally complex arena. To name any of this large cast individually would be invidious. Alice Farnham conducts the WNO orchestra with unobtrusive authority. Against my better judgement, I left Barry having enjoyed myself quite a lot; and promptly lost my way again.