La Rondine, Opera North review - rehabilitation for a Puccini damp squib? |

reviews, news & interviews
La Rondine, Opera North review - rehabilitation for a Puccini damp squib?
La Rondine, Opera North review - rehabilitation for a Puccini damp squib?
The romantic nostalgia of a world that vanished forever
Saturday, 21 October 2023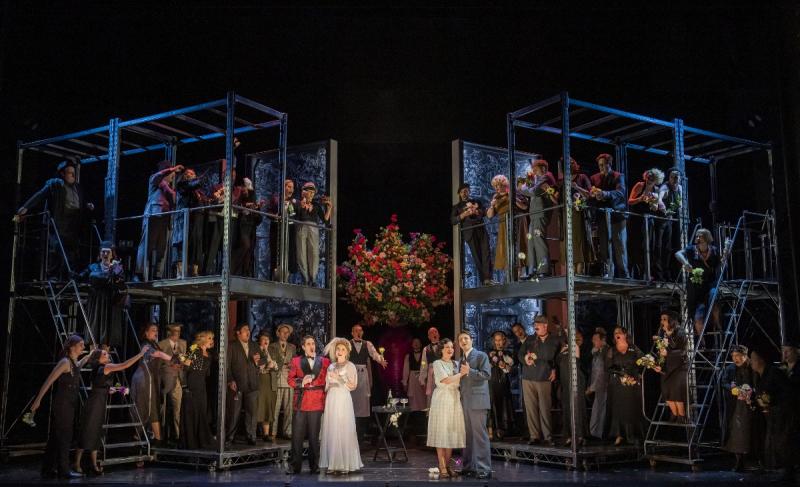 Peak impact: Full ensemble in Act Two of 'La Rondine'
The signal achievement of this production of La Rondine may be that James Hurley (director) and Kerem Hasan (conductor) have rehabilitated it to its proper place, against the perception that it's the least successful of Puccini's mature operas.
Even Tito Ricordi, the composer's publisher, apparently called it "bad Léhar", and subsequent commentators have found an incongruity in its marriage of an Italian late-romantic lushness with a succession of waltz tunes that seem reminiscent of Austro-German operetta – and also the fact that the plotline seems over-dependent on ideas from Die Fledermaus (posh lady and her maid both go out on the town in disguise and finish up at the same nightspot) and La Traviata (kept woman falls truly in love but sacrifices her own happiness in the name of respectability).
Opera North are this time using (mainly) the 1917 version of the score, which Puccini later tried to hot up in the last act. Last time they did it, 29 years ago, it was in the later edition, as restored, which I remember thinking then was really no improvement dramatically.
Accept it for what it is, this new production's creators seem to say: it's a child of the Great War and its composer was an Italian seeking to capture nostalgia for a Europe that had vanished forever. It's "L'amor sentimentale", as the story's poet Prunier, albeit in somewhat cynical mode, says at the outset. He's the one who tells the heroine, Magda, that she's about to fly away, like a swallow (rondine), to romance. Hurley updates the story to the time of its creation, rather than the mid-19th century, but that is distant enough for us to feel the sense of a long-lost world.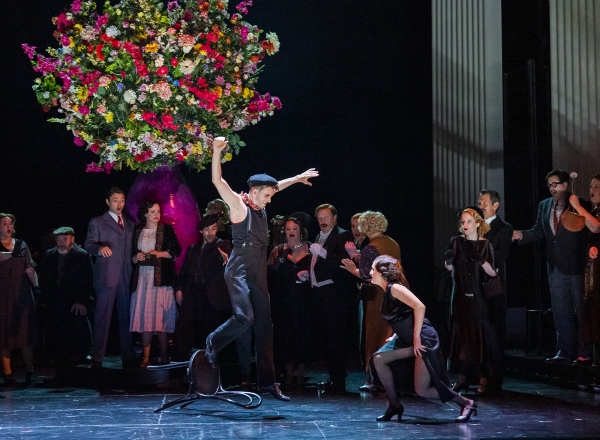 And the production, in the Opera North "Green Season", manages to convey opulence and lavishness despite whatever constraints were observed. If they confined themselves to recycling old kit for this incarnation, they must have had a good rummage through the costume store to find such glamorous gowns (and their "students" at the nightspot are of a well-heeled gang). The set, designed as are the other two productions in the season by Leslie Travers, makes varied and mobile use of the metal frameworks that have otherwise been mainly at the sides of the stage – so much as to imply that this employment of them as sub-locations was what they were invented for in the first place.
Most striking of all is Kerem Hasan's handling of the score: it varies from light and frothy through rich and gorgeous to a wonderful peak of impact, with the Chorus and full ensemble, towards the end of the second Act ("Bevo al tuo fresco sorriso" etc). That was a real achievement, and the third Act, though maintaining intensity at quite a high level, seemed to fall into place as a winding-down, musically, and not a disappointment.
The casting draws on youth and is full of quality. Galina Averina, making her debut with the company, sings Magda, the focus of the entire story, with beautiful creamy tone and awareness of her subject's journey from the boredom of the kept woman to the re-awakening joys of young love. Sébastien Guèze (pictured right, with Averina), who's sung Rodolfo and Don José for the company before, comes well up to the mark as Ruggero, the young man she falls for – and he can dance in hold and sing in duet all at the same time. Elgan Llŷr Thomas, another debutant, makes a strong impact as Prunier, and his love interest, Lisette the maid, is played by Claire Lees with imaginative awareness of her role's brief and insecure foray into the posh world.
Philip Smith handles Rambaldo (the rich guy who keeps Magda) well despite limited options for characterization, and the trio of Magda's friends (Pasquale Orchard as Yvette, Kathryn Sharpe as Bianca and Laura Kelly-McInroy as Suzy – all drawn from the Chorus of Opera North) move and sing together delightfully. It's very much an ensemble piece, as all the other subsidiary roles are sung by Chorus members.
There are dancers, too, who liven up the Parisian ballroom of the second act with some very energetic choreography by Lauren Poulton). If that's come si balla a Montauban (how they dance in Montauban), they're a wild lot indeed.
Most striking of all is Kerem Hasan's handling of the score
rating
Explore topics
Share this article