Least Like the Other, Irish National Opera, Linbury Theatre review - the harrowing of Rosemary Kennedy |

reviews, news & interviews
Least Like the Other, Irish National Opera, Linbury Theatre review - the harrowing of Rosemary Kennedy
Least Like the Other, Irish National Opera, Linbury Theatre review - the harrowing of Rosemary Kennedy
Composer Brian Irvine, director/designer Netia Jones and top performers mesmerise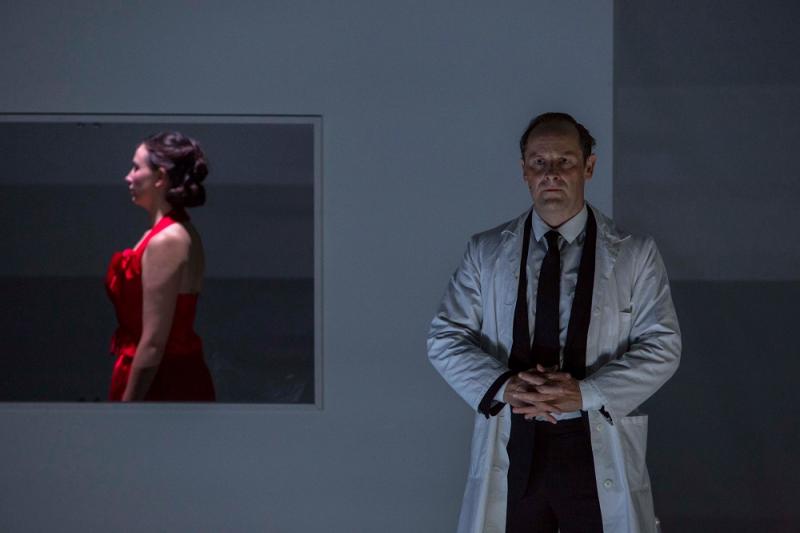 Rosemary (Amy Ní Fhearraigh) in the hands of charlatan lobotomist Walter Freeman (Ronan Leahy)
This multimedia horror revue gave me heart trouble, which is an odd kind of compliment. Not at first: the assault of abrasive music, the one singer having to leap all over the place vocally, competing with spoken word and information overload, can seem self-defeating. And that vile word "lobotomy" is enough in itself to trigger a panic attack. But ultimately the impact is powerful, unforgettable, in tune with great artistic statements about the human condition.
Least Like the Other's creative team have been selective about the supposedly limited details we now have concerning the tragic life of Rosemary Kennedy, the most obvious victim of America's highest achieving Irish Catholic family; the venture uses some of her loving letters to the parents who treated her so badly, but not the diaries she kept in the 1930s before the catastrophe triggered by her father (after which she lived for another 64 years).
The focus is on the arrogance and the quackery of American medical practitioners at the time, culminating in the horrible information that Walter Jackson Freeman II, into whose disastrous hands Joe Kennedy delivered 23-year-old Rosemary without his wife Rose's knowledge, performed 4,000 lobotomies in 23 states, 2,500 with an ice-pick and without formal surgical training; at least 100 of his patients died from the procedure.
What's selected and shaped here circles around the victim to build up a powerful indictment of society in the 1930s before giving Rosemary a more than stylised voice. Brian Irvine's score, played with tireless energy by 12 instrumentalists under versatile Fergus Sheil, INO's music director, ebbs and flows between hysteria, satirical popular music and a calmer, more elegiac voice. Sometimes it sounds like the music of Gerald Barry in its mad banality, only not quite so deftly chameleonic. Some of it perhaps goes on too long: the remorseless Kennedy family general knowledge quizzes around the dinner table, Rosemary's first escape into an underwater world, could be shaved by 10 minutes.
Yet the magnificent efforts of all involved bring this close to a total work of art. Netia Jones reflects the ebb and flow of the score with an almost surgical precision in design and movement; Muirne Bloomer's sometimes demanding choreography and Sinead Wallace's lighting enhance the neurasthenic tension. The three speakers – voice-over artist and assistant director Aoife Spillane-Hinks, actors Ronan Leary and Stephanie Defresne – never put an intonation or a foot wrong (the crazy routine for Rosemary's presentation at Buckingham Palace, pictured above, is a real vocal, instrumental and choreographic highlight, almost like a weird ballet divertissement in this not-so-grand opera).
Nor, in a breathtakingly disciplined Royal Opera debut, does soprano Amy Ní Fhearraigh (pictured right). The creator of the singing role in 2019, Naomi Louisa O'Connell, has been in New York performing in an INO co-production with Beth Morrison Projects, Trade/Mary Motorhead by Emma O'Halloran: an impressive showing for INO on its fifth birthday. Ní Fhearraigh initially covered the role in Least Like the Other, and now owns it. How impressive, within weeks of 2023, to see so totally finessed a performance from a young rising star.
If one sometimes wonders what Irvine's real voice is, he certainly has a masterly sense of pace. The last three sequences – a queasily stylised version of the lobotomy (no spoilers – the visuals should come as a surprise), Rosemary's shocking reaction and her final retreat into the aqueous world where she can no longer be touched – and this one doesn't go on too long – account for a literally stunning conclusion, and my arrhythmia. This is vital music theatre; don't miss it.