Les vêpres siciliennes, Welsh National Opera review - spectacular, silly, but some great music |

reviews, news & interviews
Les vêpres siciliennes, Welsh National Opera review - spectacular, silly, but some great music
Les vêpres siciliennes, Welsh National Opera review - spectacular, silly, but some great music
Verdi's reluctant grand opera colourfully staged, brilliantly played, unevenly sung
Wojtech Gierlach, Anush Hovhannisyan, Jung Soo Yun, and Giorgio Caoduro with assorted Frenchmen ripe for massacre
It's not hard to see why The Sicilian Vespers has struggled since its surprisingly successful opening run at the Paris Opéra in 1855. Verdi had composed it reluctantly, despised the librettist, Eugène Scribe, who he regarded as a well-named cynical scribbler, and tried unsuccessfully to get a release from his contract. The result is undeniably patchy, narratively implausible to the point of silliness, and though tight by the standards of French grand opera, nevertheless at least one scene too long.
Yet having said all that, one is left with the impression of a work that overall only just misses greatness, so good is its best music. This is, after all, middle period Verdi. It has three or four brilliant solo arias, at least three superb dialogue scenes - the sort of thing at which Verdi excelled and which he tried to get Scribe to write more of. The choruses are good, not overwhelming, a mild disappointment in what ought to be a crowd opera; and the final massacre is a damp squib compared to the famous one in Meyerbeer's Les Huguenots (also Scribe, but a work Verdi admired). But he surely never wrote more powerfully for the orchestra, at least until Don Carlos; and the orchestral playing, under Carlo Rizzi, is musically the outstanding feature of this new production by WNO's outgoing but happily not outlawed artistic director David Pountney, the final panel in his triptych of middle-period Verdi.
The staging itself is a characteristically hybrid affair, always spectacular, occasionally impenetrable. Pountney's preference for colliding images over subtle inflection is much in evidence. The curtain goes up (nice to see it at the start for once) on the population of Palermo on their hands and knees scrubbing the streets watched by French soldiers in full dress uniform; at the end a few of the local girls who had been dragged away from their weddings by Frenchmen reappear as topless slags, still with their wedding veils, still scrubbing, while everyone else - French and Palermese - celebrates the marriage of the Sicilian hero and heroine.
Yet curiously there is actually nothing noticeably Sicilian on the stage at all. Scribe adapted his libretto from an earlier one about the Duke of Alba, and this production could just as well have been that, pace the words. While Marie-Jeanne Lecca's costumes veer wildly between images of fancy-dress tyranny, Raymond Bauer's sets are nothing but huge interlocking picture frames or, after the interval, vast bookless book-cases that trundle around - black prison walls constantly on the move. Dull it certainly is not. But one would give the price of a stalls seat for the occasional olive tree, or even a mafioso in dark suit and sunglasses, something usually to be found in operatic wardrobes.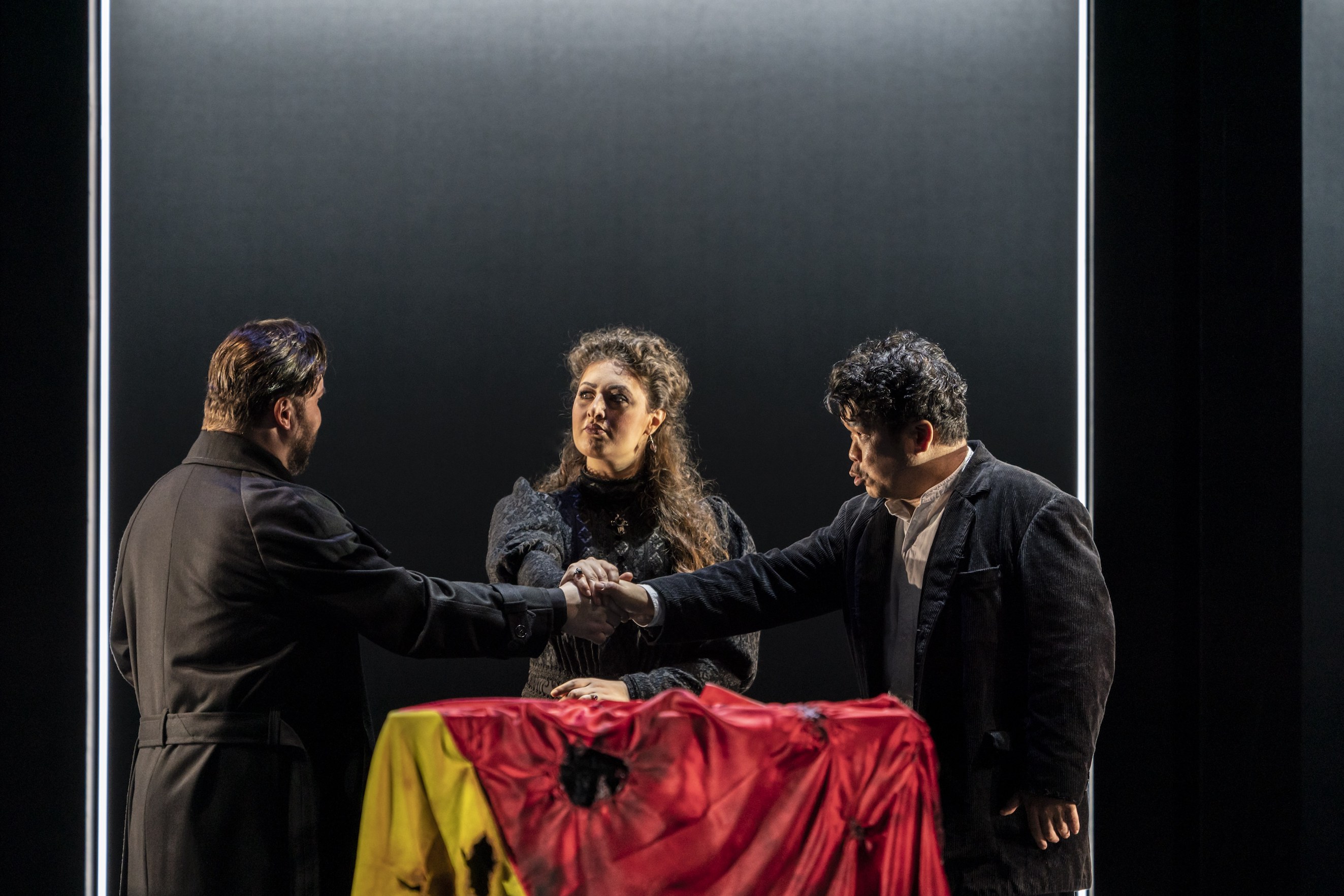 From the singers, as usual, Verdi demands nothing but the best. Caruso famously said of Il Trovatore that the only thing it needed was the four greatest singers in the world, and The Sicilian Vespers makes comparable demands. Pountney's cast aren't quite that. Anush Hovhannisyan (pictured above with Wojtek Gierlach and Jung Soo Yun) is a fluent Hélène, the duchess who seeks vengeance on the French for the execution of her brother. She handles the coloratura well, if not with perfect intonation, but needs more warmth in the voice, more variety of colour, and more mobility on stage. The tenor Jung Soo Yun is a lithe, personable Henri - the freedom fighter who turns out, embarrassingly, to be the love-child of the tyrant French governor. But after five long acts the voice was wearing a shade thin, the figure drooping a bit. The problem for Henri (and the director) is to know whether he is or is not a freedom fighter. Even as the bells clang and the massacre starts, one still isn't quite sure, and nor, I felt, was Jung Soo Yun.
About Procida, the Bakunin of the piece, there is no such doubt. Wojtek Gierlach is solid in the role but never quite catches the character's burning ruthlessness, his single-minded, suicide-belted determination to kill himself and everyone else in sight, and vocally, though forceful, he rather lacks finesse. Best of the soloists, for me, is the tyrant De Montfort himself, Giorgio Caoduro, likewise not entirely beautiful of voice but very moving in his great Act 3 aria where he learns the identity of his son in a letter from the dying mother.
The mother, not one of Verdi's dramatis personae, also features here in the long Act 3 ballet, cleverly if disturbingly choreographed by Caroline Finn as the story of the affair that led to Henri's birth, not of course excluding that event. Astonishing dancing by members of the National Dance Company Wales. But I think Verdi was wise to allow its omission.
Subscribe to theartsdesk.com
Thank you for continuing to read our work on theartsdesk.com. For unlimited access to every article in its entirety, including our archive of more than 10,000 pieces, we're asking for £3.95 per month or £30 per year. We feel it's a very good deal, and hope you do too.
To take an annual subscription now simply click here.
And if you're looking for that extra gift for a friend or family member, why not treat them to a theartsdesk.com gift subscription?