Madama Butterfly, Hallé, Elder, Bridgewater Hall, Manchester review - an opera masterclass |

reviews, news & interviews
Madama Butterfly, Hallé, Elder, Bridgewater Hall, Manchester review - an opera masterclass
Madama Butterfly, Hallé, Elder, Bridgewater Hall, Manchester review - an opera masterclass
Sir Mark Elder brings the Hallé season to its close with wizardry in Puccini
Vivid portrayal and glorious tone: Eri Nakamura
An opera in the Hallé concert series, conducted by Sir Mark Elder, is rather like a blend of a religious observance and a masterclass in orchestral playing and singing technique.
The season finale at the Bridgewater Hall was Madama Butterfly, the first time in all his years in charge that Sir Mark has chosen Puccini for this treatment in the concert hall. He is a wizard at conveying this composer's music, and, with a starry cast and a full symphony orchestra on the platform, the score came to life as probably never before for most of its hearers, even those who have experienced it in the theatre already.
Though described as semi-staged, it was not so much a dramatic production as an appeal to the imagination (with a good deal less to divert the eye than, for instance, Opera North have achieved with their "concert performances" of Wagner). But there is much to be said for visual minimalism, and it was to the credit of Gerard Jones as director that we were spared the fake-oriental waddling and supposedly geisha-style fluttering that mar some fully staged productions, while simple props such as a chair or a bunch of blooms stood ciphers for whole rooms or multiple baskets of flower petals. On the other hand, you have to accept that characters will be singing about a little house you cannot see, or drinks that don't always appear, that a love duet can be portrayed by two people who are standing around 30 feet apart from each other, and – most crucially in this storyline – that they react to, and even sing directly at, a little boy whose existence is represented only by a rolled up sheet of paper with a photograph on it.
The music, though, is what this kind of demonstration-quality performance is all about. It began with an amazingly vigorous burst of string energy (the orchestra guest led by Roberto Ruisi) and never looked back. Elder's handling of the lyricism and melodic twists and turns of Puccini's writing was affectionate and idiomatic, and he summoned splendid surges of sound from his players in the big climactic moments – sometimes a bit too big for the singers to keep on top of (at least where I was seated: the Bridgewater Hall is very resonant and more so for sound that bounces off the sides of the auditorium than for voice projection straight down the centre). He was soon urging the soloists to ever-greater efforts to fill the space, and skilfully controlled the blend of the brass, horns in particular, into the texture.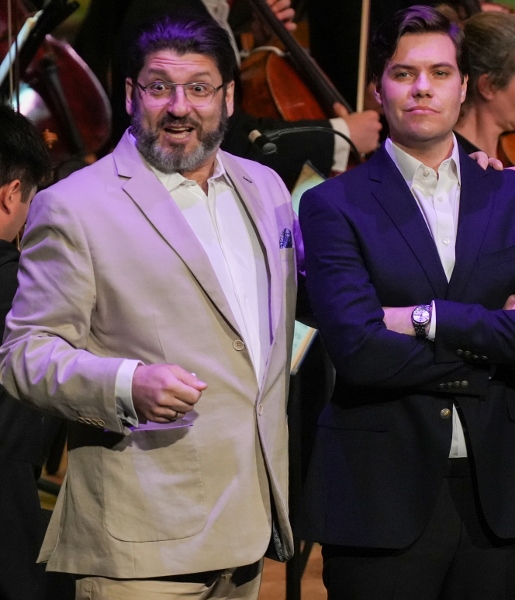 The percussion department had been set some homework to do, and we had prominent tuned big gongs at the back, tiny ones featured front-of-stage in the first act, played by principal David Hext, and the bells for the dawn in Act Three lifted on high in the auditorium. It was about as much staging purely of the orchestra's role in the drama as anyone could ask for. The warm-toned harp of Marie Leenhardt, centre-stage, made a lovely contribution to the sound palette, and the whole was underpinned when necessary by the contrabass trombone.
The singers were led by Eri Nakamura, the Japanese soprano who has made the role of Cio-Cio San her own in the world's opera houses. She was wonderful, with glorious tone throughout her range (a low register of extraordinary strength combined with mellowness, and a brilliant top) and a vivid portrayal of young innocence developing into steely determination. She never failed to shine through the biggest welter of orchestral sound, and her burst of hope and power in mid-Act Two (when she and Suzuki spot Pinkerton's ship nearing the Nagasaki harbour) was very special.
Thomas Atkins (pictured above with David Bizic) is a tenor coming into the peak of his development and has the frame and demeanour for Pinkerton: I'd have liked to see a little more clarity in his character-drawing (I've seen some Pinkertons you feel sorry for and others who got booed at the end like a pantomime villain – you can take your pick as to how to see him), but his vocal tone is superb. David Bizic was alert, audible, and conveyed real personality as Sharpless, and Ann Taylor, as ever, acted with great presence and sang beautifully as Suzuki. Jihoon Kim (the Bonze), Alasdair Elliott (Goro), James Cleverton (Commissioner and Yamadori) and Katie Coventry (Kate Pinkerton) made up the principal members of the cast, and other roles were taken by members of the Royal Northern College of Music Opera Chorus, who made a notable contribution to the first Act and, off-stage, to the "Humming Chorus" (in this case, more ahh'd than hummed, but atmospheric nonetheless).
Manchester loves to see singers visit who might otherwise be accessible only to denizens of the Royal Opera House, and one of the attractions of Elder's concert operas with the Hallé is that such luminaries visit the city for them. The performance was rewarded with a standing ovation and fully earned enthusiasm.

Though described as semi-staged, it was not so much a dramatic production as an appeal to the imagination
rating
Explore topics
Share this article