Pleasure, Royal Opera, Lyric Hammersmith |

reviews, news & interviews
Pleasure, Royal Opera, Lyric Hammersmith
Pleasure, Royal Opera, Lyric Hammersmith
Mark Simpson's new opera provides a challenging lead role for Lesley Garrett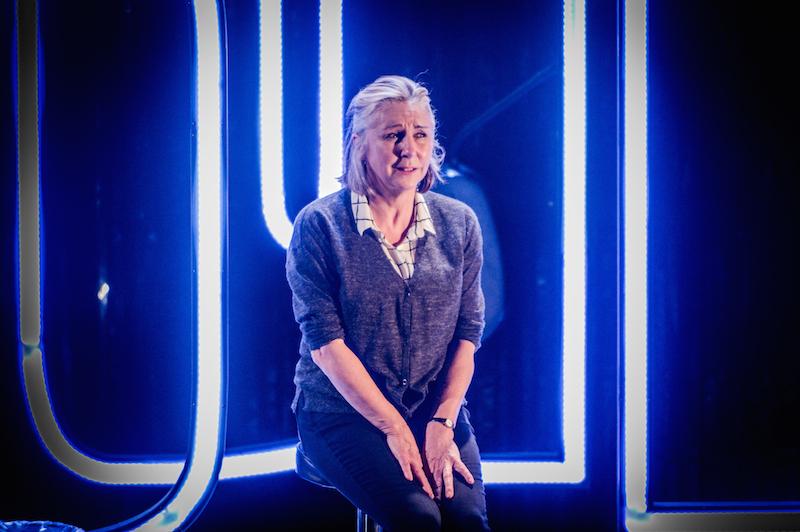 Lesley Garrett as Val in 'Pleasure'
A 28-year-old British composer makes his name with a new four-hand opera, set in contemporary Britain but underpinned by classical legend, pushing the boundaries of operatic subject matter and launching a glittering career. This was Mark-Antony Turnage and his breakthrough work Greek in 1988, showing uncanny parallels with Mark Simpson and his new opera Pleasure.
Where Turnage set the Oedipus story in the 1980s East End, Simpson and his librettist Melanie Challenger, tell an original story, based on the myth of Hephaestus, and set it in the toilet of a gay nightclub. Although seeming at first sight perhaps meretricious, Simpson explains that the inspiration came from his own experiences of Liverpool nightlife in his teens and early twenties. "As I stood pouring my heart out to a toilet attendant, I suddenly started to see the world around me with a new sense of objectivity." Fast forward a few years, and that toilet attendant is being played on the London stage by Lesley Garrett.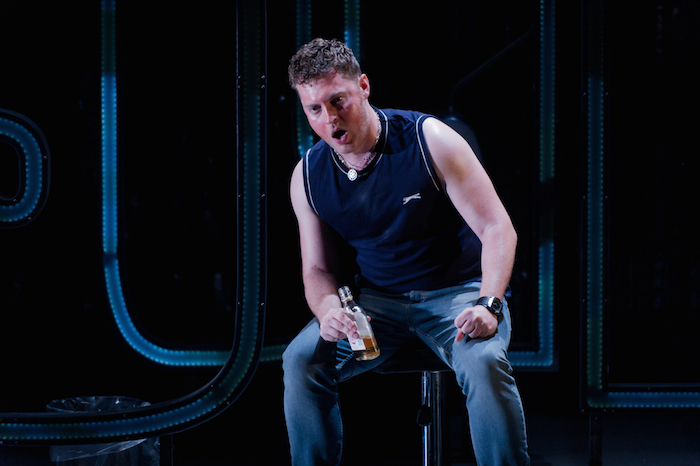 Although Garrett is nowadays best known as a chart-topping – dread term – "crossover artist", and proud to be one of ITV's Loose Women, she was an ENO principal from 1984-98. In Pleasure, she produces a proper operatic performance and shows that years of singing lighter repertoire have not dulled her operatic chops.
It was only in Val's final lament that the story and character became truly engaging. Her character, Val, is a confessor for customers of the club and a sparring partner for the resident drag queen Anna Fewmore (Steven Page). Val has a dark back story of domestic abuse which is stirred up by the arrival of a young man, Nathan (Timothy Nelson, pictured above right), who turns out to be her long-abandoned son. Her second betrayal of him leads to the story's tragic climax.
Even then, it was only by way of a moment of melodrama which felt over-egged even within an opera. For much of the piece, for all the rapid activity and best efforts of the cast, nothing really happened, the whole thing jogging on the spot.
The musical score was often more beguiling than the stage action, and often very beguiling indeed. There was little reference to the dance music of the club setting, but the inclusion of a synth keyboard gave a Pet Shop Boys gloss to the ensemble's sound. The music was restlessly inventive, fertile and well-scored, earning its moments of repose, which were stunningly beautiful. Psappha, led energetically by Nicholas Kok, were exemplary, the clarinet playing of Dov Goldberg and Scott Lygate excellent. (Simpson clearly revelling in writing for his own instrument.) The music was full of tonal references and never highly dissonant. In some respects it called to mind Nico Muhly, whose ENO debut Two Boys in 2011 also dealt with a contemporary theme – cyber-stalking – and whose music also rose above the limitations of the storyline.
The singing was very good from all four of the cast, especially baritone Steven Page (pictured above). His drag queen, often seen in backstage dressing gown, was gaudy in the limelight and catty out of it. The aria in which he appeared in, and gradually destroyed, a dress of coloured balloons was very entertaining.
The design used a split level arrangement, with the band "upstairs", emphasising the action was taking place in the depths, figuratively and literally. The lighting design was excellent: appropriately dingy, the letters of the word "pleasure" were outlined in various neon shades and, in the final moments, burnt dazzlingly, transfiguring the toilet into a sacred space.
It seems certain that Mark Simpson's career will shine with similar brightness in the coming years, in much the way Mark-Antony Turnage's has, although for my money, Greek has the edge over Pleasure, all things considered.
In a recent TV interview with Lorraine Kelly, Lesley Garrett celebrated the fact of a lead operatic role being written for a woman in her sixties, and in this respect of broadening the repertoire Mark Simpson is to be congratulated. But Pleasure does more than simply challenging operatic orthodoxies: it is a notable debut opera.
Broadcast on BBC Radio 3 at 10pm on Saturday 11 June
Lesley Garrett shows that years of singing lighter repertoire have not dulled her operatic chops
rating
Explore topics
Share this article