The Yellow Sofa, Linbury Studio Theatre |

reviews, news & interviews
The Yellow Sofa, Linbury Studio Theatre
The Yellow Sofa, Linbury Studio Theatre
A unique new chamber opera from Glyndebourne visits London
Tuesday, 06 November 2012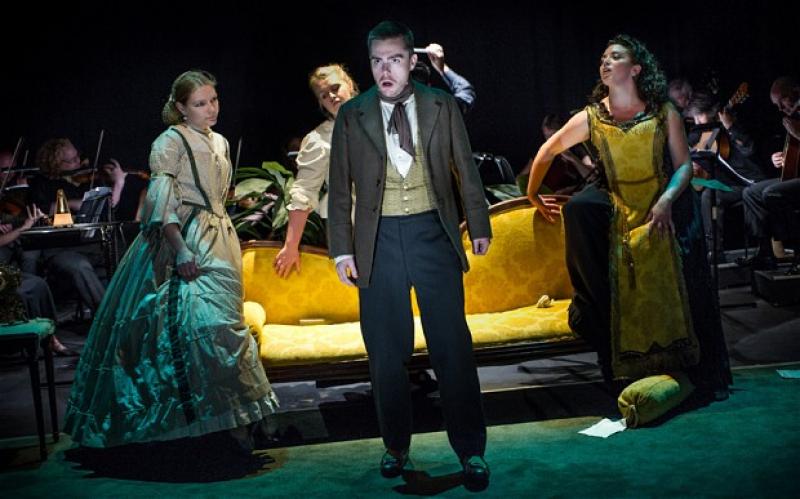 At the heart of Julian Philips' chamber opera The Yellow Sofa stands, perhaps unsurprisingly, a beautiful antique yellow chaise longue that bears witness to all the adultery, money grabbing and revenge that a 1880s Lisbon household has to offer; but Philips' sofa is far from mute, she is portrayed here by the exceptional Lauren Easton who sings an extraordinary mix of opera and fado as she narrates, in a sultry yet haughty fashion, all the steamy goings on.
To my mind Easton achieves something very rare in opera, a believable fusion of singing styles that not only casts the audience mind outside the window to the plaintive street songs of Lisbon but she also ends the show in a breathtaking moment of fado-esque coloratura.
The Yellow Sofa is a work of fusion as both librettist Edward Kemp and composer Julian Philips have worked hard to produce an opera that is truly tragicomic. Godofredo Alves, whose young wife is discovered canoodling with his business partner on the very yellow sofa that he bought for her, seems to almost be in a separate opera of dark despair as he contemplates revenge and even murder while being mocked and bullied by a host of friends and servants who constantly deride him with chromatically vivid chorus lines. Here Michael Wallace proves himself to be an adept and passionate actor as he deals with the fallout from his wife's affair, and despite the hilarity going on around him is able to bring real pathos to the role. There are times when the whole ensemble cast seem to be involved in some kind of farce where belly laughs and erotic hip swaying dances take centre stage and this does become slightly grating but isn't that the point, how everyone else's opinions, reactions and gossiping must seem incredibly annoying when you are in real emotional pain like Godofredo.
Glyndebourne have a unique opera on their hands here, one of fado and silence, and of light-hearted sadness
Philips' score is at its most haunting and effective when he is writing for the piano, played here by the excellent Matthew Fletcher, accompanied by eerie string harmonics and a single metronome to suggest the hours spent wasted in this well-to-do town house in Lisbon. Philips also writes incredibly well for the guitar and the Portuguese fado guitar, bringing a real richness to the score and a refreshing change from the somewhat heavy string section. Philips also knows how to deal well with silence; there are several intense moments when the rumpus of the ensemble cast and orchestra are balanced with a sudden dense silence that again takes us into the dusty and still interior of the grand Lisbon town house that is missing its mistress.
The cast never leave the stage, they mostly sit on the sidelines watching and sometimes interjecting as the drama unfolds in Kitty Callister's brilliantly deconstructed town house, that is made up of little more than a large rug, several potted plants and of course the yellow sofa; and director Frederic Wake-Walker is at his best when dealing with the ensemble cast - there is a memorable moment when together they humorously portray the ornate door that separates Godofredo from his adulterous wife.

Despite overtures towards forgiveness, there is very little closure for the audience at the end of the opera; as Godofredo and his wife reunite we are left surprised and even curious as to how much could been forgotten or forgiven, since in this short chamber opera all the heartbreak and regret seems so vivid and recent. But that's where The Yellow Sofa excels; it's a bittersweet piece that is hard to pin down, where comic turns by the likes of the wonderful Sioned Gwen Davies, who portrays the Alves' disgruntled maid, are balanced by such exquisite numbers of heartache and anguish like the near final duet that takes place outside the Lisbon Opera House. Glyndebourne have a unique opera on their hands here, one of fado and silence, and of light-hearted sadness, and they seem to know exactly what to do with it.
Comic turns are balanced by exquisite numbers of heartache and anguish
rating
Explore topics
Share this article