Birmingham Royal Ballet, Quantum Leaps, Sadler's Wells |

reviews, news & interviews
Birmingham Royal Ballet, Quantum Leaps, Sadler's Wells
Birmingham Royal Ballet, Quantum Leaps, Sadler's Wells
Bintley's relatively in touch with Einstein in his new ballet
Wednesday, 11 November 2009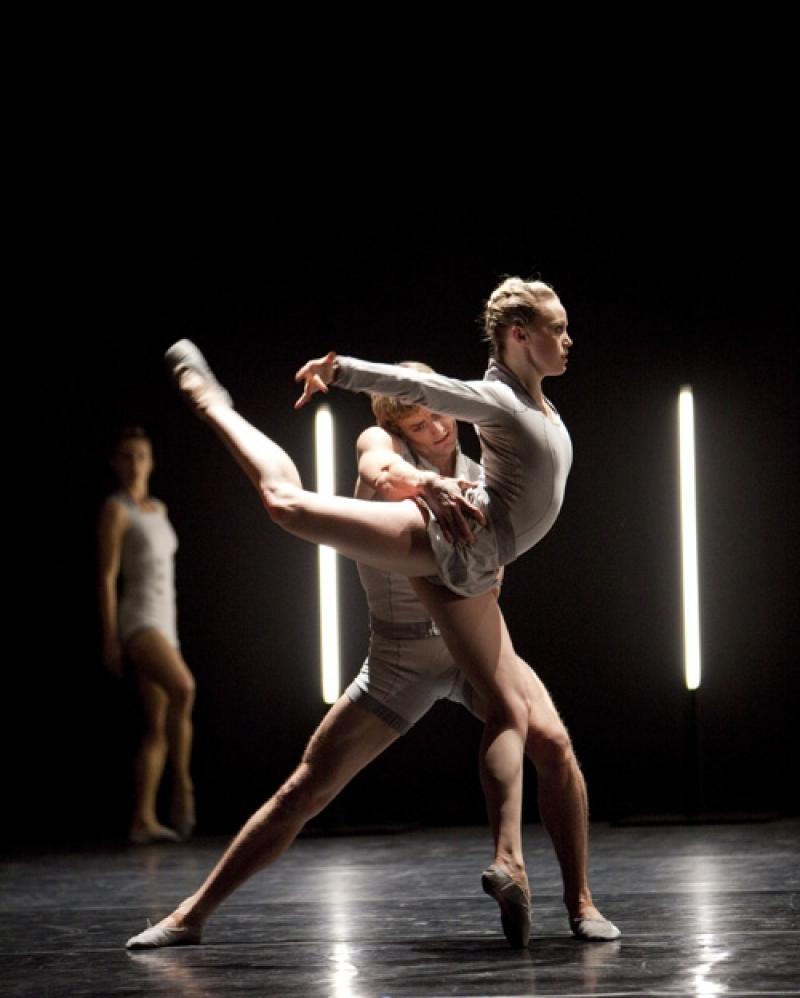 Dusty Button: a young Amazon in a cod-Forsythe creation by Garry Stewart
I took advantage of critics' privileges to see parts of two shows last night - as the Royal Ballet and Birmingham Royal Ballet are sister companies, they shouldn't quarrel too much, and this way there turned out to be a most revealing side-effect. By missing a dud work on the BRB triple bill, and by seeing the first act of a potentially exciting debut in a major MacMillan work, certainly a better evening resulted - but also by chance a yardstick comparison that we rarely get any more.
Seen after an act of MacMillan's 30-year-old Mayerling (for which I skipped Stanton Welch's meagre and pretentious Powder), the new creations by David Bintley and Garry Stewart underlined very heavily the skill and courage gap that's been left since the great choreographer died in 1992. Entitled Quantum Leaps, this BRB bill hardly leaps anywhere, except mulling around in currently fashionable areas, rather than (as MacMillan did) bursting bounds.
Bintley was MacMillan's heir at the Royal Ballet, who rarely programmes his predecessor's work, but they both possess rare musical instincts and a natural showmanship. Though MacMillan's insistent psychological approach is more penetrating of character, and his classical skill much the more inquiring, Bintley does have a gentleness and lyricism that's capable of being touching.
E=mc2 - his new ballet named after Einstein's theory of relativity - is formulaic in ballet terms too, neatly conceived with a fast "Energy" movement followed by a slow "Mass" one, a little message in the gap reminding us all of the atom bomb, and then a fast "Celeritas" (or speed) finale. This is all overdressed with a marvellously eye-catching light display from Peter Mumford - clouds, smoke, laser squares, a screen of multiple suns - and accompanies a substantial live orchestral score by a young Australian, Matthew Hindson, which initially detonates bombs of clangs, gongs and xylophones. The feeling of something more son et lumière than ballet persists throughout.
At the opening Bintley has devised a clever bomb effect for the dancers, who fling their arms straight up the air and let them trickle down, like the reaction of exploding debris - a good trick at first, but repeated too often. Less interestingly, they clench their fists and pump their arms, an obedient army of not-ballet dancers. Trombones and brass mimic air raid sirens, Mumford's projection lights shoot out a bit more fog, the dancers do the explosion-arms some more, and that's "Energy" done.
The choreography feels more imaginatively alive and sustained in Mass, in which pairs of men swing women high out from the shadows to catch Mumford's darkling shafts of light, like great nebulae or solar flares in outer space. Bintley uses the weightiness implied in the title to scoop low cradling moves up to high lifts, the soft huddle of dancers building collective power to throw up a sculptured bouquet of legs, catching a moment of stillness at the top. Meanwhile Hindson's music loses its hectic tone and becomes still and poised, in long string chords, with soft tings and an ethereal violin solo (the divine tones of Robert Gibbs, the Royal Ballet Sinfonia's leader).
There are echoes in Bintley's Mass choreography of the better parts of his unlucky Covent Garden work, The Planets, and Hindson's music, I fancy, also has a Holstian touch here and there. A male-female duet slips into conventional sentimentality and then we're into The Bomb, and the ear-shattering aural reproduction of explosion and fallout. A Japanesey lady in a white kimono does a japonesque impression of the Dying Swan with a red fan, rather beautifully, and disappears into what appears to be a heedless young beach-party in jeans and bikinis, jogging about in a fiddly-footed folk-dance, somewhere between Riverdance and Twyla Tharp's In the Upper Room, but too genteel to break away into its own footprints.
This gentility of Bintley's is underscored by the rough cod-Forsythe timbre of Garry Stewart's The Centre and its Opposite, less original but more driven than the previous work. To the familiar combo of electronic crackle and neon light flicker, we get half an hour of slash-and-crunch stretches and kicks in athletic grey shorts-suits, in which the Amazonian young Dusty Button struts and sulks with ferocious legs that could break a man's jaw. This charismatic blonde was certainly the centre of the performance I saw last night, but she and her mates should be getting not cod but real Forsythe, McGregor, Tharp or even (shout it) MacMillan on which to hone finesse, wit and rhythmic exactitude as well as aerobic power. In this case, imitation is not a form of flattery, it's a cop-out.