Summer Hours |

reviews, news & interviews
Summer Hours
Summer Hours
Olivier Assayas honours the Musée d'Orsay in a personal, reflective film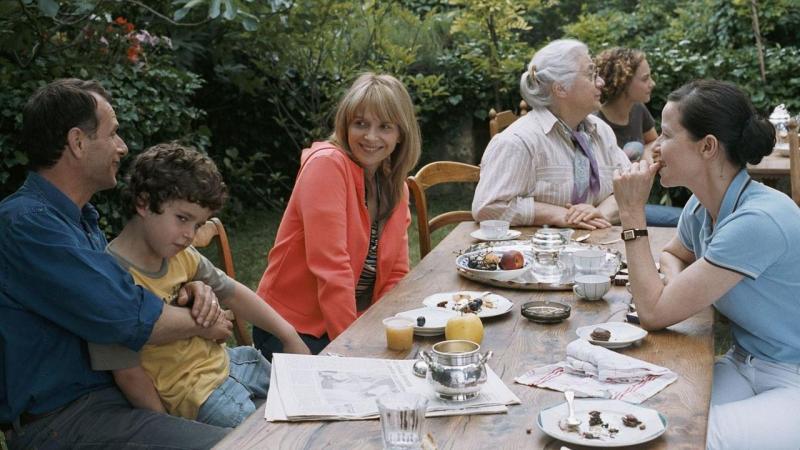 After a trio of harsh modern pictures dealing with the pitfalls of globalisation - Demonlover, Clean, and Boarding Gate - the director Olivier Assayas felt the need to write a more personal, reflective screenplay around the time Paris's Musée d'Orsay invited him to make a film using artefacts from its collection to commemorate the 20th anniversary of its opening.
But the dispersal of familial and national life are still felt in the resulting film, Summer Hours, which examines a family's response to parting with the informal collection of objets d'art treasured by the matriarch following her death. Coinciding with a spate of French "choral," or ensemble, family films—including Arnaud Desplechin's bittersweet A Christmas Tale—Assayas's wistfully elegiac movie proved an instant classic when it opened in 2008.
It begins with the seventy-fifth birthday party of the widow Hélène Berthier (Édith Scob, the veteran actress from George Franju's 1960 Eyes Without a Face) at the family home, north of Paris, which overlooks a large rambling garden that affords Assayas plenty of light-dappled Impressionistic vistas: Renoir père et fils are among the inspirations here. Hélène opens her presents in front of her eldest son Frédéric (Charles Berling), a Parisian economist; his brother Jérémie (Jérémie Renier), a sports goods entrepreneur who lives in China; and their sister Adrienne (Juliette Binoche), a successful New York-based designer. Frédéric and Jérémie's wives and their children also attend the gathering.
Only Adrienne has ingested Hélène's love of art; the artefacts remind Frédéric of his early life but otherwise have little intrinsic value for him; they are meaningless to Jérémie, the least spiritual of the siblings. Hélène pretends to be cheerful, but her discussion with the irritated Frédéric about the eventual fate of the collection—which includes two Corots, a broken Degas sculpture, and various art nouveau decorative pieces—indicates her intimations of mortality.
She dies offscreen shortly after, having returned from an exhibition she organized in San Francisco for her long dead painter uncle Paul Berthier, who lived and painted in the house. He is the ghost of Summer Hours, the man who amassed the art collection and was, it transpires, the love of Hélène's life. His aesthetic values taught her, we learn from a conversation between her sons, to demean her lowlier husband, whose surname, Malry, she discarded after he died. So much for the proposition that their children grew up in idyllic circumstances.
When Adrienne and Jérémie admit that they won't be returning to live in France, Frédéric has to relinquish his wish to maintain the house as a joint holiday home, and the three agree, without rancor, that the collection will be donated to the state to offset death duty. One of the Musée d'Orsay's art experts, whom Frederic and Adrienne bring to the house, complains to one of his colleagues about Adrienne's plan to have Berthier's notebooks auctioned by Christie's in New York because they're likely to be sold page by page—Adrienne may have inherited Berthier's artistic gifts, but in her disregard for France's cultural heritage she, like Jérémie, is fully globalised.
Having disposed of the estate, the siblings amicably go their separate ways—Adrienne to marry her American boyfriend—and it seems unlikely their paths will cross much in the future. It is left to two other characters to feel more deeply a sense of loss that transcends even the profound meanings that people attach to valuable or sentimental objects. Although Éloise (Isabelle Sadoyan), Hélène's elderly housekeeper, mostly a silent presence in the film, chooses as a keepsake one of two Bracquemond vases, she has no sense of its worth (as does Frédéric who generously lets her leave with it). Watching her walk in the grounds for the last time and bringing flowers to Hélène's grave, we know that it was the relationships—not the stuff—that mattered to her. Then there is Sylvie (Alice de Lencquesaing), Frederic's daughter, who disdains the Corots and is upbraided by her dad for being found with dope at school. But she is not a mere cloddish teenager. Allowed to hold an unsupervised party in the house before it is sold, she seeks out her boyfriend in the garden and tearfully relays what the death of Hélène and the place mean to her now that her family is passing from the scene.
New York-based Criterion has produced a typically superb Summer Hours DVD (available from Amazon). The extras include a satisfying hour-long documentary about the use of art in the film, including reproductions of items from the Musée d'Orsay (which pulled out of the project but allowed Assayas to film there) and a lesser "making of" featurette. There's also a new interview with Assayas, who discloses how the film was partially inspired by his sense that his mother, the Hungarian fashion designer Catherine de Karolyi, who died at 87 just before filming began, had been losing interest in life—he completed the first draft of the script while she was alive.
The movie was informed, too, by his need to preserve the legacy of his father, the screenwriter Jacques Rémy, who died in 1981, in the same way that Catherine, an only child, had preserved the legacy of her father, the Hungarian painter Tibor Polya (1886-1937), the model for Paul Berthier. "Dealing with the posterity of art has always been part of my life," says Assayas, who grew up venerating Polya and laments the severing of the connection between Bertrand and Sylvie's generations. It is enough, perhaps, that Sylvie understood her grandmother's house contained a soul.
Explore topics
Share this article