The Windsors: Endgame, Prince of Wales Theatre review - fitfully pointed fun |

reviews, news & interviews
The Windsors: Endgame, Prince of Wales Theatre review - fitfully pointed fun
The Windsors: Endgame, Prince of Wales Theatre review - fitfully pointed fun
Popular TV show gets a sometimes riotous stage perch
Wednesday, 11 August 2021
Date with destiny: Harry Enfield as Prince Charles
Opposite the playhouse where the sometimes-wild royal comedy The Windsors: Endgame has just opened is the Bubba Gump Shrimp Company seafood restaurant.
The eatery is of course inspired by Robert Zemeckis's hit 1994 film
Forrest Gump,
and watching
The Windsors
brought to mind the autistic savant's celebrated aphorism derived from his mother: "Life is like a box of chocolates. You never know what you're gonna get."
The Windsors is based on the Channel 4 comedy series that has been running since 2016, satirising the shenanigans of Prince Charles and other high-profile royals, though wisely steering clear of portraying the Queen herself. But the stage version's ambitions go further than an elongation of the intermittently amusing TV program which often outstayed its 25-minute welcome. The comedic range is considerably broader on stage than screen.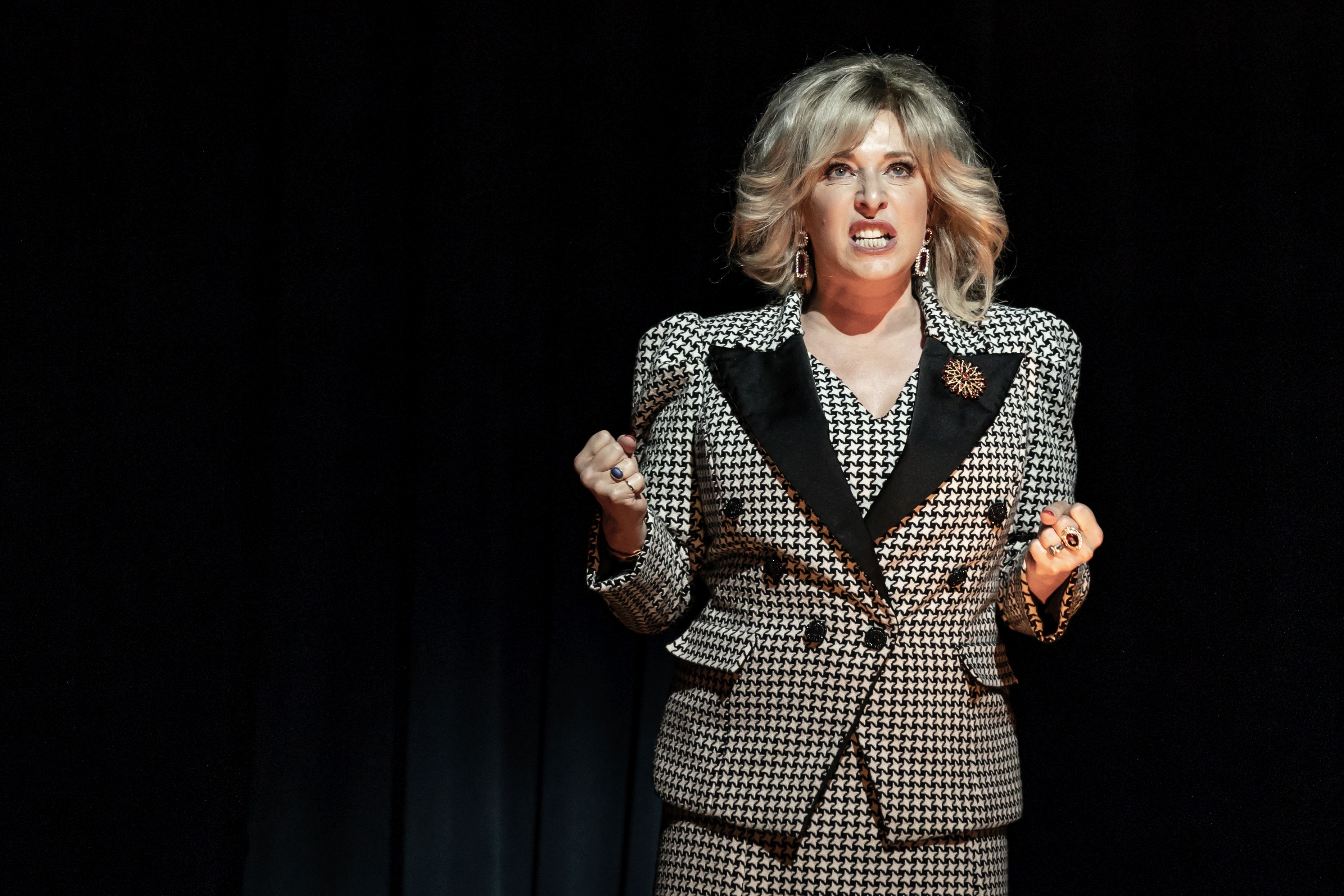 At various points The Windsors concerns itself with pointed satire (references abound to It's a Royal Knockout and Fergie's toe-sucking); a TV news panel show (up-to-the-minute jokes about Prince Andrew's current legal status over his sexual abuse allegations); historical sitcom (the scenes revolving around Camilla Parker Bowles, played with cues to the audience to boo her by Tracy-Ann Oberman, pictured above, seem to channel Miranda Richardson in Blackadder); pop culture snark (citations of George Clooney, Little Mix and Gwyneth Paltrow); musical interludes of varying quality; and a welcome injection of social comment: "We promise you a return to a world we just dimly remember," declares Prince William (Ciarán Owens), "where Hackney will once again be a place where young couples in the media can live alongside poor people and think they're much better than their mums and dads!"
Perhaps invariably, the result reminded me of Dominic Cummings' recent description of Boris Johnson as a "shopping trolley smashing from one side of the aisle to the other". And, yes, the Prime Minister, too, gets lampooned when Prince Charles (Harry Enfield) gets stuck mid-air and references his mishap on a zip wire. Some of it lands, some misses its target.
Such plot as there is arrives courtesy of co-authors Bert Tyler-Moore and George Jeffrie, the second of whom died shortly after completing the first draft. The attenuated story revolves around the Queen abdicating the throne in favour of Prince Charles, who wants to return Britain to a feudal society. As with the TV show, much is made of the conflict between Prince Charles and his sons, and Sarah Ferguson (musicals veteran Sophie-Louise Dann, a low-voiced delight) once again finds herself comically reduced to the role of a bungling spy.
But the hit-and-miss comedy is aided by assured direction from Michael Fentiman and vividly elegant sets designed by Madeleine Girling. The performances, too, are sharp. An ever-smiling Kara Tointon is cheerfully cutting as an adulterous Duchess of Cambridge, even if the middle-class status anxiety she displays has long been forgotten in the public consciousness. Crystal Condie's Meghan Markle is far more relevant, the Californian new age outlook of her and Prince Harry (a winning Tom Durant-Pritchard, with Condie pictured below) highly amusing despite its familiarity. As befits one of the leading TV comedians of his generation, Harry Enfield - replete with prosthetic ears - nails Charles's voice even if he resembles more the Tory peer Lord Archer than the heir to the throne.
Such ventures suffer perhaps inevitably from the fact that real-life royal exploits will always outstrip any fictional drama. Upon watching Mike Bartlett's King Charles III in the West End in 2014, I left thinking it was fine drama but preposterously unrealistic. Following "Megxit" and the ruckus caused by last year's waspish Kate Middleton profile in the royal family house journal Tatler, I now think Bartlett undercooked his drama.
The Windsors' riotous first act is followed by a rather tepid conclusion. But the show is well-done fun and while the royals themselves will be keen to give this a wide berth, many of their subjects, not to mention returning West End tourists, could do a good deal worse than witness the Prince of Wales parodied on the stage of the Prince of Wales.