10 Questions for Artistic Director Emma Rice |

reviews, news & interviews
10 Questions for Artistic Director Emma Rice
10 Questions for Artistic Director Emma Rice
The new fairy queen of Shakespeare's Globe takes on the Bard
Dream job? Emma Rice at Shakespeare's Globe
In his last minutes as the artistic director of Shakespeare's Globe, Dominic Dromgoole took to the stage to reflect on his years at the helm. Behind him was the cast of Hamlet, home after two years on the road playing to audiences from every country on the planet. He acknowledged his predecessor Mark Rylance, who waved a hat from the throng of groundlings, and then pointed up to the circle where his successor Emma Rice was greeted with gales of welcoming applause.
Rice has made clear her intention to stir things up. Her opening production of A Midsummer Night's Dream recasts Helena as Helenus and Peter Quince as Rita, at the head of a mostly female troupe of rude mechanicals. She uses lighting and has rigged up her lunatics, lovers and poets with radio mics. The audience for her press night on Thursday was treated to a raucous carnival in the style of her many shows at Kneehigh, the Cornish company with which she has been associated for 20 years. If they loved it, broadly speaking so did the critics. The morning after the first night before, Emma Rice tells theartsdesk what Globe audiences should prepare for next.
JASPER REES: To what extent does the Dromgoole legacy cast a shadow, or are you able to begin completely anew without casting a backward glance?
EMMA RICE: As ever it's somewhere completely in the middle. Dominic's legacy is extraordinary. He turned the building into a phenomenonal business for a start. He introduced new writing which culminated this year in productions being nominated for Olivier Awards, both new plays by women, and has toured every country on the planet. The doors he's opened for me as his successor are extraordinary. But the one thing we all know about theatre is standing still is the only choice that isn't open to you. So I glance back all the time and yet I feel very free looking forward.
Other vacancies have come up over the years. What was it about this particular job that you felt was right for you?
Well, where to start? It's a little bit of an outsider venue, isn't it? It's on the Southbank and yet it doesn't feel part of the industry on some level. It sits alone and it walks alone and it stands alone and that suits me. I'm a bit of an outsider as well. But on a fundamental level it's open to the skies and I've always made the work in the open air. And the audience is what it's all about. It's about audience communication, audience contact, that temporary community which is what at Kneehigh I've spent the last 20 years doing, so I really think this is the only venue for me.
You have directed only one Shakespeare play before. Apart from that single Cymbeline, what does coming to Shakespeare afresh enable you to bring that someone who had directed loads of Shakespeare might not have? (Pictured above: Zubin Varla and Meow Meow as Oberon and Titania)

What I bring is a very fresh pair of eyes and ears and storytelling rigour. But I have to keep reminding people I am not directing all the plays here. The much bigger part of my job is to choose great directors who deliver great Shakespeare. So wonderfully I feel responsible for the quality of work and those choices, but every day I'm learning about Shakespeare and I'm learning through the other directors I'm working with, not just my own rehearsal room. It's very intoxicating. I'm sure there'd be a very very good argument for someone who has directed lots of Shakespeare, but I didn't have that to offer.
You have decided to deploy microphones to boost the actors' voices in the Dream. What brought that about?
Really that's the practice that I've developed over my own career. I've worked very closely with sound and music and used technology to bring theatre into a much more multimedia world. For my production I didn't want to go back on that. At this point I think it'll be the only production that has actors radio-miked. But it enabled me to have underscoring which I've worked for many years on developing to create a musical score to a show. And it allows you to use instruments that wouldn't normally carry in the theatre. Making people louder is the lowest priority. In fact there's almost no priority in that.
The role of an artistic director varies from individual to individual. How much influence if any do you hope or propose to have over, say, forthcoming productions of Macbeth or The Two Gentlemen of Verona?
I work on a very simple premise which is to back artists, because I certainly know from my own experience that my best work has been made with freedom and bravery. I'm very collaborative, so the team's directors have met several times to talk about the Globe and talk about the ethos of the season. I've certainly talked to them about gender parity onstage and to do strong edits that allow the story to rise. So I've been enabling in a broader team spirit. When it comes to individual artists I back them. Simple as that.
I have a spirit full of joy and it bubbles through One line got the biggest of laughs at your press night. You interpolated into Pyramus and Thisbe, "Why is everybody so obsessed with text?" Is this going to be the brand thinking of the Emma Rice regime?
Isn't it interesting that the show was incredibly true to the beautiful text, the poetry is remarkably intact and the truth of the work is very honoured? I hope that is a genuine wink to the fact that I come from another background and that it's a big wide church and there's room for everything. But yes, of course that's a bit of a self-reference, because I'm the person in the room going, "I don't understand that line." And all the actors tell me what it means. I need more help than others. But then I also think, so do 90 percent of people who come to the theatre who aren't studying it or academic or actors poring over study tests. They're out for a good time and I'm proud that I deliver that.
How far can you go with recasting gender-specific roles?
It's not mathematical. I just think it's good to ask the question, what if? And that's all I've asked my directors to do. Shakespeare was writing for entirely male casts, so it goes without saying that most of those are going to be male characters. I suppose my feeling as a female director is that that blueprint, because he was so brilliant, has gone through history. Four hundred years later we still write plays that have 70 percent of men onstage and a woman who's a wife and a woman who's a lover. It still happens. And I just feel, what if? You look at Rita Quince as it is and it works perfectly. Not a single word has changed to make that a woman. Shakespeare didn't have an agenda about gender except he was working with men. So it's quite true to Shakespearean practice to be quite fluid about.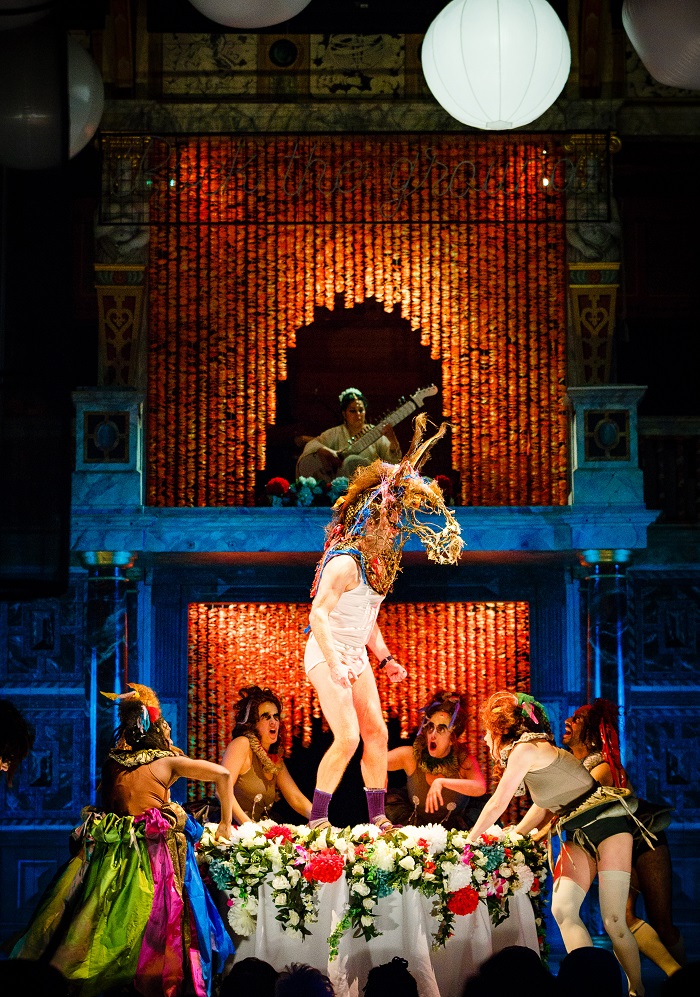 The subject of gender fluidity is hugely visible at the moment. Is there a sense in which your thinking is a reflection of the zeitgeist?
It's the next stage for feminism and it's the next stage for society to smash down the last pillars that are against us. Also, my generation have come of age and come into positions of power and we have to use it for good. That's certainly what I intend to do, to challenge those preconceptions. I watch men in theatre – actors – manage to continue working and have families, and I watch women find that very difficult. So I feel again in a position of power it's now in my gift to try and make it possible and keep great artists working and onstage.
Have you thought more specifically where you can take mashing up the genders? Could you have an all-male Montague family and an all-female Capulet family?
I might have to steal that. I always let the work lead. I'm never going to lead with an idea, I'm always going to start with a story. There are no rules.
Your Kneehigh shows have a wonderful circus-like atmosphere. Are some of the drier history plays less open to carnivalesque reinvention?
I try and extend my interest and my knowledge every year and try and work with what I'm passionate about. The fascinating thing about taking this job is I've got a lovely arc of several years if all goes well. I know I'm not going to hit those war plays soon, but I know I want to. That's my longer personal journey to find my way to them and find my way through them as well. But that's me speaking as an artist, not as an artistic director. And you know I don't set out to make carnival. It happens. I have a spirit full of joy and it bubbles through. But I also have a darker side and I think it is expressed in all the work. So when it's time I'm going to be ready.
There are two Kneehigh shows in programme. How long will the association continue?
They're one of my three associate companies: Kneehigh, Northern Broadsides and Vesturport, my amazing free-wheeling funky friends from Iceland. All I have personal connections to. Barrie Rutter has been a great friend and supporter to me and has always been doing amazing work in the regions. And Kneehigh? You can take the girl out of Kneehigh but you can't take Kneehigh out of the girl.
It's the next stage for feminism and it's the next stage for society to smash down the last pillars that are against us
Explore topics
Share this article