The Acid Test, Royal Court Theatre |

reviews, news & interviews
The Acid Test, Royal Court Theatre
The Acid Test, Royal Court Theatre
New play by the precocious Anya Reiss is as sharp and heady as a vodka cocktail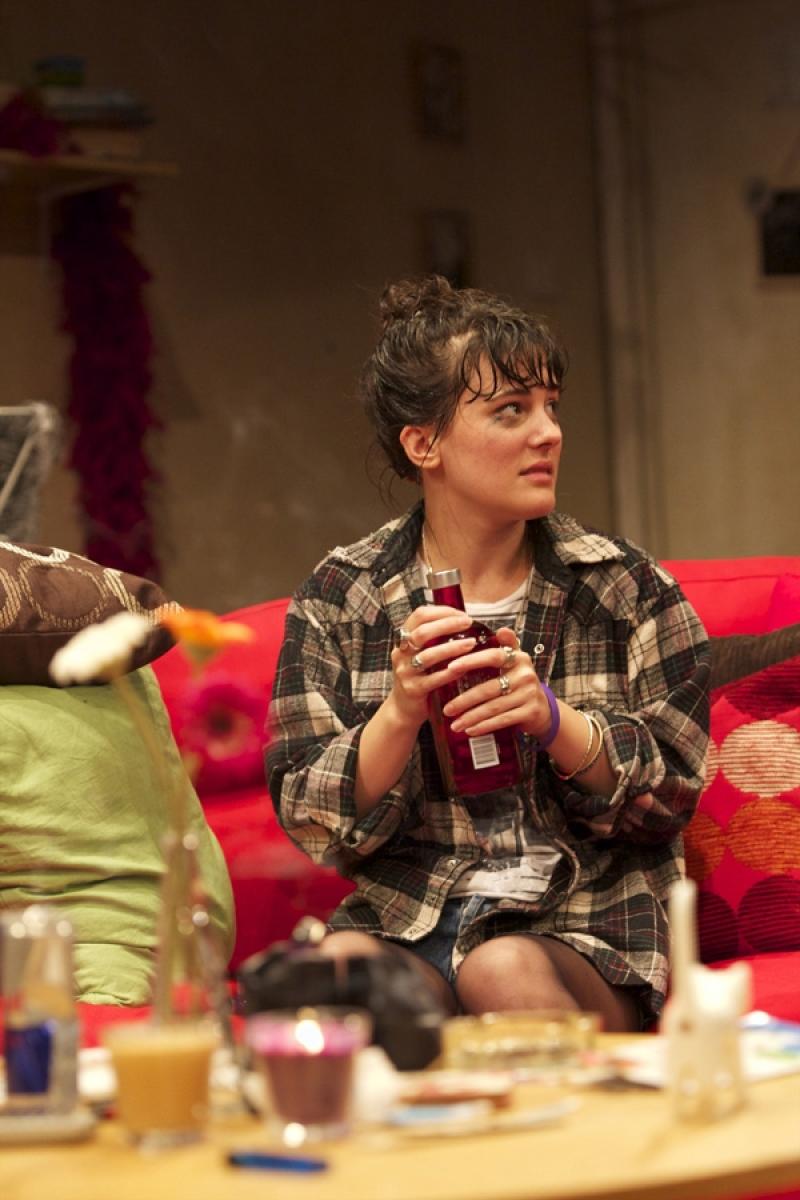 Drink and a bad hair day: Phoebe Fox in 'The Acid Test'
Anya Reiss must be the most precocious playwright in London. Her 2010 debut, Spur of the Moment, written while she was just 17 and still studying for her A levels, won two Most Promising Playwright awards, from the London Evening Standard and the Critics' Circle.
Now her follow-up,
The Acid Test
, which opened last night at the
Royal Court
in this new-writing flagship's upstairs studio, prompts me to ask whether she was just a one-hit wonder - and can she avoid the second-album syndrome?
Three young women, barely out of their teens, share a messy London flat. Dana, Ruth and Jessica are nice middle-class girls who have had a privileged life and private schooling. Now independent, they face the pressing challenges of grown-up life: Ruth has just had a bust up with her boyfriend, Dana plans to sleep with a man to get a job and Jessica brings her fiftysomething dad, Jim, back to stay at the flat - he's just been thrown out by his wife. Clearly, all this calls for a drink, or 10.
Soon, as the vodka flows and the bottles start to empty, tensions arise between the three flatmates, and between Jim and his daughter. When Ruth and Dana quiz Jim about Jessica's lack of a boyfriend the embarrassment levels become cheek-reddeningly high. Awkwardness lounges on the sofa in company with silly stories, only to be interrupted by sudden moments of high drama - a rush of hormones, helped by alcohol, overcomes all sense. But the most excruciating moments occur between Jessica and her bumbling dad.
Reiss's forte, as amply demonstrated by her first play, is acute observation and clear perception of psychological interaction. Her easy way with convincing dialogue is especially impressive when she charts the cringeworthy exchanges between the generations. By the time the drugs come out, and the bottles empty, you just know that the evening will result in a bust-up between dad and daughter, but some of the bitchiness between the flatmates is so acerbic that it almost takes your breath away.
The main theme is maturity. Reiss asks: when do people grow up? And she shows how both adults and youngsters use their own weaknesses as an excuse to avoid responsibility. Her play is also a miniature portrait of a group of middle-class girls who have a variety of attitudes to sex, work and honesty. They are a bit lost, but then so is Jim. For all of them, suggests the playwright, real life is elsewhere.
Although I am not convinced that Reiss has found her own voice yet, and the structure of her play is ploddingly linear, she has plenty of empathy with all her characters, and not just with the girls. Her dialogues are bright, humorous and occasionally barbed with sharp insults. And she is one of a new generation of female playwrights who are taking the temperature of the times. At one brief moment, her message - that youth has to guide age - comes across as electric.
This entertaining and restrained production by Simon Godwin (on Paul Wills's realistic set) sports a good cast. Phoebe Fox is great as the emotionally volatile Ruth while Vanessa Kirby plays the shallow airhead Dana, a young woman constantly learning and relearning the same lesson. I was less sure about Lydia Wilson's Jessica, and felt that her part was slightly underwritten. But Denis Lawson is excellent as an adult who is always, whether subtly or awkwardly, out of his depth (pictured above right with Fox and Kirby). If Spur of the Moment showed a storm in a domestic tea cup, The Acid Test sees some of that crockery getting chipped. What I'd really like to see is Reiss smashing up the whole kitchen.
Reiss's easy way with dialogue is especially impressive when she charts the cringeworthy exchanges between the generations
Share this article