Year Out/Year In: Theatre Raises the Bar, From Old to New |

reviews, news & interviews
Year Out/Year In: Theatre Raises the Bar, From Old to New
Year Out/Year In: Theatre Raises the Bar, From Old to New
A year in which the classics and the Court held sway - oh, and Elle Woods, too
Not Sondheim, but seriously good fun: Sheridan Smith held her own in 'Legally Blonde' in a year of great Shakespeare, Sondheim and new playwriting
One expects Shakespeare to be rediscovered afresh on the British stage (if not here, where?), and it was gratifying during 2010 to find the Royal Court - a venue all about the new - raising the authorial bar ever higher via an (almost) unbroken series of triumphs culminating, for me, with E V Crowe's Kin.
So there's something both remarkable and endearing about a theatre year that was book-ended by musicals putting two astonishing females centre stage: a Harvard hopeful by the name of Elle Woods in
Legally Blonde
and a brainy wee tyke, Roald Dahl's Matilda, for whom one feels the Ivy League might just not be demanding enough.
The appeal of the shows into which these femmes were folded - Legally Blonde, not Sondheim but still seriously fun and still playing in the West End, and Matilda, running in Stratford-upon-Avon through this month but destined to be remounted wherever children (and some very lucky parents) hold any kind of theatre-going sway - was doubly welcome given the decidedly wayward state of London musicals elsewhere over the 12 months.
Looking for a defining theatrical dud of 2010? Search no further than the inaptly named Paradise Found, in which a team of Broadway titans indulged a public crash and burn at south London's Menier Chocolate Factory, although the worthy but wan Love Story also looked palpably ill at ease on a West End stage. Flashdance was yet another movie-turned-stage musical assembled seemingly as if by committee, while Andrew Lloyd Webber's Love Never Dies presented itself in a state of perpetual flux; the story best equipped to showcase one of its composer's finest scores has, alas, still not hoved into view, some much-ballyhooed revisions notwithstanding. (No complaints, though, about leading lady Sierra Boggess in a shimmering star turn that silenced all sceptics the minute she began to sing the title number.)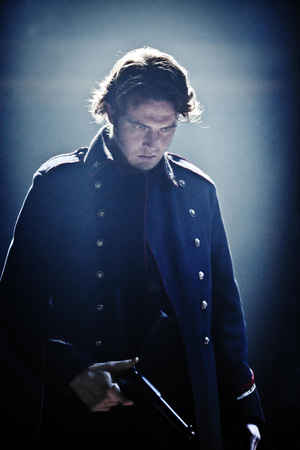 It wasn't entirely girls' night on the musicals front, tempting though it was to think as much once a pint-sized newcomer called Kerry Ingram swept the beguiling and actually rather profound Matilda into her commendably un-precocious fist. Matthew Warchus's surpassingly empathic RSC production featured an utterly astounding star turn from Bertie Carvel in inimitably cross-dressing form as that celebrated scold, Miss Trunchbull. Meanwhile Jamie Lloyd's revelatory Donmar reappraisal of Stephen Sondheim and James Lapine's Passion put that show's male character, the soldier Giorgio, front and centre for the first time in my experience of this famously problematic musical. The result gave newfound heft to the piece, while allowing Elena Roger's tiny yet titanically emotive Fosca someone worth partnering in newcomer David Thaxton (pictured above right) as the military man led more by obsession than actual passion to the brink of madness.
In the year in which Sondheim turned 80, the reigning master of the stage musical was cheered repeatedly at one gala or another on both sides of the Atlantic. His own appearance on stage at the conclusion of last summer's all-Sondheim Prom was almost as moving as the cataclysmically emotional reunion concert several months later of Merrily We Roll Along at the Queen's Theatre: the company of Michael Grandage's Olivier Award-winning Donmar premiere of that show brought together again one autumn Sunday for an occasion that mirrored in real life what that most scorching of Sondheim shows is actually about.
The following Sunday found Sam Mendes's erstwhile Donmar Company revisited, again for only two performances that boasted the addition to the 1996 production's ranks of Haydn Gwynne, who, though too young really for "The Ladies Who Lunch", belted the eternally scathing hymn to self-immolation halfway to Broadway. (New York theatregoers got to catch the song's originator, Elaine Stritch - soon to be 85 - in Trevor Nunn's highly variable Broadway revival of A Little Night Music.)
The year allowed numerous theatre folk - not simply Mr Sondheim - to impress several times over. Simon Russell Beale sang about farting (!) from the stage of the Albert Hall, courtesy of the Sondheim Prom that also featured Judi Dench reprising her inimitable "Send in the Clowns" and Julian Ovenden punching the air, and stilling the house, with "Being Alive". Russell Beale, not to be outdone, got the spring off to a scampering start, appearing en maquillage as the main selling point of the National's on occasion strenuously roisterous production of London Assurance, and then returned in the autumn, this time to the West End, in a Matthew Warchus revival of Ira Levin's Deathtrap that found the leading classicist of his generation sharing a prolonged stage snog with Glee alumnus Jonathan Groff.
Watch the trailer for Deathtrap
Reclaiming Shakespeare for the group of actors a decade or two younger than Russell Beale, Rory Kinnear coupled his extensively viewed Hamlet (the production was part of the ongoing NT Live series of screenings) with an equally memorable - that's to say scary - Angelo in Measure for Measure at the Almeida: Michael Attenborough's finest stage production, to my mind anyway, to date.
The bracing if sometimes dizzying volume of openings in London prompted all sorts of connections that a lesser theatre culture would never engender. Where else would one find literature's pre-eminent Dane occupying the same stage, albeit on different nights, with an Afrobeat legend? But there were Hamlet and Fela! in the National Theatre repertory in contrasting productions that jointly gave pride of place to a ghost - Hamlet's dad, Fela's mum - even as they placed their eponymous men amid hostile regimes: a surveillance-heavy Elsinore in the one instance, Fela's actively oppressive Nigeria in the other.
PhD students wanting to trace the history of English - or Anglo-Irish - comedy through the centuries could have done just that via the appearance across the year not just of London Assurance but (in no particular order) An Ideal Husband, Waiting For Godot, The Rivals, and Season's Greetings, an altogether separate thesis waiting to be written on why at least three of those five productions weren't nearly as funny or incisive as they might have been.
The Court fielded a bravura sequence of plays scripted by women, from Posh and Kin to Tribes and Spur of the Moment
But there was no address where the resonances arrived with greater force than the Royal Court, Laura Wade's blistering, brilliantly acted Posh finding an equivalent for its terrifyingly testosterone-charged, privileged young men in the pre-pubescent boarding school girls at the wounded heart of E V Crowe's Kin, a play in which sex is talked about and even mimicked by people way too young to understand what it is they are playing at.
That Maginot line between innocence and experience was captured with breathtaking precision in Anya Reiss's award-winning Spur of the Moment, another in a bravura sequence of Court premieres scripted by women that included Nina Raine's Tribes, a sophomore play of infinitely more weight than her much-acclaimed 2006 debut, Rabbit. Roll on Tiger Country, Raine's latest, due later this month at the Hampstead Theatre.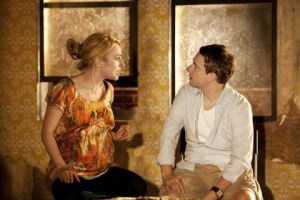 And it won't be long before we have the West End transfer of Clybourne Park, a Court highlight (pictured left with Sarah Goldberg and Martin Freeman) that made a near-fetish of political incorrectness while allowing audiences to feast on as scabrously funny a play as London has seen in an age. The fact that Bruce Norris's script originated Off Broadway (in a different production) spoke about the increasing crossover between London and New York in a year in which one revival, David Hirson's disappointing La Bête, was even conceived to play both cities well before it had opened in either one. (That production saw the tireless Mark Rylance enjoying the actual stage fart that Russell Beale at the Proms only got to sing about.)
Clybourne Park, meanwhile, traversed a half-century in order to look at race in a way that some might regard as reckless in its disregard for propriety. On the other hand, here's a play indebted not just to A Raisin in the Sun but also to Arthur Miller's All My Sons, the sell-out West End revival which allowed London theatre buffs to chart the affinities for themselves.
It's too early to tell just what the effects will be on the theatre of still-embryonic cuts in a culture whose economics are clearly going to have to be revised. But in the optimistic spirit of a barely embryonic year, where better to conclude than in admiration of a play that in more ways than one cuts to the quick? Norris's scalpel was - as it soon again will be - the most cunningly applied in town.
Clybourne Park resumes performances 28 January at Wyndham's Theatre, London

Legally Blonde continues at the Savoy Theatre, London
Matilda is at the Courtyard Theatre, Stratford-upon-Avon, until 30 January
And below, five shows to look out for in 2011:
Twelfth Night, National Theatre/Cottesloe, opens 18 January
Sir Peter Hall, himself 80, directs his film-star daughter Rebecca (The Town, Vicky Cristina Barcelona) in a play that Hall père surely knows by heart. Book tickets for Twelfth Night.
The Children's Hour, Comedy Theatre, opens 8 February
The supremely gifted Ian Rickson revives Lillian Hellman in a staging that will go one step further toward answering that eternal question: is Keira Knightley more than just a pretty face? Elisabeth Moss of Mad Men fame co-stars, alongside Oscar-winner Ellen Burstyn and Oscar-nominee Carol Kane. Book tickets for The Children's Hour.
Frankenstein, National Theatre/Olivier, opens 22 February
Oscar-winner Danny Boyle returns to his stage roots in a new adaptation from Nick Dear of Mary Shelley's novel that finds co-stars Benedict Cumberbatch and Jonny Lee Miller swapping roles: does that mean two press nights? Book tickets for Frankenstein.
Luise Miller, Donmar, opens 13 June
Felicity Jones very much held her own several years back against Penelope Wilton and Margaret Tyzack in The Chalk Garden, directed by Michael Grandage; now, the director, in what has been announced as his last year at the Donmar helm, elevates Jones to leading lady in rare Schiller revival. Book tickets Luise Miller.
Richard III, Old Vic Theatre, opens 29 June
Talk about reunions (and Oscars): Kevin Spacey and Sam Mendes re-team for the first time since Mendes's film-directing debut, American Beauty, swept the 2000 Academy Awards. Shakespeare's malformed monarch marks the final venture in the director's Anglo-American Bridge Project, which has been a regular Vic tenant the past few summers. Ticket information for Richard III.
The dizzying volume of London openings prompted all sorts of connections that a lesser theatre culture would never engender
Share this article