All My Sons, Rose Theatre, Kingston |

reviews, news & interviews
All My Sons, Rose Theatre, Kingston
All My Sons, Rose Theatre, Kingston
Miller's morality play fights to be relevant in the Trump era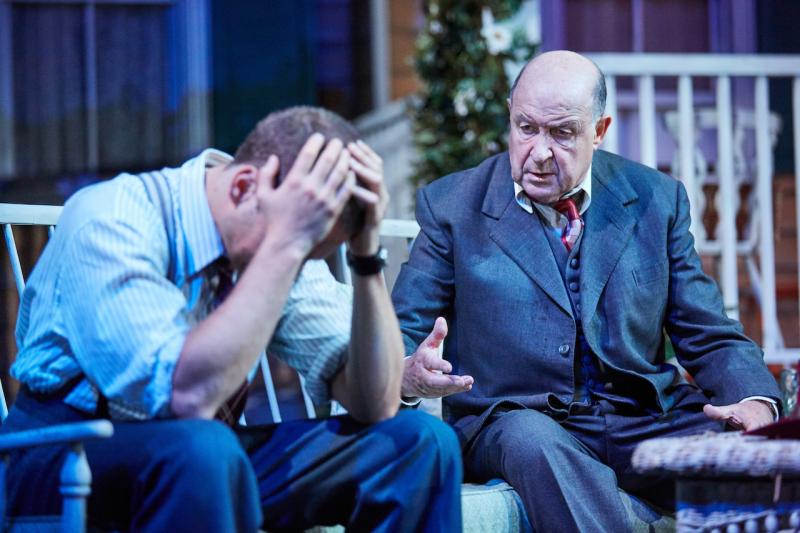 One son, all sons: David Horovitch (Joe) defends himself to son Chris (Alex Waldmann)
What would a Trump follower make of a successful businessman who grew his company on the proceeds of a negligent decision, and then topped himself because of a belated sense of responsibility? What a dumbass! He wouldn't be about to become President of the United States, for sure. He'll be paying his taxes next!
Such changes in public morality are the reason why "classic" plays need reviving from time to time. Arthur Miller's All My Sons – his first success, toiled at throughout World War Two – is a scrupulously hardworking American family drama about two men in partnership in a small aircraft parts business who protected the factory's commercial future by knowingly distributing defective components for a US air force contract, with the result that 21 pilots crashed and died.
As an emotional set-up, this is the authentic stuff of agony columns
One of the partners, Steve, on the spot at the time the decision was made, has been convicted and sent to jail; Joe, the senior of the two, gave the telephone order, but the only record of the phone call exists in the memories of the two men, not admissible in court, and – in Miller's twist – not admissible in a decades-long friendship between the two families that involves the partners' children too.
Steve has been in jail for three years when the play starts in 1946, now despised by his tortured daughter Ann. She is the girlfriend of Joe's elder son Larry, who went missing in action during the war, while younger son Chris has returned home, having had a bad war, and now in love with his missing brother's girlfriend. The most unnerving pretence is that of his mother Kate, Joe's wife, who passionately believes that her beloved elder boy is still alive, and refuses to accept that the less favoured Chris and Ann should start afresh. For Kate, Ann is Larry's property.
As an emotional set-up, this is the authentic stuff of agony columns; but to Joe, the paterfamilias, Miller allocates a special tragic task separate from the family matters, which is how to deal with the secret knowledge that he let his partner take the sole rap for his own decision, that he has 21 deaths of other people's sons on his hands, and that he has profited materially from it. All this could lie low, unsummoned from his conscience, if it weren't for Chris's idealistic insistence on facing the past in order to face the future.
Above: Francesca Zoutewelle, Alex Waldmann and Penny Downie
Naturally Miller has scripted it all with vim and dramatic urgency, but a situation-tragedy is what it is, and it needs compelling acting and period belief to bring life to the chess pieces and the predictable endgame. Michael Rudman is a veteran of Miller stagings and National Theatre expertise, and his revival at the Rose Theatre, Kingston, has first-class visual values, with a beautifully built and lit clapperboard house and floriferous garden (design by Michael Taylor) that makes a picturesque transformation of the Rose's open round stage. A grand design, certainly, and peopled by a handsomely Forties-dressed cast.
The cast's effectiveness, though, is holed at the core by the decision to play David Horovitch's Joe Keller low-key, a big, elderly, slumped retiree who lacks the kind of claws, heft and thin-skinned wariness that you'd expect of Keller. After all, it's only four years; the memory should still be pretty raw. Horovitch oddly combines physical bulk with character weightlessness, which could be interesting if only he made it interesting. The stage brightens up whenever the younger generation come in: Alex Waldmann's Chris, whose deceptively lyrical voice and sharply timed body language cut through crap with an energy of his own; and the wired-up, piteous Ann of Francesca Zoutewelle.
Without an insistently dominant husband to wind her gentle interpretation of Kate Keller around, Penny Downie (pictured right) leaves herself in a slightly indeterminate space; does she not accept Larry is dead because she is fey? Or obsessed, or fearful of knowledge, or secretly conscious of her dead-souled husband? I don't feel the tyranny of memory in this Kate, as I did in 2010 with Zoë Wanamaker's heartrendingly troubled Jewish mama in Howard Davies's production (alongside the bristling David Suchet).
A letter hoarded by Ann clarifies all, and leads to Joe's final deed, not that credible in such a muted staging. I don't think a watcher can be hit in the solar plexus with Miller's message that you define your humanity by your conscience, and by a social responsibility that goes beyond having the neighbours round for a barbecue occasionally, unless the actors shake the play down to its knees, harry and pursue the moral lesson he wanted to tell, right down to its ancient Greek soul.
The polite, half-full Saturday night audience at the Rose contrasted tellingly with the ovations for that 2010 London staging. Is it that the Trump phenomenon has exposed alterations to the public's moral outlook? Evasion is easy? It's easier on the conscience to fault the production. However, the author's not guiltless.
A situation-tragedy needs compelling acting to bring life to the chess pieces and the predictable endgame
rating
Explore topics
Share this article