The Armour, The Langham Hotel |

reviews, news & interviews
The Armour, The Langham Hotel
The Armour, The Langham Hotel
Ben Ellis's site-specific chronicle deepens as it progresses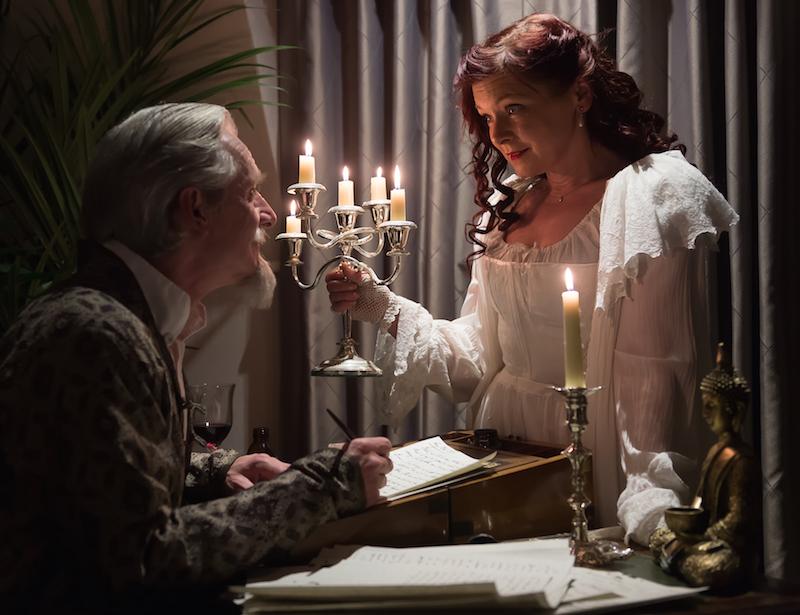 Guiding light: Eugenie (Finty Williams) aids husband Napoleon III (Sean Murray)
The Langham has marked its 150th anniversary in theatrical fashion by commissioning an original drama spanning several decades – and floors – from emerging company Defibrillator, whose Tennessee Williams trio at this venue impressed last year. Now Ben Ellis checks in with a tailored play that gains substance the further it reaches into the past.
The first of Ellis's three half-hour two-handers is the weakest, offering a tired spin on the needy pop diva. It's present day – as multiple references to Twitter and Instagram make clear – and imploding singer Jade (Hannah Spearritt), due to make a comeback arena appearance, has instead sought refuge in the hotel basement. It's familiar behaviour to long-suffering manager Franky (Thomas Craig, pictured below with Spearritt), who offers flattery, tough love and a speedy trip to the psychiatrist's couch, but, crucially, over-familiar to us – the tortured star who just wants to be seen for who they really are is a cliché predating The Langham. There's a sly meta joke with the casting of S Club 7's Spearritt as the artist trying to escape bubblegum pop, but the piece itself is too insubstantial and never engages fully with its surroundings.
Up on the third floor, we're back in 1973, when the BBC's recording suites invaded the hotel. American shipping container manufacturer Peter (Simon Darwen) is preparing to give a radio interview defending his controversial plans for the Docklands, but under interrogation by wife Eloise (Siubhan Harrison), he reveals the true motivation for his business dealings. The state of their marriage and Peter's post-Vietnam trauma is conveyed via occasionally heavy-handed recapping in what feels like a drama constrained by its short form, but it's heightened by the claustrophobia and strangeness of the space – featuring James Turner's evocative period sound-proofing – and there are compelling performances from the pair (pictured below).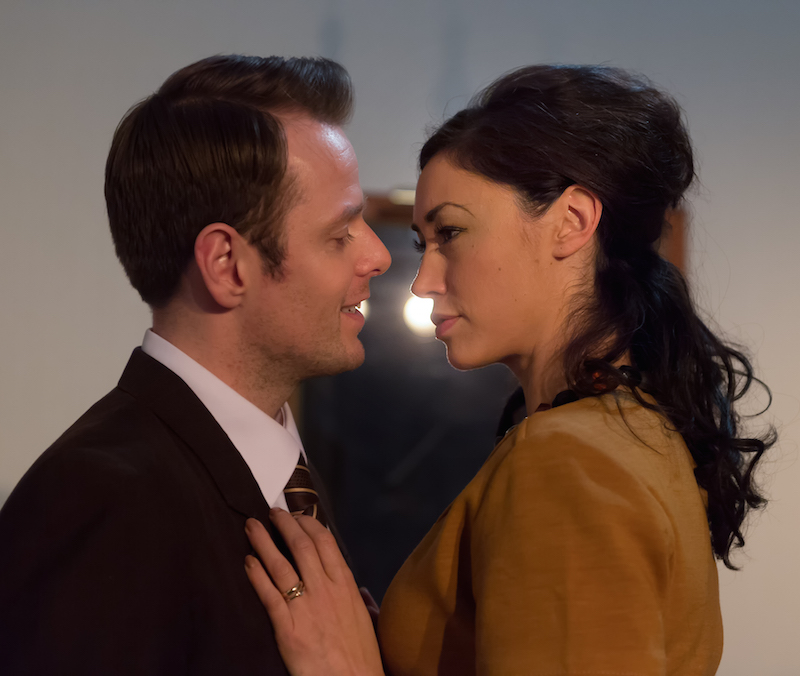 Most effective is the final tale, which unfolds in a suite on the seventh floor spookily lit by flickering candles. It's 1871, and the newly built Langham hosts a special guest: the exiled Emperor Napoleon III (Sean Murray). His wife Eugenie (Finty Williams) coaxes him to record the history of his empire, which includes fascinating tangents like the invention of margarine. The shorthand between fractious patient and loving, no-nonsense carer is strongly established by an excellent Murray and Williams, and there's real poignancy in this lament for a fading era.
Unlike recent truly immersive site-specific works, The Armour is, at times, oddly disconnected. It succeeds in offering a rigorously researched historical tour, but its sense of place is ultimately more academic than tangible. Still, there are some nice thematic echoes of the hotel's journey, with explorations of power, affluence, loss and shifting identity, as well as the pull of the past and glimpses behind the scenes – the latter particularly well served by James Hillier's intimate staging. An illuminating if uneven outing, with one rich playlet succeeding in raising The Langham's ghosts.
It succeeds in offering a rigorously researched historical tour, but its sense of place is ultimately more academic than tangible
rating
Explore topics
Share this article