Best of Enemies, Noel Coward Theatre review - opposites attract, sort of |

reviews, news & interviews
Best of Enemies, Noel Coward Theatre review - opposites attract, sort of
Best of Enemies, Noel Coward Theatre review - opposites attract, sort of
James Graham play hits the West End on the way, presumably, to Broadway
Saturday, 03 December 2022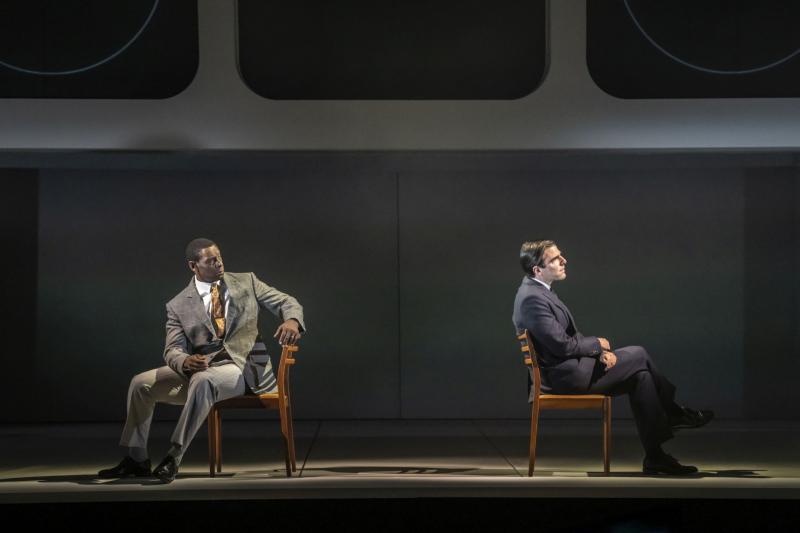 Mind your back: David Harewood and Zachary Quinto in 'Best of Enemies'
Opposition (and history) are the apparent mainstays of the ceaselessly busy James Graham, and he conjoins the two to riveting effect in Best of Enemies.
Telling of the televised 1968 debates between William F Buckley and Gore Vidal during that year's presidential race, Graham's hurtling drama is now in the West End after its Young Vic debut nearly a year ago; Broadway, presumably, is the next destination, not least given his play's American setting.
We've been down this road before in varying ways, via Frost/Nixon on the one hand and Graham's own Ink, which posited two male adversaries (one of them a young Rupert Murdoch), just as this play does.
But more than either of these forebears, Best of Enemies sets its central face-off against the whirligig of history, which includes random-seeming appearances from the Anglo-Pakistani playwright and commentator Tariq Ali and the American media analyst Brooke Gladstone to contextualise what happened then for those watching now.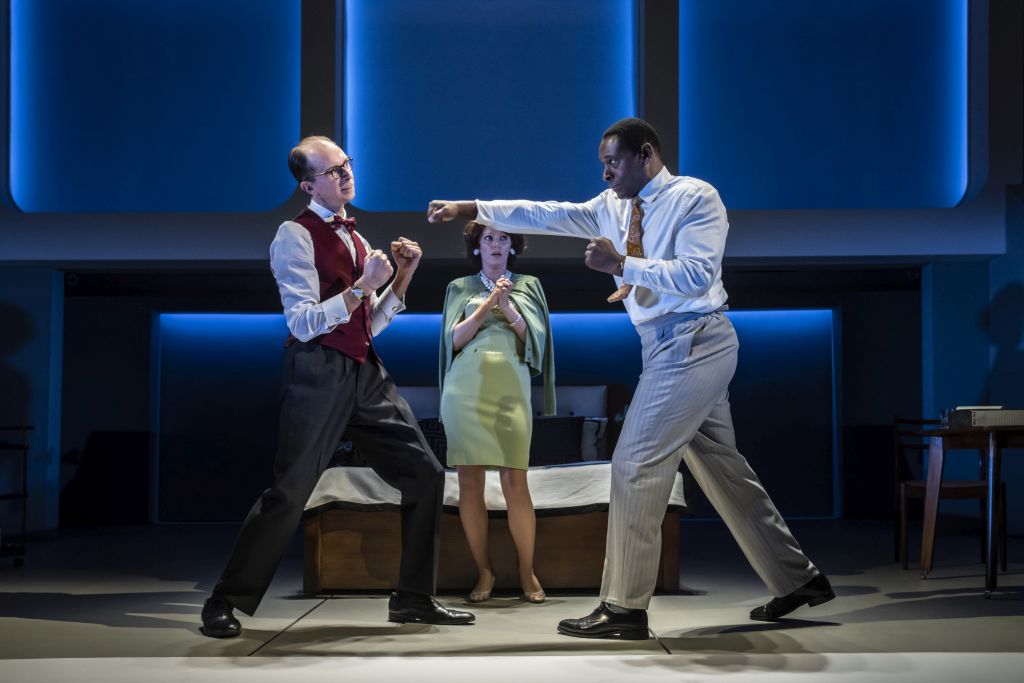 In fact, Graham's writing is pointed enough that you can trace, without assistance, a direct line between the collapse in civility that bookends his account of the televised goings-on and the thoroughgoing surrender to vitriol, and worse, that shapes public discourse just now. You can't imagine either Buckley or Vidal shouting "lock 'er up", even if comparable sentiments were clearly brewing not far from the surface, as Buckley's uncharacteristic surrender to ad hominem invective makes clear.
I was transfixed by this play 11 months ago in its smaller, cosier Off West End setting, as I was again the other night, notwithstanding a disconcerting broadness to some of the supporting performances and a level of amplification new to me in a non-musical: perhaps the director Jeremy Herrin's recent experience on Broadway directing the musical Almost Famous, or Graham's on the Almeida's terrific Tammy Faye (which he scripted), has played its part here. Whatever the reason, the play is now so amply mic'd that I wouldn't be surprised if theatregoers in Manhattan weren't hearing every line on St Martin's Lane. (That's one way to save on transfer costs.)
Luckily, the volume is always at the service of words worth hearing and in the mouths, largely, of two central characters who are seen as three-dimensionally as one would expect. Graham, after all, is by now a dab hand at seeing men (and, in Tammy Faye, a woman) of influence in the round. It would be easy to take potshots at the echt-conservative Buckley, and his National Review house organ founded in 1955, but Harewood's brilliant occupancy of the part (pictured above right) foregrounds an eloquence that belongs to a bygone age and that, once it slips, leaves real grief in its wake.
The casting of a Black actor in this of all roles pretty well demands that we look at Buckley afresh, free of whatever prejudices audiences anywhere on the socio-political spectrum may bring to bear. Buckley himself might have something to say on this topic, but that awareness only attunes us further to Harewood's robust empathy for a man whose love of language is well-matched to that of Vidal.
Quinto has taken over as Vidal from Olivier Award nominee Charles Edwards, which means that this American Europhile is now being played by an actual American, making his West End debut. (Interestingly, Quinto's erstwhile Broadway castmate in The Boys in the Band, Andrew Rannells, has been making his London debut across town in Tammy Faye.) Darker-featured and more camp than Edwards, Quinto cuts a considerably more saturnine and sneering presence, which I suspect is also closer to the Vidal who comes springing off the pages of Martin Amis's The Moronic Inferno, not to mention the vaunted playwright and author's own bitingly peppery work. Quinto's somewhat crueller Vidal makes up in quicksilver wit what has gone missing in charm.
As America seemed to crumble at the seams – nothing new there – the two intellects matched wits in a televisual set-to that was intended to boost ratings for ABC and that here finds Andy Warhol and James Baldwin (Syrus Lowe, repeating his excellent performance) popping in to ramp up the celebrity wattage. Bunny Christie's set pays imposing homage to the prominence of TV, a medium that at the time didn't have the disproportionate power it has achieved in the decades since to shape, or misshape, our lives: to that end, Best of Enemies would make an apt repertory companion to Ink, which itself looks forward to Fox News much as this play inevitably anticipates Trump.
An American supporting cast will in time be more comfortable with the likes of Richard Daley, the long-serving Chicago mayor, or Howard Austen, the longtime companion of Vidal, the latter here played by Emilio Doorgasingh (pictured above) channelling Harvey Fierstein, of all unlikely people. But when the play's adversarial principals go head-to-head, you feel the play at full throttle and succumb to a rhetorical display that resonates fully amidst the far-from-best of times we inhabit just now.