Bitter Wheat, Garrick Theatre review - Malkovich monologue is more chaff than wheat |

reviews, news & interviews
Bitter Wheat, Garrick Theatre review - Malkovich monologue is more chaff than wheat
Bitter Wheat, Garrick Theatre review - Malkovich monologue is more chaff than wheat
The most controversial play of the year is shaping up to be the worst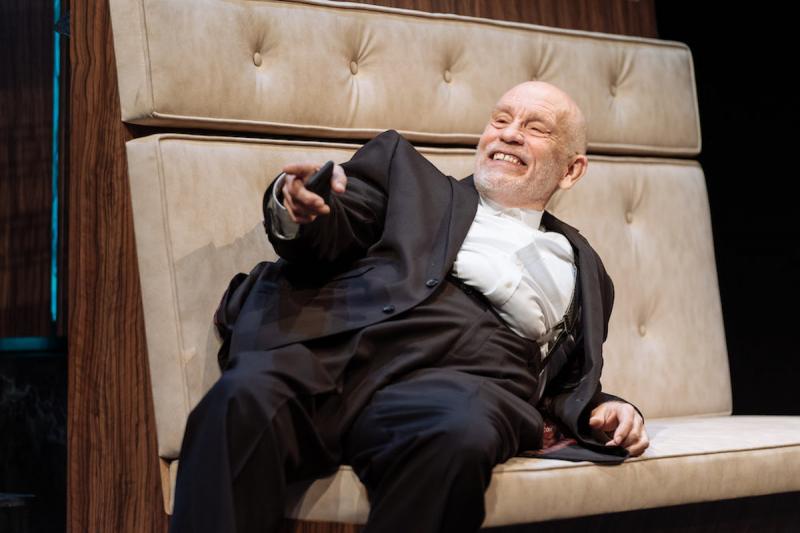 Melodious corpulence: John Malkovich in 'Bitter Wheat'.
John Malkovich is back in town - and he's starring in the most controversial play of the year. Trouble is, it might well also be the worst. When the subject of veteran American playwright David Mamet's new drama was announced as being about a Hollywood mogul, who, like Harvey Weinstein, is accused of abusive behaviour there was a predictable outcry. How dare Mamet write about this?
How dare a man write about
sexual abuse
? How dare fiction trespass on fact? Although the Garrick Theatre in the
West End
was besieged by autograph hunters rather than protesters at today's press night, twitter has been alive with rumours for months. But apart from the outrage, what is the play actually about, and is Malkovich any good?
Malkovich plays Barney Fein, a Hollywood producer, who is at first presented as an outrageous potty mouth, a reptile who snarls and sneers at his own entourage. His power is shown in his vicious verbal assaults on a hapless writer, whose script he despises, and in his manic ability to bride all and sundry to give him their votes of an upcoming award. As a nod to his humanity he also has an aged mother, sick with cancer, and about to celebrate her birthday. Of course, helped by Sondra, his personal assistant, and his pill-providing doctor, he also has sexual needs. Which he plans to indulge with the help of Viagra and Yung Kim Li, a young Anglo-South Korean actor, who has just flown in from Seoul.
Barney's seduction technique involves a two-pronged attack: on the one hand, he displays an arrogance of power; on the other, he whines self-pityingly about being fat. But this is less a study of body dysmorphia, than a series of jokes about toxic masculinity as Mamet gives Barney the lion's share of the lines. Rude and vile, he declares that "humans are animals" before making crass digs about Jews, Koreans and Chinese. For light relief, he fiddles with his zip. When he's with Yung Kim Li he promises to promote her film, Dark Water, which he then suggests could be better called Bitter Wheat.
Mamet fans will know that Hollywood is familiar territory, memorably visited in his 1988 play, Speed-the-Plow, where in his imagination male sharks swallow any female minnows that swim their way. Ever since his 1992 play, Oleanna, divided audiences with its portrayal of a confident male professor facing a confused female student there have been questions about Mamet's lack of sympathy for his women characters. After all, much of his most celebrated work is a feast of testosterone-heavy masculinity: the world, he seems to imply, well it's a place for men. Women are just walk-ons. And so it remains. Bitter Wheat, which is advertised without a trace of irony as the Pulitzer-Prize-winning playwright's response to the #MeToo movement, is one long male monologue.
In fact, Bitter Wheat is a classic of lazy playwriting. Mamet follows a simple recipe, writing by numbers. And you could do this too. Here's how: 1) Select a current controversy; 2) Read a couple of Sunday supplement articles about it; 3) Dredge your memory for some Tinseltown anecdotes; 3) Write a monologue. Add jokes. (The biggest laugh on press night was the line: "Tell my children that their mother is a cunt.") How witty. What is so annoying is the vacuity of the result. With no plot or drama to fill the running time, it really is an achievement to write a piece that has so little to say about Weinstein, about Hollywood, about life, about sex. And then to spin it out over two hours.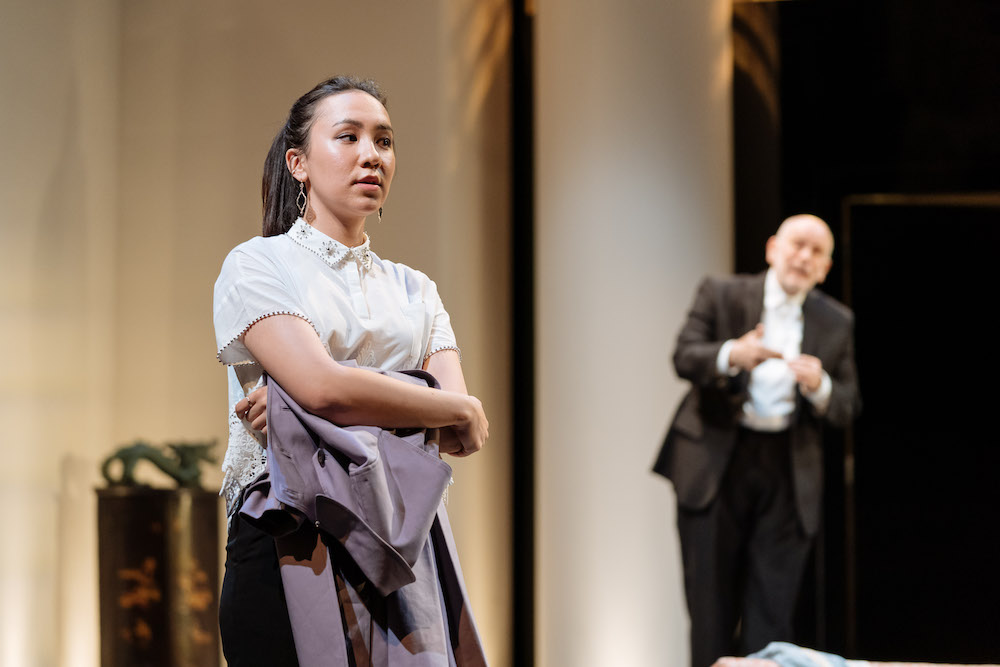 Malkovich, who I last saw as Hercule Poirot in the BBC's Christmas Christie (aka The ABC Murders), makes the most of his grizzled seniority, and his voice has a familiar melodic range, which he occasionally uses, soaring and swooping in this portrayal of a character whose whole life is an act, the producer as performer. You can see small joys in this thespian masterclass, but it's not enough. As directed by Mamet, Malkovich dominates the stage as a cut-price Falstaff, lending a peculiar humour to his corpulence, a joke that is endlessly repeated. At times his performance is fun; at times it's funny; over time, it's a bore. What's missing is any sense of real threat; even fans might feel shortchanged.
Christopher Oram's lavish set, which features a lamp stand made of a gold-plated Kalashnikov, Malkovich's Barney is like a child in a playground: he never stops talking. Because the play is one long monologue, none of the other actors have much chance to shine. Doon Mackichan's Sondra and newcomer Ioanna Kimbook's Yung Kim Li (pictured above) get a few lines, with the latter even able to articulate some notes of protest, but both are drowned out by Barney. His key line is "I'm talking about myself", and boy does he mean it. Implausible, daft and irritating, Bitter Wheat leaves a very bad taste.