Cat on a Hot Tin Roof, Apollo Theatre review - Sienna Miller lets rip |

reviews, news & interviews
Cat on a Hot Tin Roof, Apollo Theatre review - Sienna Miller lets rip
Cat on a Hot Tin Roof, Apollo Theatre review - Sienna Miller lets rip
Starry cast lay bare body and soul in Tennessee Williams classic
'We occupy the same cage.' Sienna Miller with Jack O'Connell in Cat on a Hot Tin Roof
"Maggie the cat is alive: I am alive," or so remarks the feline, eternally frustrated heroine of Tennessee Williams's Cat on a Hot Tin Roof.
That self-assessment has rarely been truer than as spoken by Sienna Miller in the terrific
West End
production directed by Benedict Andrews, in which the actress finally lands the stage role in which she can let rip.
Casually updated to a contemporary landscape of mobile phones and luxury black satin sheets, Williams's portrait of pain, deception and death in the American south emerges with its potency intact, Miller and co-star Jack O'Connell the standard-bearers of an evening that will make headlines for exposing its two leads' bodies while, more importantly, laying bare their souls.
If it takes WIlliams's full three acts (performed here with just one interval) before Miller strips off altogether, an inked O'Connell (pictured below) is first seen naked, "clothed" only in the plastercast required to tend to this onetime sports star's busted ankle. But it's Miller's ceaselessly loquacious Maggie who grabs the wheel of the play's demanding first hour and steers it with an assurance I haven't encountered since Kathleen Turner stormed Broadway in this same role in 1990. "We occupy the same cage," she tells Brick, as the two stalk designer Magda Willi's porous set. The back wall is a gleaming metallic sheet that brings Maggie's "tin roof" into the room.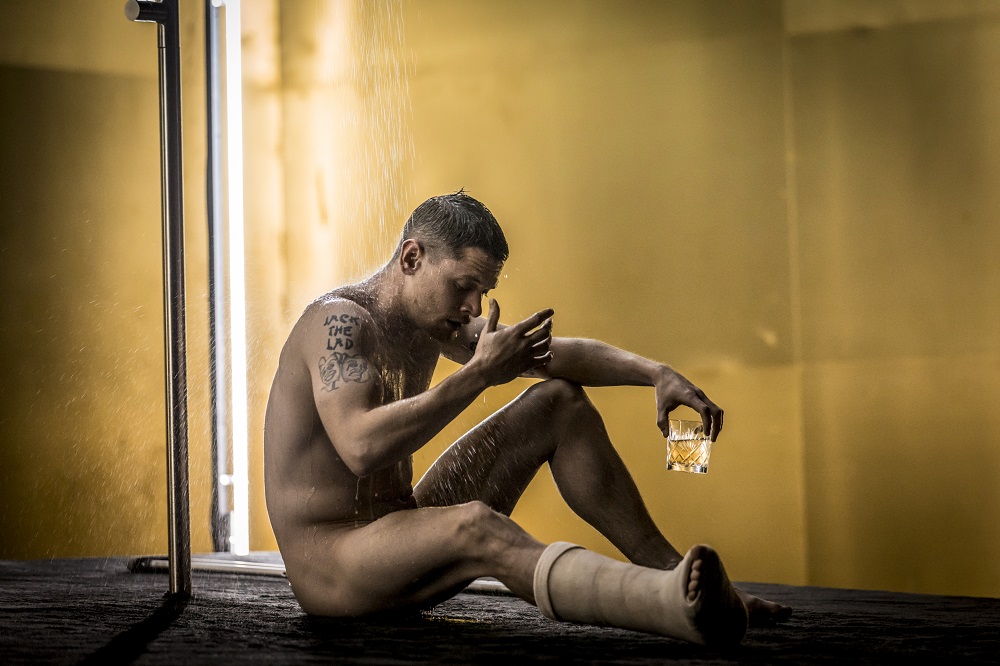 And yet, as Miller shapes that dauntingly extended aria of self-definition that has defeated many a Maggie before her, one becomes newly aware of this famously childless wife in all her manifestations. Here's a woman who is in turn pugilist, strategist and seductress, and if she's going to go down for the count in a family that appears to value fertility above all, this Maggie will at least have her say. So off she goes taunting and cajoling, snapping at Brick one minute and crawling towards him on all fours the next. The actress movingly punctuates her "talking jag" (that's Brick's phrase) with moments where Maggie seems to be keeping herself in check. "Who are you?" she asks, peering into one of several mirrors on view, and Miller shows us a heroine as wounded as she is witty who simply will not be contained.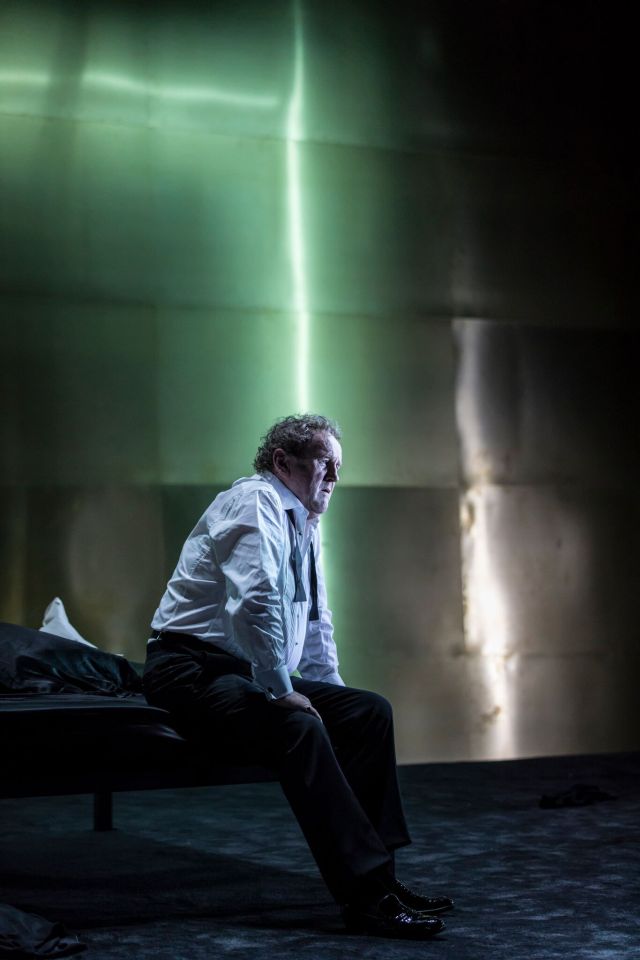 Famously plotless in any conventional sense, Cat shifts gears after the interval to ask much the same question of the rest of a family visibly struggling to know themselves. Brick, an athlete turned sports announcer, remains haunted by his feelings for a fellow footballer called Skipper, and O'Connell moves in and out of that onstage shower like someone desperate to be cleansed. (I love the way, too, that the shower provides much more of a crutch than Brick's actual walking stick.)
Brick's luckless fate is to trade Maggie's verbal cascades at the start for a subsequent fusillade from his father, the cancer-ridden plantation owner Big Daddy (Colm Meaney, pictured above) whose 65th birthday has brought under one, presumably vast roof the extended Pollitt clan, those ghastly "no-neck monsters" included. Largely monosyllabic to that point, O'Connell's Brick uncorks the depth of self-disgust that forever propels this "restless cripple" towards the next drink, his existence a steady decline from football to highball. The liquor bottles, intriguingly, are arrayed near the lip of the stage alongside a bag of ice cubes that double where needed as weaponry.
Meaney isn't as outsized a Big Daddy as others I have seen, and there are moments where he could luxuriate a bit more in this larger-than-life figure possessed of Trumpian degrees of wealth (if rather more articulacy). But one feels Big Daddy's waning health as Meaney makes his way through the play's defining inter-generational face-off. What's more, this patriarch's contempt for his own wife - the splendid Lisa Palfrey (pictured below), a mobile phone stuffed down her cleavage - certainly tallies with the attitudes that Big Daddy's two sons have towards the women in their midst, where to be married to any one of these men is to be reviled. Small wonder Maggie speaks knowingly of her own martyrdom.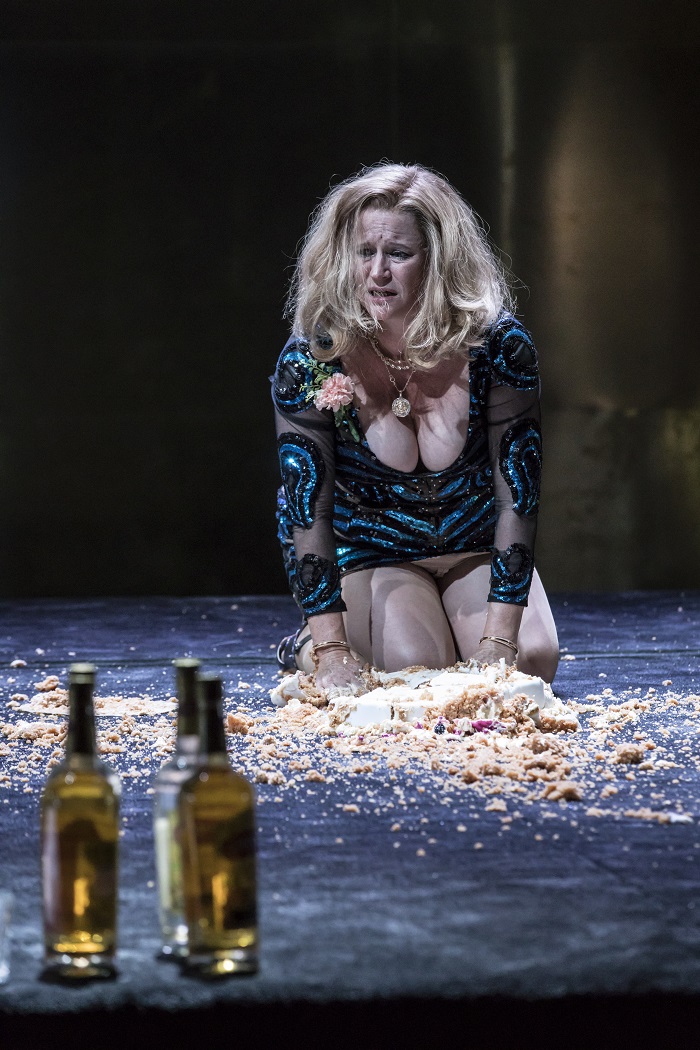 Those who know Benedict Andrews' work will be familiar with the onstage mess that ensues as Palfrey's visibly despairing Big Mama sends birthday cake flying this way and that around the deliberately placeless set. The streamlined modernism on view is of a piece with Andrews's Young Vic Streetcar, where, as here, the female lead (Gillian Anderson) was notably older than her male counterpart (Ben Foster). I suppose one might ask why Brick's closeted sexuality would be such a big deal in these contemporary climes, but all one has to do is look at the conversion therapy advocated by America's current veep and the answer is right there.
Still, it would be a real misrepresentation if the co-stars' full shedding of clothes in the final sequence were seen as sensationalistic pandering to the box office rather than an inevitable follow-on from what has come before. It's no accident in a play given over to musings on "mendacity" (a topical word if ever there was one) that the fireworks of the soundscape before long register as so many truth bombs. In much the same way, why shouldn't our last sighting of Maggie and Brick record these two damaged characters entirely as they are? One's mind returns to Maggie's defining "Who am I?" in a production that permits playgoers to react to that question by having their own full and uncompromising look.
Jack O'Connell moves in and out of that onstage shower like someone desperate to be cleansed
rating
Explore topics
Share this article