Collapsible, Bush Theatre review - a high-wire solo engagement |

reviews, news & interviews
Collapsible, Bush Theatre review - a high-wire solo engagement
Collapsible, Bush Theatre review - a high-wire solo engagement
Breffni Holahan's bravura performance controls a monologue of mental malaise
Tuesday, 11 February 2020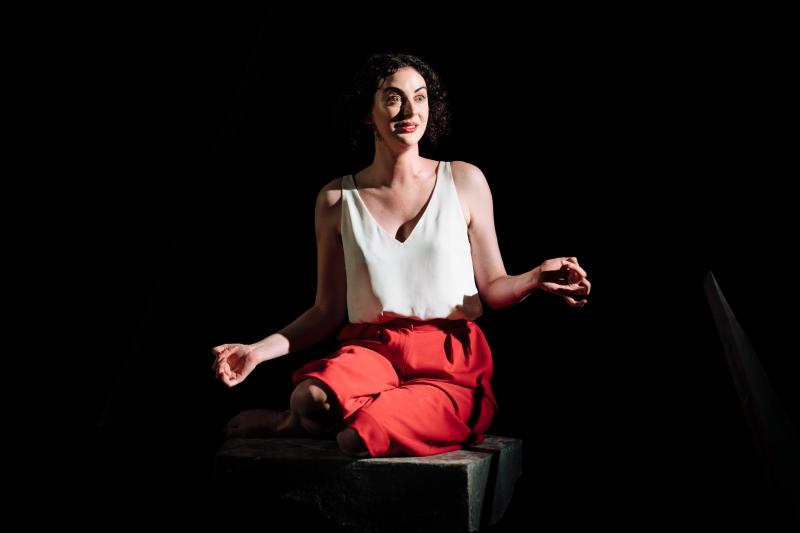 'She's up there on her own, the support of solid ground faraway, below': Holahan as Essie
There's such remarkable symbiosis between material and performance in Irish dramatist Margaret Perry's Collapsible that you wonder how the hour-long monologue will fare in any future incarnation.
I don't know how much Perry had the performer specifically in mind when she wrote the piece, nor whether they developed it together in rehearsal, but the fusion feels total. It transfers to the studio space of the
Bush Theatre
from last year's Edinburgh Fringe, where Holahan won
The Stage
's Edinburgh Award for her performance.
The space at the Bush gives it a poised but fraught intimacy, highlighted by the rocky spikes of Alison Neighbour's design and Alex Fernandes's angled lighting, both of which find echoes in the sharp contours of Holahan's face. She's there when we enter the studio, sitting immobile on a hunk of concrete, in ambiguous stasis: there's security in keeping this balance atop this strange column, it seems, while each hint of movement that could suggest she wants to step down is cut short by a series of sharp clicks that suggests an internalised element to this rigorous restriction of space and movement.
She's up there on her own, the support of solid ground faraway, below, the most that Holahan's Essie can hope for being that her equilibrium will endure another moment, the physical reflecting exactly her precarious mental balance. The image she chooses for herself is that which gives the piece its title, a collapsible chair, expanded and solid one moment, reducing towards oblivion the next; such oblivion ("I want to be tiny, I want to be nowhere") is both fear and desire. There's a definite sense of Beckett here in the use of pared-down structures of language, as well as a character similarity – a young woman very much into the process of disintegration that is nervous breakdown – with Fleabag, even a hint perhaps of Coleridge's Ancient Mariner, compelling the attention of the audience.
Because maintaining the compulsion of any monologue, moderating its tone and direction, varying its rhythm, is a lonely, high-wire task: you have to mesmerise, and Holahan does. Thomas Martin's direction partners the performance, unobtrusively cadencing its balances, its highs and lows, more than making the case for its appearance in a theatre (rather than as a radio monologue, in which form it would also work extremely well). Its more serious themes aside, the humour of Perry's writing is especially good as she parodies the jargon of everyday existence, the clichés of employment, the falsity of job interviews ("He grins me his piano-key fillings"), and various forms of personality assessment.
The difficult closeness of love lost, of family concerns speak poignantly. Collapsible's ending, when it effectively lives up to its title, leave you pondering – I'm still ambivalent as to whether a different one might work (better). But it brings home powerfully that facing up to struggle involves understanding that language itself collapses, that the intricate verbal structure that is Perry's text comes to admit that its diametric opposite – a few halting, uncertain words, spoken with empathy – approach as close to the truth.
The most that Holahan's Essie can hope for being that her equilibrium will endure another moment
rating
Share this article