The Company Man, Orange Tree Theatre |

reviews, news & interviews
The Company Man, Orange Tree Theatre
The Company Man, Orange Tree Theatre
The father/husband from hell comes to the stage in Torben Betts's grim-faced play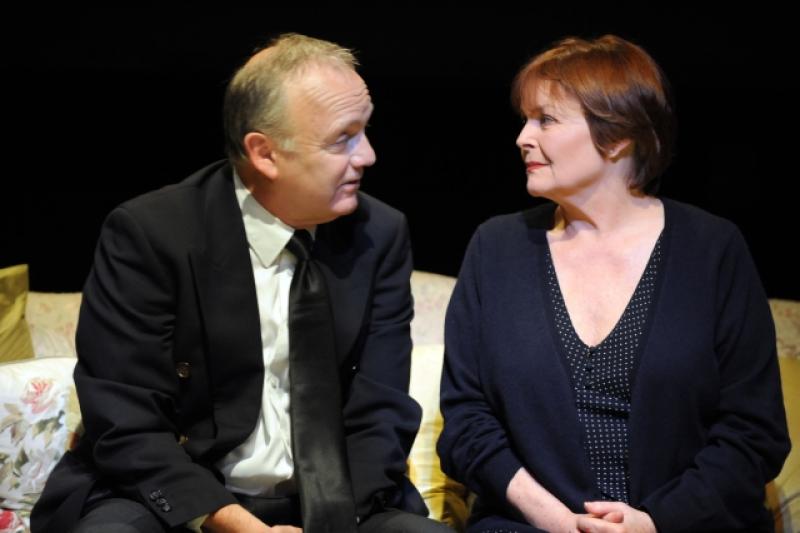 Bruce Alexander and Isla Blair share a rare harmonious moment in Torben Betts's grim-faced play
Why ironic? Because this is one fella whose bad temper risks isolating him altogether from human company - except that misery, we're told, loves companionship, in which case William's entire family is going down with the ship.
Whether audiences will go along with that descent depends upon individual tolerance for the sort of person we all know exists but whom we tend to prefer in some sort of redemptive or at least linguistically vibrant dramatic presentation, not the doleful termagant on view here.
Bruce Alexander brings undeniable commitment to the part of a financially successful, self-made paterfamilias who revisits upon his own brood something of the brutality with which he grew up, but one's sympathies, even interest, are forestalled early on in favour of William's long-suffering, ailing wife, Jane (Isla Blair, moving toward and from a wheelchair as required), whose fate is self-evident from the start.
The play, to begin with at least, has something of a thing for numbers. It's been four years, one month, and 16 days, William remarks more than once, since his and Jane's hapless, none-too-quietly seething son Richard (Jack Sandle) last paid a visit to the (upscale) Carmichael family home, and it has been 13 Christmases since the parents were together with both the teary, self-pitying Richard and his sister Cathy (Beatrice Curnew, excellent), who writes poems - useful, that, dramatically! - but works as a nurse.
Imagine, then, Cathy's feelings when she is cast as carer during mum's galloping surrender to motor neurone disease only to have her errant brother commandeer their mother's affections, which he would do even more fully had he brought with him his young son, who is also William and Jane's only grandchild. (That prospect doesn't look too likely, given the feelings that William's Thai bride has for England and, on this evidence, the physically and emotionally abusive types who inhabit it.)
The play proceeds via a kind of leaden irony whereby one character speaks of not being an alcoholic at the precise moment that he is having a drink, even as talk of "another beautiful, beautiful day" seems to exist in inverse proportion to the domestic storm clouds hoving into view. The rhetoric veers from the baldest of confrontations ("He's more of a man than you'll ever be") to self-poeticising snatches ("Sometimes, the red mist descends, and I'm lost") to explosions that sound like warmed-over Malvolio: "I've had it with the whole bloody lot of you!"
As directed by Adam Barnard, the cast bring conviction to a familial reckoning that is enervating, not enlightening, on the way to an ending that even Beckett's Happy Days might have trouble sanctioning. "Another beautiful, beautiful day," we are told of a universe that appears to sit in cruel judgement on a gathering completed by the Jesus-happy, lovesick James (Nicholas Lumley), whose apparent good cheer curdles upon closer inspection. James, too, is "lonely and uninspired" as befits an assemblage singly and collectively marked by disaffection and despair. Death provides a release of sorts, as does the opportunity to start anew in Kenya that gets seized by one of the group, at least. "I'm exhausted but happy now," this person explains, and you can understand how she feels. Its collegial title notwithstanding, The Company Man posits a firm argument for going it alone. Or just deciding that you've had enough.
This is the sort of play where one character talks of not being an alcoholic at the precise moment that he is having a drink
Explore topics
Share this article