Dance Nation, Almeida Theatre review - a tarantella through the convulsions of the teenage psyche |

reviews, news & interviews
Dance Nation, Almeida Theatre review - a tarantella through the convulsions of the teenage psyche
Dance Nation, Almeida Theatre review - a tarantella through the convulsions of the teenage psyche
Humour used too often as a substitute for perception
Thursday, 06 September 2018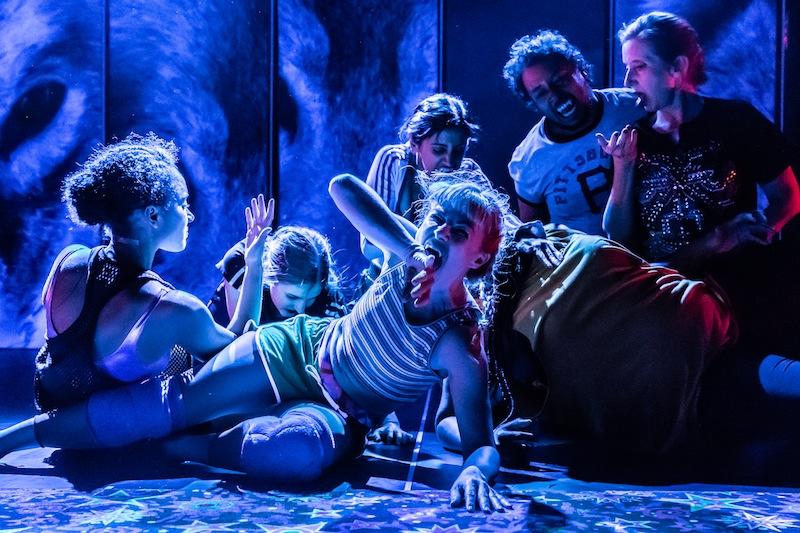 Self-harm is one of the important issues addressed here
Lycra, jealousy and pubescent ambition are put under the spotlight in Clare Barron's provocative probe into the American competitive dancing scene.
Dance Nation
is a tarantella through the convulsions of the teen psyche as its characters respond to the psychological and physical pressures of ambitious parents circling like piranhas, and a dance teacher (Pat) with a dictator complex.
"This is the future! I am making the future!! We're gonna make those judges feel something in their cold, dead, pernicious hearts!" Pat bellows early on. Like brainwashed cult devotees his 13-year-old pupils jerk their bodies and nod. "It's going to be an acro-lyrical number," he continues. "It's called World on Fire and it's about the legacy of Gandhi… Why don't you girls know [who he is]? He went on a hunger strike and stopped eating."
Like the mirrored rehearsal hall in which the action is set, here it feels that we rarely get beyond the reflective surface
It's a moment that conveys all the virtues and drawbacks of Barron's script in one go. It's often laugh-out-loud funny, but all too frequently the humour is used not as a weapon of perception, but as its substitute. From 42nd Street through A Chorus Line right up to Black Swan, audiences have seen several variants on the theme of obsessive dance culture and the despots who preside over it. Its subjects are as relevant today – perhaps more relevant – than they ever were, yet like the mirrored rehearsal hall in which the action is set, here it feels that we rarely get beyond the reflective surface.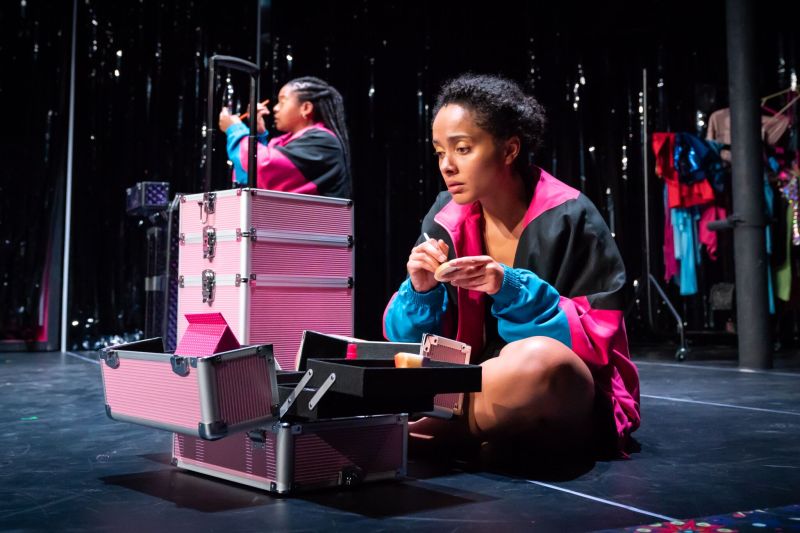 This is despite the fact that Dance Nation tackles serious and important issues including self-harm, the self-loathing aspects of narcissism, the crushing weight of parental ambition, and the realisation that success can be as crippling as failure. Gradually the girls – who are played by adult actresses of all ages – reveal the way in which they are both defined and persecuted by their dance habit. Take Zuzu – played with compelling gawkiness by Ria Zmitrowicz – who has known all her life that she wants to be a dancer, but is paralysed by the knowledge that she will never be as good as her best friend, Amina. She is particularly tortured by a darkly funny memory in which, "I did this solo at the end of the year for my Mom and her cancer… A lot of people didn't know it was about my Mom's cancer at all… I don't even think I made my Mom cry."
Zuzu goes on perhaps the most believable journey in this production as she spirals into self-harming breakdown. Yet the details of her life feel just like that – details – and we learn little new about the terrible relationship between teenage stress and the desire to self-destruct. Her despair is counterbalanced by Amina (beautifully played by Karla Crome, pictured above) who realises that her success cuts like a knife into those around her. "I feel I hurt people/Just by existing… But then I get up on that stage, And they take the trophies out/It's like I get the taste of metal in my mouth/And all of a sudden, all I want is to win."
Barron works hard to mimic the erratic speech patterns and logical leaps of girls (and one boy) in their early teens. It is this often cleverly fractured sense of young people trying to make sense of their world that marks the play out from other works about dance. Yet ultimately the portrait this builds of each character is too impressionistic – we get moments of pathos here, moments of bittersweet humour there, but little sense of characters with hinterland. Between the entertainment value of the absurd mantras they must chant as dancers, and the moments of confession, many of them feel essentially like studies in the different problems they embody.
It must be said that in America this same play has attracted rave reviews, not least from the New York Times, which has celebrated it for being "blazingly original". In London, watching Bijan Sheibani's production, the feeling was of watching a plane rushing confidently along the runway but ultimately failing to achieve lift-off. Barron is a playwright who has won great acclaim in America, and the bold experimentalism of her dialogue stokes a desire to see more of her work. This, however, fails to make the leap from experiment to credibility – you leave the theatre feeling tantalised yet empty.
You leave the theatre feeling tantalised yet empty
rating
Explore topics
Share this article