Edinburgh Festival 2018 reviews: Daughter / Huff / First Snow/Première Neige |

reviews, news & interviews
Edinburgh Festival 2018 reviews: Daughter / Huff / First Snow/Première Neige
Edinburgh Festival 2018 reviews: Daughter / Huff / First Snow/Première Neige
Toxic masculinity and reflections on identity at the Fringe's newest venue
Adam Lazarus's 'Daughter': incendiary, brutal and blisteringly funny
Launched just last year to celebrate the country's 150th anniversary, CanadaHub has quickly become one of the Edinburgh Fringe's most exciting and intriguing venues, presenting a small but richly provocative programme of work from across that vast country. Here are just three of its offerings this year.
Daughter ★★★★
The post-show discussion in CanadaHub's leafy garden bar following Daughter feels more like group therapy. Well, you might need some reassurance and depressurisation after experiencing the pitch-black whirlwind of Adam Lazarus's seething solo show.
He's the writer and performer behind this dark, confrontational confessional: the man who both adores and despises his daughter, who reflects nostalgically on his extensive, lovingly catalogued porn collection, who has violent, self-loathing affairs. He's also the man who continues to love and protect his family, and who's horribly aware of his profuse shortcomings – but carries on with them anyway.
As a thoroughly appalling examination of toxic masculinity, Daughter packs a mighty punch that threatens to leave you reeling – not least through Lazarus's incessant attempts to make his audience complicit in his actions. But ultimately, it's much more complex than that. Daughter is a study of contradictions, of desires never fulfilled, and of abuse leading inevitably to more of the same. It neatly sidesteps facile judgement, too, asking not only at what point Lazarus's activities become unacceptable to us, but whether any of them are acceptable at all.
While there's plenty of detail and depth in the tales Lazarus recounts, there are also times when he feels like something of an everyman of toxic masculinity, a distillation of all that's wrong in the male world. Nevertheless, in his grinning, knowing yet horribly self-aware and vulnerable performance, he's disturbingly believable. Daughter is blisteringly funny at times, but incendiary too, even brutal. Be warned: you might just need that post-show therapy after all.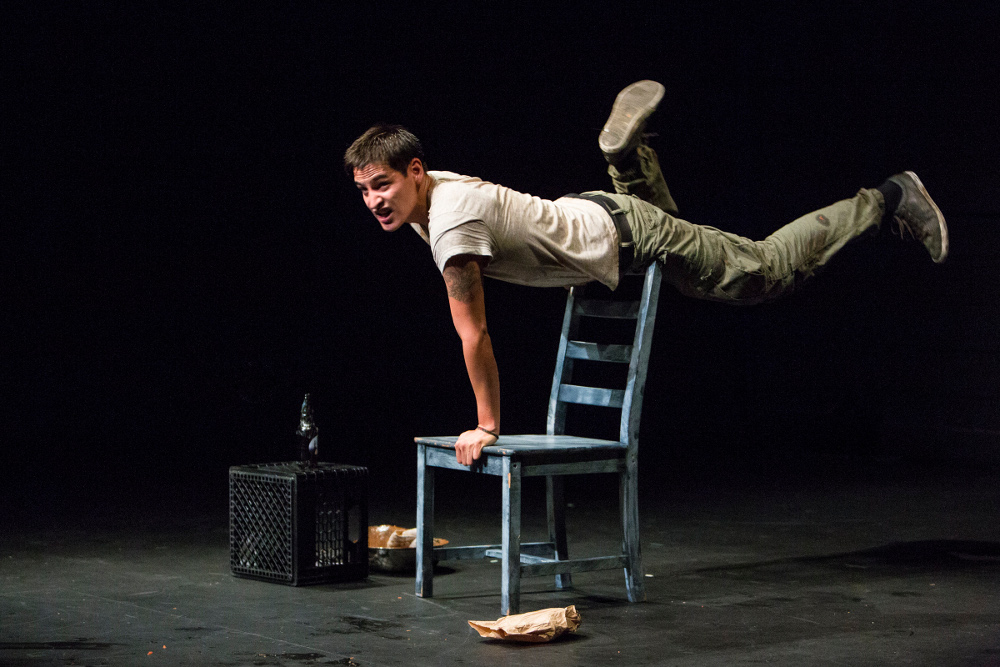 Huff ★★★★
A young man stumbles on stage, a plastic bag taped securely over his head, his arms similarly taped behind his back. This is First Nations teen Wind, attempting – not for the first time – an escape from his apparently futile life of crime, drugs and abuse. Whether he achieves his horrific exit – well, that's in the hands of the audience.
Cliff Cardinal's claustrophobic solo show shines a fierce, unforgiving spotlight on the lives of First Nations youngsters in Canada. He's the middle of three young brothers – his older sibling Charles has holes in his brain after their mother drank heavily throughout his pregnancy; his naive younger sibling Huff can breathe joy into others, his unique gift from Creator. They're adrift after the disappearance of their mother, their disinterested father grappling with his own demons, his new partner herself trying vainly to offer support.
Paradoxically, Cardinal keeps the show's tone buoyant in this lithe, nimble show, but he travels to some dark places nevertheless. Drink and drugs are probably expected, but recreational asphyxiation marks on the beginning of far more upsetting material. It's an odd mix, and not always a convincing one. But despite Cardinal's compelling energy, overall it's a bleak, angry work, and one that more than lives up to its striking opening image.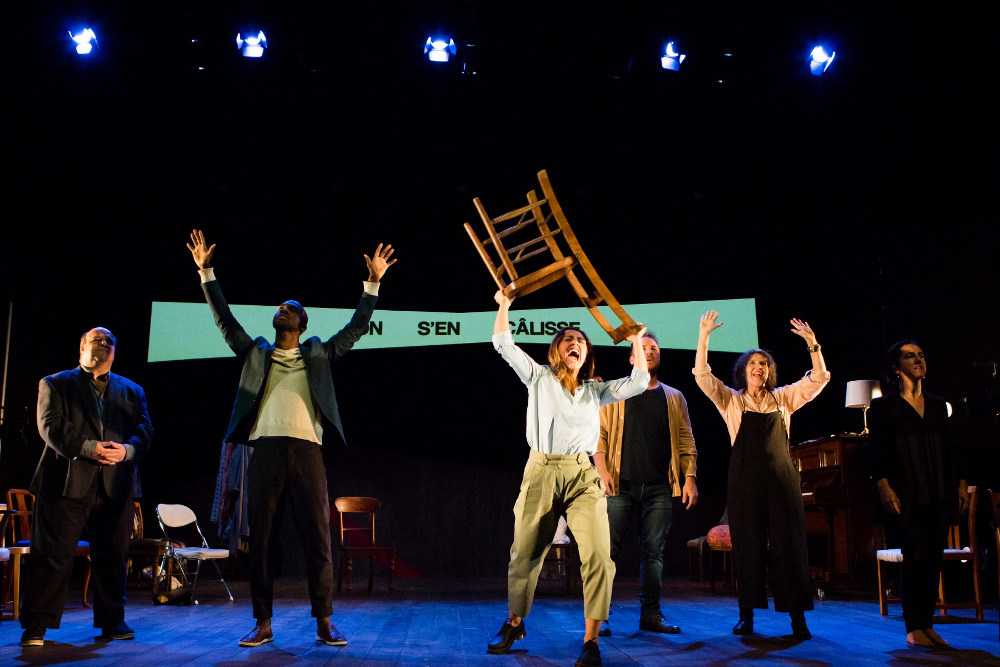 First Snow/Première Neige ★★★★★
For anyone south of the border, we residents of Scotland really aren't obsessed by independence – even after the betrayal of Brexit. We're not even obsessed by the 2014 referendum. In fact, we hardly even talk about it these days.
Which makes this timely, elegant collaboration between Scottish and Quebecois theatre companies all the more compelling. Quebec, too, lost its own independence referendum in 1995, and the two – what, regions? nations? countries-in-waiting? – have faced similar feelings of lost opportunities, squandered hopes, long journeys back to optimism.
First Snow/Première Neige is a playfully bilingual co-production between the National Theatre of Scotland and two Quebec-based theatre companies – Productions Hôtel-Motel and Théâtre PÀP – written jointly by Scots Davey Anderson and Linda McLean with Quebecois Philippe Ducros. It's a supple, somewhat elusive work that constantly defies and subverts audience expectations. On the one hand, it's about Isabelle, a woman who voted for independence in the Quebec referendum, inviting her extended family to her far-flung home to work out what to do with it. On the other, it's the real-life stories of the actors involved, who constantly step out of character to discuss their personal responses to the themes the play raises. Why they shouldn't be mocked for not speaking English (and that goes for the Scots, too, it's suggested), or not speaking French. Why Canadian Harry Standjofski resents always playing the bad guy. How Congolese-born Thierry Mabonga ended up with his mother in Glasgow.
With Karen Tennent's stylish stage design, all shifting mismatched furniture, and the witty use of surtitles to translate from French or from English, or even to comment on the action happening below, it's a thoughtfully provocative dissection of issues around identity and independence, one that, gratifyingly, never shies away from their complexities and contradictions. First Snow/Première Neige is far from a call to arms for either independence movement, but instead a considered, exquisitely delivered work.
As a thoroughly appalling examination of toxic masculinity, Daughter packs a mighty punch that threatens to leave you reeling
Explore topics
Share this article