Edinburgh Fringe 2023 reviews: The Grand Old Opera House Hotel / YOU ARE GOING TO DIE |

reviews, news & interviews
Edinburgh Fringe 2023 reviews: The Grand Old Opera House Hotel / YOU ARE GOING TO DIE
Edinburgh Fringe 2023 reviews: The Grand Old Opera House Hotel / YOU ARE GOING TO DIE
A patchy operatic send-up and an unflinching examination of dirt and degradation in two very different shows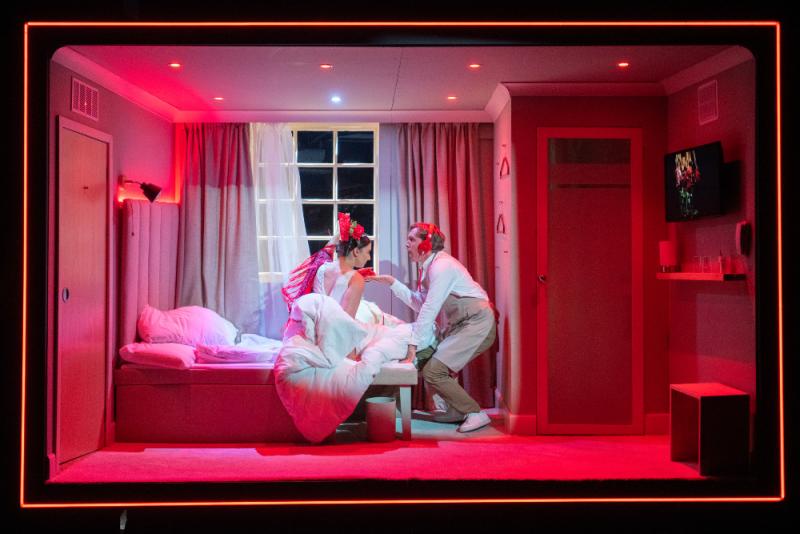 Betty Valencia as a ghostly Carmen and Ali Watt as gormless Aaron in 'The Grand Old Opera House Hotel'
The Grand Old Opera House Hotel, Traverse Theatre ★★★
The Traverse Theatre's biggest, most lavish production for the 2023 festival is bold, colourful and joyful. It's also, however, a somewhat patchy creation. Aaron (a gangly, gormless Ali Watt) has just started working at the institution of the show's title, but he quickly hears rumours of its former life as an opera house, and is almost immediately smitten by a mysterious opera-singing figure (Karen Fishwick, in fine voice) he encounters. Is she a ghost, or someone more earthly?
Phantoms aren't the only element in The Grand Old Opera House Hotel that stretch credibility. In fact, writer Isobel McArthur asks for some pretty major suspensions of disbelief in order for her plot to make much sense. That, for example, hotel employees never meet, despite weekly training sessions (which the object of Aaron's affections – conveniently – never seems to attend). Or that they continue their room-cleaning duties late into the night.
Most troubling, though, is the musical's rather cranky relationship with opera, especially for a show that seems so much an affectionate celebration of that other art form. And it's virtually impossible to discuss that without sounding like an opera snob. But the quartet of ghostly figures embodying generic opera tropes (Brünnhilde, Carmen, and two anonymous others – is one of them meant to be Mozart?) is just the start of the problems. Composer Michael John McCarthy's lengthy, going-nowhere, entirely sung 'opera' section – which makes it feel as if the entire hotel has been overrun by the operatic spirits – misses chances for some barbed digs at the genre in favour of something far more generic, and music that's frankly, entirely un-operatic. It's all a bit lazy, as if the creators are sending up something they haven't bothered to look into – though the show redeems itself with a later, far more effective section of amusingly reworded opera tunes.
Performances are strong across the board, and appropriately pantomimey. Christina Modestou makes for a nicely officious harridan of a general manager, and Betty Valencia stands out as an over-qualified Colombian micro-biologist thoroughly wasted in this ramshackle set-up. Indeed, the show's few sly nods towards the poor pay and conditions of hospitality workers hit their marks without distracting from its exuberant comedy. Ana Inés Jabares-Pita has concocted an ingenious, multi-door design that's put to good use in the show's farcical run-abouts.
In many ways, The Grand Old Opera House Hotel ends up an age-old love story told with self-aware, ironic humour for the 21st century. There's a lot of fun to be had – as long as you can set aside its quirks and inconsistencies.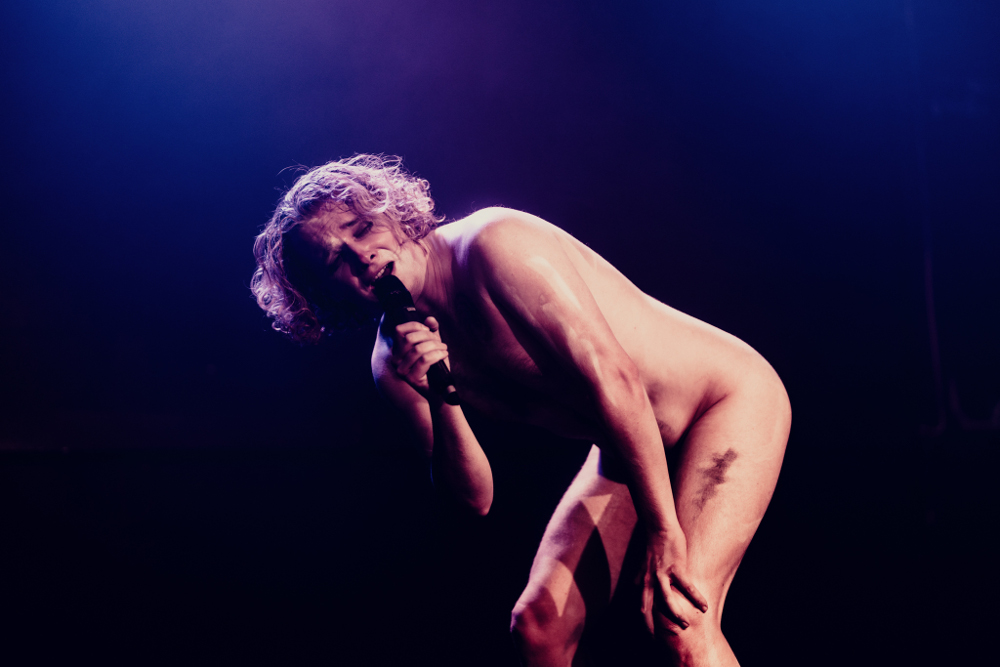 YOU ARE GOING TO DIE, Summerhall ★★★★
With its shouty, ALL-CAPS warning of a show title, a disconnected porcelain toilet as its sole set decoration, and – most arresting of all – a naked man prowling the stage as its only performer, it looks like YOU ARE GOING TO DIE is going to be thoroughly confrontational. Strap yourself in.
And, well, yes, it is. But Adam Scott-Rowley's brave, fiercely committed solo show is so much more. Funny, for a start, with some pointed gags at the expense of over-privileged but vulnerable drama students (plenty of chuckles of recognition on the night I went). Moving, too, in an everyday tale of a lost cat and its elderly owner. And unsettling, certainly, in Scott-Rowley's restless flickering between personas, sometimes within a single grimace, and his often insect-like movement, his miraculous bodily transformations from hunched monster to towering he-man.
It's far from an easy watch, to be sure, especially as Scott-Rowley's actions – and the activities of the clutch of characters he creates – move inexorably into darkness and degradation. But he's a compelling, gripping performer, almost daring the audience to shift its concentration – and face the consequences. That's unlikely to happen, though, give the succession of dream-like scenes and grotesque characters that he so vividly conjures from nothing other than his body, voice and movements – and some magnificently evocative lighting courtesy of Matt Cater.
Despite its apparently free-flowing randomness, there's also a clear-headed sense of structure and developing narrative to the show. So that by its big closing number, you may start to understand that shouty title less as a nihilistic warning, and more an exhortation to embrace life – in all its richness, its strangeness and, yes, its degradations – while we can.