Four Quartets, Harold Pinter Theatre review - brilliant Fiennes breathes air and physicality into Eliot's work |

reviews, news & interviews
Four Quartets, Harold Pinter Theatre review - brilliant Fiennes breathes air and physicality into Eliot's work
Four Quartets, Harold Pinter Theatre review - brilliant Fiennes breathes air and physicality into Eliot's work
His earthy informality instantly anchors the philosophy
Dying of the light: Ralph Fiennes
Words flow like water in TS Eliot's Four Quartets, shimmering with allusion, swirling and eddying with the ideas and fractured philosophies of a poet at the height of his powers.
It's fitting that he chose Heraclitus to supply the epigraph, the
pre-Socratic philosopher
who, like Eliot towards the end of his life, believed that life was in constant flux, famously riddling that you "could not step twice into the same river".
Ralph Fiennes' brilliant interpretation breathes air and physicality into Eliot's fluid, abstract musings, allowing the poetry and the humour to sing out. The actor – who also directs – walks barefoot onto the stage, grey shirtsleeves rolled up with an earthy informality that instantly anchors the opening reflections. "Time present and time past/Are both perhaps present in time future," he declares. "Well why not?", his expression seems to say – maybe this is a matter of philosophy, maybe it's just common sense.
Yet there is no reductiveness here. Eliot's influences for the Four Quartets range from Dante to Beethoven, from Bruegel to the Bhagavad Gita and as the evening unfurls we get a full sense of both the intellectual and linguistic richness of what he is trying to do. This is in part because Fiennes plays the music of the language like a virtuoso. Sometimes he'll make a word resonate heavily through emphasis of the syllables ("Footfalls echo in the memory"), sometimes with both his voice and a gesture he can make it fizz in the air ("Erhebung" – elevation).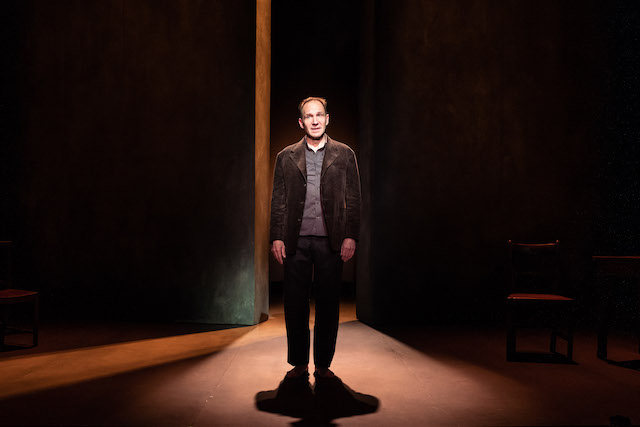 The joy in the language is underscored by Fiennes' robustly physical performance, emphasised by Hildegard Bechtler's imposing yet simple set, on which two towering blocks of stone loom like tombstones. Fiennes marks the shift between each "movement" of the quartets by putting his shoulder to a block and moving it, as if he were a labourer in a graveyard. Yet it's not all grief; the solemnity is balanced by the almost raucous joy when, for instance, he describes, "The association of man and woman, In daunsinge, signifying matrimonie." As he stomps on the ground with primal glee it's as if he's taking part in some wild pagan ceremony.
More simply he often acts as if he's a guide through Eliot's language. As he describes "the backward half-look/Over the shoulder, towards the primitive terror," he gestures behind him as if we, like his imagination, can see that terror. When he talks of words that "strain/Crack and sometimes break, under the burden," we see the stress contorting his face. All of this encourages us to trust him as the interpreter. We understand that no matter how opaque the text, Fiennes is our co-conspirator, leading us confidently through Eliot's turbulent netherworld.
Tim Lutkin's crepuscular lighting design moves the audience from sitting in half-light to being plunged in total darkness, while on stage the action is punctuated by everything from lone beams of sunshine to an apocalyptic sunrise. Christopher Shutt's equally ingenious sound design plays with the fact that TS Eliot evolved as a poet at the same time as radio was transforming the world of communication. As a result some passages are delivered through crackling microphone. Others are simply amplified in a way that brings a ghostly mournfulness to proceedings.
Most of the quartets were written during World War II – Dry Salvages, for instance, emerged while Eliot was working as a watchman at the Faber building during the Blitz. So that sense from time to time both of the omnipresence of death and the decay of humanity is very informed by Eliot's political backdrop. Yet there is nothing directly political about any of the Quartets. He wants to say something universal about the human condition, and while this is the most overtly Christian of his works – which earned it denunciation from Orwell among others – it resonates because he borrows liberally from other philosophies and cultures.
That universality means that there are certain lines that seem to have been written for today, and it's part of the humour of his performance that Fiennes loses no opportunity to highlight them. When he talks of "that destructive fire, Which burns before the ice-cap reigns," a ripple goes through the audience. When he refers witheringly to "This twittering world" there's outright laughter.
Yet throughout we never lose the sense of mystery and profound humanity that makes Eliot's work endure. It's the triumph of this production that it shows how the cerebral can be passionate and the other-worldly down to earth; that whatever your creed it can reveal you something of yourself that may help you emerge a little wiser at the end.
@Hallibee1