Get Santa!, Royal Court |

reviews, news & interviews
Get Santa!, Royal Court
Get Santa!, Royal Court
New play for children from London's premiere adult venue is a heartwarming hit
Incongruence is always interesting, so the news earlier this year that Anthony Neilson, bad-boy author of adult plays such as Penetrator, The Censor and The Wonderful World of Dissocia, was penning a Christmas play — suitable for kids — at the Royal Court came as something of a delightful surprise. It was also clearly a chance to make amends for The Lying Kind, his 2002 seasonal venture at this address, which received what are politely called mixed reviews. This time, it's good to be able to report that his new festive comedy, which opened last night amid gales of laughter, proves that he has returned to top form.
Poor Holly. It's Christmas and this spunky 10-year-old doesn't need any presents: all she wants Santa to do is to find her real dad. The situation is a common one: Holly lives with her mum Barbara and with Bernard, her step-dad. For Christmas, Gran is visiting them to help out. With unimpeachable logic, Holly reasons thus: Santa visits every house in the world, therefore he must know where Terry, her real dad, lives. If she sets a trap for Santa, she will be able to get in touch with Terry.
It's a cunning plan but things go wrong very soon after the global gift-giver arrives. Without giving any of the pleasurable plot twists away, it can be said that Santa's son and helper, young Bumblehole (played by Tom Godwin, pictured below right), is involved in some farcical goings-on, and that some magical sleights of hand result in Holly's Teddy being reanimated, resulting in a rush of tenderness from the audience to the stage, for surely a talking teddy must be every child's dream.

Neilson loves setting his plays at Yuletide — no fewer than four of his back catalogue have been set during this time: The Night Before Christmas, Year of the Family, The Lying Kind and God in Ruins. Clearly, there is something about the mix of innocence and ghastliness that appeals about the so-called festive season. As with all of his best recent work, Neilson excels at taking the kaleidoscope of everyday life, giving it a good shake and then stamping on it until the stage is littered with the mess of surreal ideas, childlike reasoning and sublime silliness. Such fun!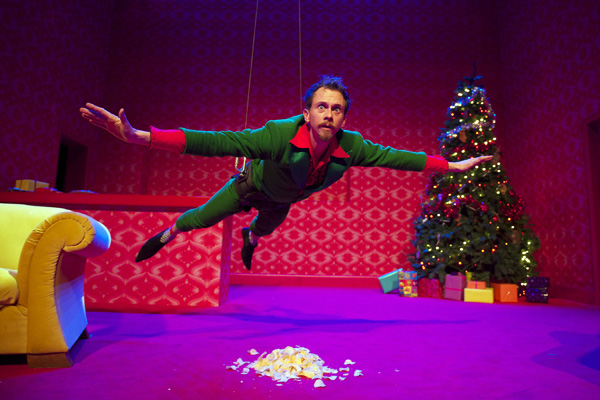 This time the story deftly mixes small doses of pain - Holly's loneliness and her longing for her real dad - with great splashes of humour. Here, fart jokes alternate with magical enchantment, and warm desires heat up the chilly depths of youthful depression. This Christmas is a kind of Jungian therapy session, one in which the joys of song and laughter soothe the aching soul. For once, the agony of separation is overcome by the wild wanderings of a vivid imagination.
Both kids and adults will find the show enjoyable because the acting is big and breezy, the set is lurid and sparkles with explosive effects, and the story moves forward at a cracking pace. Amid all the jokes, the serious points arrive almost surreptitiously, teaching us all some valuable lessons about selfishness and self-knowledge, about the relentless pressure to have fun at year's end and about the true awfulness of having to experience Christmas every day of the year. Somewhere in a corner there also lurk some truthful musings about mothers and daughters, and about young girls and their fathers.
Like Dennis Kelly's RSC Matilda, this is a serious play wrapped in a magical farce. Imogen Doel, who is making her professional stage debut, is feisty and hilarious as the determined Holly, a nice contrast to Gabriel Quigley as the confused Barbara and Amanda Hadingue as the scatty Gran. Likewise, David Sterne's grizzled Santa contrasts perfectly with both Godwin's comic Bumblehole and Robert Stokes's dog-like Bernard. The cartoonish feel of the performances, under Neilson's direction, feels just right. Mervyn Millar and Chand Martinez's puppet Teddy is a delight from start to finish, while Nick Powell's music is intensely enjoyable in its parodic flair and its happy rhythms. You'd have to have an icy heart not to love this comic Christmas.

Share this article