Ghosts, Abbey Theatre, Dublin review - creating tension from desolation |

reviews, news & interviews
Ghosts, Abbey Theatre, Dublin review - creating tension from desolation
Ghosts, Abbey Theatre, Dublin review - creating tension from desolation
Cathy Belton's devastating economy steers Mark O'Rowe's quietly stunning Ibsen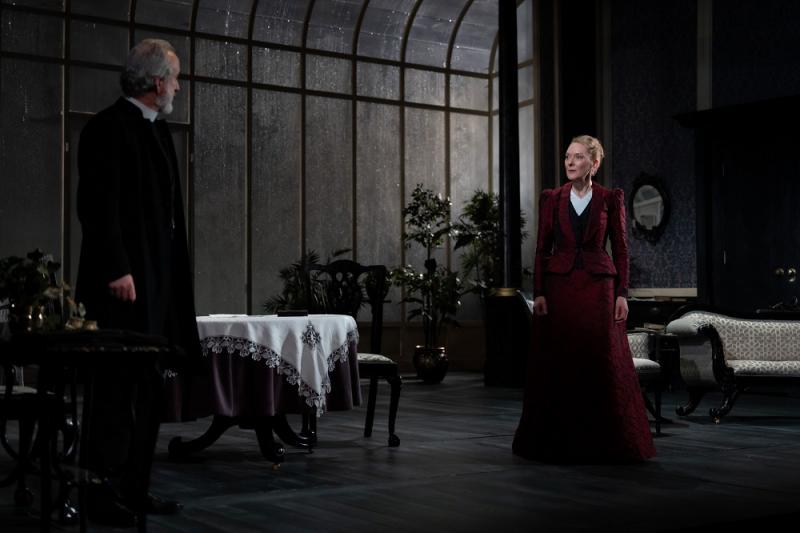 Declan Conlon's Pastor Manders and Cathy Belton's Helena Alving face up to uncomfortable truths
Church and law are enemies of promise in Ibsen's tragedy-without-catharis. You can see why this devastating attack on, among other things, the syphilitic sins of the fathers being visited on the hopeful young created a ruckus in the 1880s. It's still potent thanks to the characters' complex reactions to social constraints. Mark O'Rowe's new version for Landmark Productons at the Abbey is faithful to the essence, while sets and costumes only reinforce modernity in period dress.
Francis O'Connor's set is a crucial, at times crushing, participant in the slow-burn revelation of past sins wreaking present havoc. A salon with no pictures, only a mirror, and dead space in the wooden floor between sparse furnishings, gives out on to conservatory windows beyond which the sails in the Norwegian island's harbour are glimpsed and on which the rain pours throughout much of the action (the crucial sunrise, in Sinéad McKenna lighting, pictured below, is appropriately devastating). The sofa is often a focal point: it's here that Cathy Belton's Helena Alving holds focus on her reaction to unwelcome revelations, later reflected in the similar frigid horror of Simone Collins' Regina Engstrand.
How ruthlessly Ibsen plots the unravelling of all attempts to wrap up sin and shame. Everyone's a victim here, even Declan Conlon's outwardy upstanding Pastor Manders, a victim of his own religious rigidity and of his naive wish to believe good of people. The real fascination lies in Mrs Alving's moral mess, how she and others perceive her attempts to stand by a libidinous husband she hated when he was alive. Alving senior is the ghost we never really get to know, the focal point of the drama. There's moral ambivalence, too, in Lorcan Cranitch's supposedly feckless father to Regina, the girl who's been brought up as a maid in the Alving household out of good intentions misapplied.
If there's potential for good, it's painfully undermined in the horrible secret of 28 year old Oswald Alving, returning from Paris to his mother's bleak island home for reasons which only gradually become apparent. The good may yet come to something in the liberated Regina's lost illusions, but Ibsen makes us fear it won't. The younger actors have an easier task than their flawless seniors, but both are singularly compelling in unusual performances from Collins and Calam Lynch (pictured below with Belton).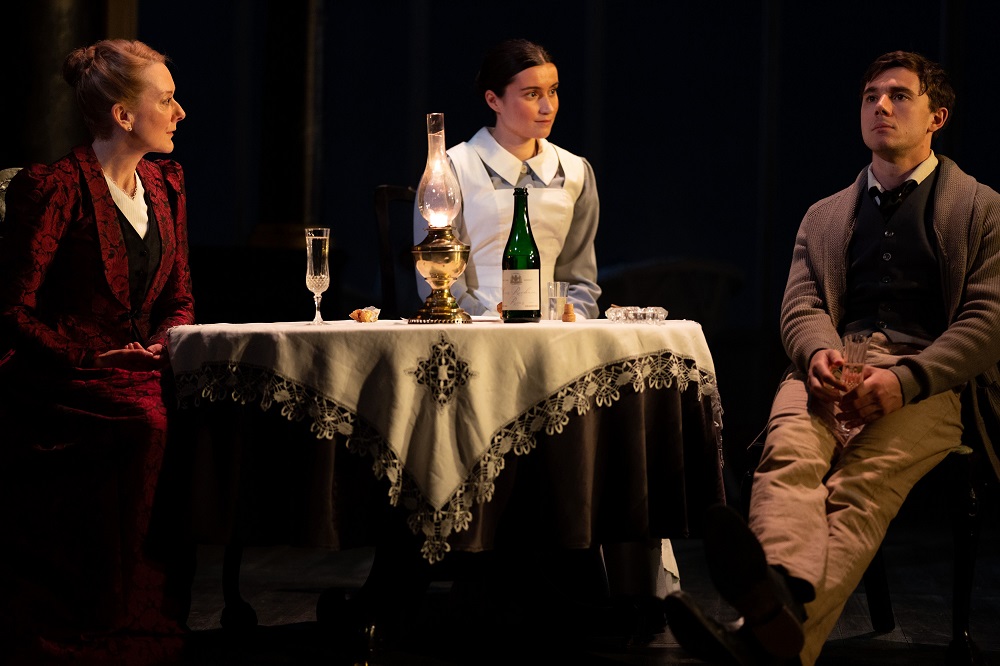 The rapid onset of Oswald's mental illness is a difficult coup to pull off - Ibsen's short-cut finale can fall flat - but I think it works here. That's partly because the music, only used as generic mood punctuation before and between acts so that silences and dumb-shows carry the necessary intensity, is allowed to crescendo towards the blackout, and because Lynch does manage the brainfever exclamations convincingly. This is a real ensemble achievement, and though the ubiquitous "Dublin ovation" at the end seemed alien to the shock of the drama, the numb horror resonated as I stumbled home across the Liffey.