Globe to Globe: Antony and Cleopatra, Shakespeare's Globe |

reviews, news & interviews
Globe to Globe: Antony and Cleopatra, Shakespeare's Globe
Globe to Globe: Antony and Cleopatra, Shakespeare's Globe
A solidly traditional production with few inspired visual touches, but with some fine acting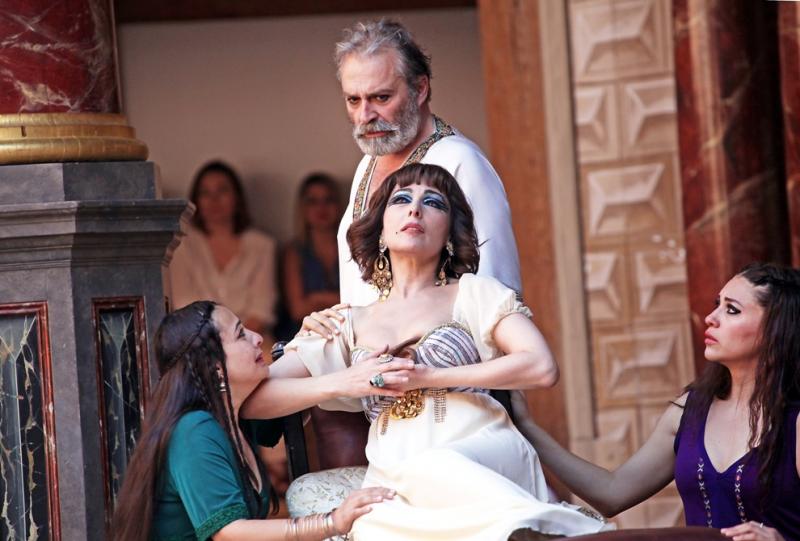 Zerrin Tekindor as a magnificently charismatic Cleopatra and Haluk Bilger as a husky-voiced Antony
As soon as the two leads entered you were left in no doubt that you were in the presence of stars, at least in their native Turkey: thunderous applause, cheers and whistles greeted Haluk Bilginer as Antony and Zerrin Tekindor as Cleopatra, as they stepped nimbly onto the stage to perform a coquettish little game of chase, thus setting the playful tone of this most seductive of Shakespearean tragedies.
Bilginer, husky-voiced and grizzly-bearded, has many major stage and film roles under his belt in Turkey (in Hollywood, too, since he also starred alongside Clive Owen and Naomi Watts in the 2009 espionage thriller The International). But viewers of EastEnders in its early days might best remember him as Albert Square's cab firm owner Mehmet Osman (the one who could actually act). He is also the co-founder of Istanbul's Oyun Atölyesi, whose solidly traditional production this was. As for the magnificently charismatic Tekindor, dressed here in a plunging, figure-skimming white gown, the actress is mostly known for an award-winning career in the theatre, though she is also a successful visual artist.
Antony had the lived-in, sturdily handsome appearance of a man who was both sensual and physically powerful
However, in visual terms this wasn't a particularly inspired production, although there were one or two imaginative set-pieces, including battle scenes fought with swirling water pitchers against the solemn beating of drums - a nice touch lifting the production from the merely briskly efficient. But there was undoubtedly some fine acting among the cast.
Cleopatra, who was by turns playful, spiteful, seductive and petulant, was played with both a lightness and a depth that gave full expression to the role's temperamental range. And Antony had the lived-in, sturdily handsome appearance of a man who was both sensual and physically powerful. But what Bilginer's interpretation lacked was a sense of that complete sexual surrender that makes sense of his capitulation to a woman who appears prepared to betray him at a whim.
Meanwhile, Kevork Malikyan's pivotal Enobarbus seemed, in this severely abridged production, to be so marginalised that the character hardly registered at all, and it was left to a much younger actor, Onur Ünsal, who doubled as both messenger and Eros, Antony's doggedly loyal follower, to steal the show from under the feet of the bigger players. For sheer rib-tickling brio his wonderful and protracted comic exchange with Cleopatra, in which he delivers the news of Antony's marriage to Octavia, really made my afternoon.