Goodbye to All That, Royal Court Theatre |

reviews, news & interviews
Goodbye to All That, Royal Court Theatre
Goodbye to All That, Royal Court Theatre
Young writer Luke Norris looks at old age and love with power, tact and grace
Tuesday, 28 February 2012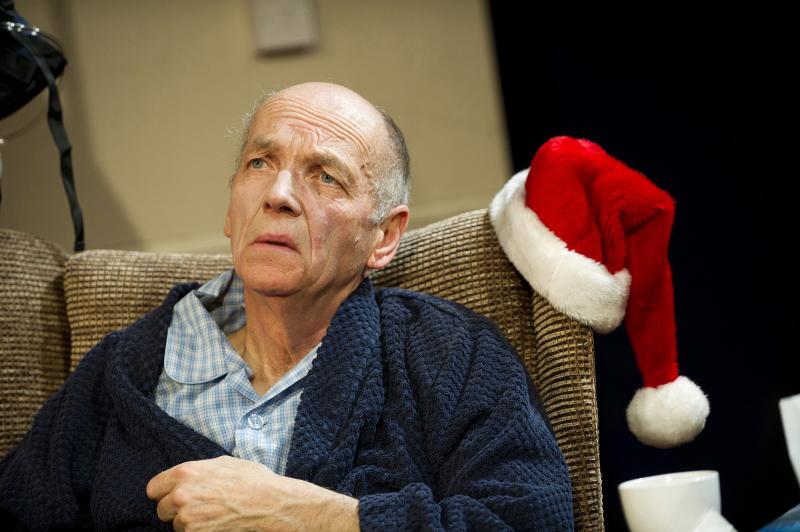 Seasonal blues: Roger Sloman in 'Goodbye to All That'
The Royal Court has been finding and developing young writers for four decades. Its Young Writers Festival has helped launch the careers of a variety of talents such as Simon Stephens (winner of the 2005 Olivier for Best Newcomer), Christopher Shinn (nominated for the 2008 Pulitzer Prize), Bola Agbaje (winner of an Olivier in 2008), as well as Michael Wynne, Chloe Moss and Alia Bano.
This year, along with a full programme of readings, short plays, workshops and talks, it hosts two full-length plays. The first, which opened last night, is actor Luke Norris's London debut.
In a series of rapid scenes we see 69-year-old Frank - a working-class man who lives with his wife, Iris, and 18-year-old grandson David - admit that he's been having a love affair for the past three years with Rita, who like his wife is in her 60s. Then a stroke of bad luck hospitalises Frank, and he finds himself the object of a tug of love between Iris and Rita, with David caught in the middle. The situation of a love triangle sounds banal, but Norris takes pains to give it a dense emotional texture despite the short running time of 75 minutes.
Perhaps the most original aspect of the play is that, contrary to theatrical cliché, Norris shows the working classes to be as emotionally repressed and as obsessed with social convention as the middle classes. From the very start of the story, you can feel the fury of anger and hatred bubbling up inside the pressure cooker of the rapid dialogues, but these feelings are often held back by norms of behaviour. Yet the results of staying married while lacking love are devastating. Frank feels he has wasted his entire life and there is something both moving and desperate in his injunction to David: "Whatever you do, don't do what I did."
Although he is Frank and Iris's grandson, David (Alexander Cobb shown above with Susan Brown's Iris) lives with them because his mother is dead, and - in a perfectly ironic and symmetrical piece of writing - he finds himself hearing the same advice from each of these unhappily married seniors: "Don't waste yourself." At the same time, he has to cope with the competing demands of the two women, each of whom thinks that they know what is best for the hospitalised Frank. Added to this, there is a deep knot of cruelty in the guts of this short play.
The family is shown as a nest of vipers, with each snake sinking its fangs into the tail of the other, a mutually poisonous clinch which keeps people together more surely than love. At the same time, the metaphor of oxygen runs through the writing, with this source of life and medical recovery being also an image of love, which is as important to us as the air we breathe. Finally, the play also asks us what do we really know about our long-term partners, and how can we understand the actions of others?
Norris's anatomy of love plays in the Royal Court's studio space and, like David Eldridge's In Basildon which is currently occupying this venue's main stage, it is set in Essex. Both plays examine the emotional lives of working-class families, and both have scenes around a hospital bed. Both also detail the texture of everyday life with a mixture of cool observation and stoical humour. Which is a relief because a couple of the medical moments in Goodbye to All That are pretty grueling.
As directed by Simon Godwin, on Tom Piper's versatile set, the play begins with a surge of energy and then flattens out a bit, as Roger Sloman's angry Frank (shown right with Linda Marlowe's Rita) becomes increasingly impotent and helpless, while Susan Brown's Iris keeps a kettle of real bitterness constantly on the boil. As Rita, Linda Marlowe gives depth to the portrait of the other woman, while Alexander Cobb plays David as a young man trying his hardest to do the right thing. If, in the end, this is a rather small play, it does nevertheless manage to tell its tragic story with tact and even a touch of grace.
The family is shown as a nest of vipers, with each snake sinking its fangs into the tail of the other
rating
Explore topics
Share this article